What is the ND Farm Management Education Program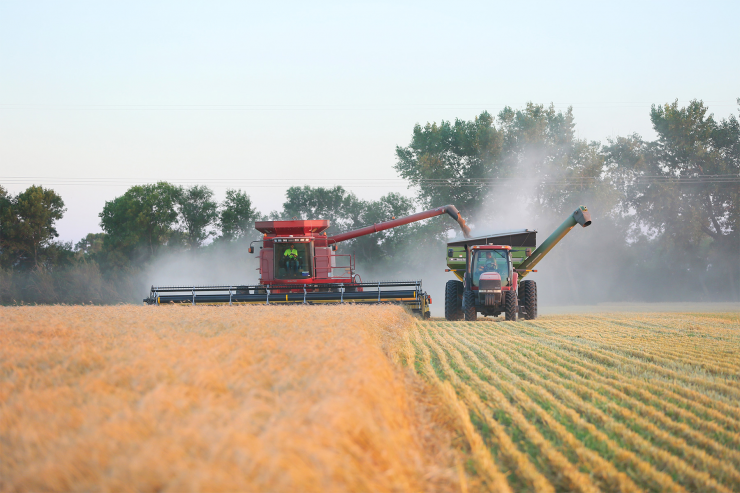 Over a year ago, I was fortunate enough to be offered the opportunity to become the new North Dakota Farm Management Education (NDFME) Instructor for Dakota College at Bottineau at the Rugby location. Throughout my first year in this position, I have had to explain what my new job entails countless times to family, friends, and members of my community. In doing so I have quickly discovered that there is a widespread misconception of what the Farm Management Education Program is. The two most common responses I receive after I describe my job responsibilities are, "So you're teaching a classroom full of farmers?" and "Do you work primarily with struggling producers?". The answer to both of those questions is no. There is more depth to the Farm Management Education program than most people realize.
To participate in the NDFME program, producers enroll through community colleges across North Dakota, but the program is not taught in the traditional classroom setting. Enrollees work one-on-one with their local instructor using their personal financial information to understand and improve effectiveness in four main areas: Business & Family Goal Setting, Farm & Ranch Business Records, Financial Analysis, and Planning. No two operations are the same, so working one-on-one with a producer allows the direction to be given on a per-case basis versus a blanket course where some material may not apply to all enrollees. Participants in the NDFME program receive individualized support in the following areas:
Business and Family Goal Setting
Explanation of Financial Documents
Assessing Personal Skills
Establishing and Maintaining an Effective Record
Keeping System
Balance Sheet Preparation
Financial and Production Trends
Cash Flow Planning
Cash Reconciliation
Income Statement
Year-End Analysis
Crop and Livestock Enterprise Analysis
Explanation of Financial Numbers
Cost of Production Per Unit
Analyzing Alternatives
Tax Planning Preparation
Risk Management & Marketing
The information and data provided to instructors is completely confidential. Instructors establish relationships with each enrollee's lender so that financial information can be communicated efficiently and discreetly. Once completed, each analysis is submitted for the purpose of publishing state and regional average reports but is done so anonymously. Submitted data is compiled and then sorted into applicable classifications. The separate categories are then averaged to produce benchmarks for Average of All Farms, Low 20%, 40%-60%, and High 20% for a wide variety of financial measures and enterprises. This ensures that the producer's exact information is never revealed but is only used in the calculation of the averages. See Example 1 below: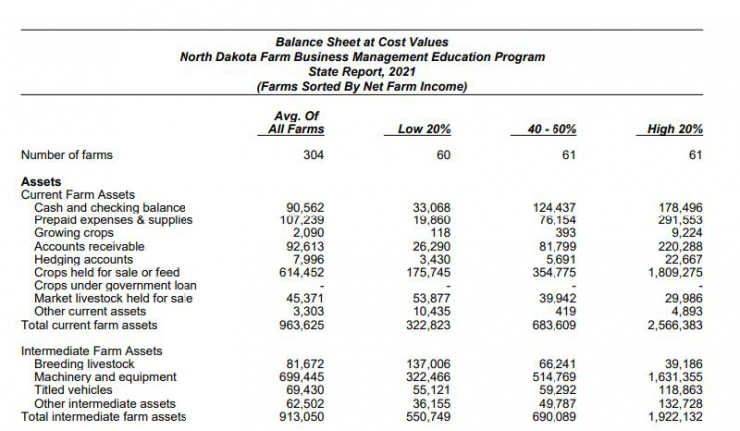 Example 1: The balance sheet shows the state report for farms involved in the North Dakota Farm Business Management Program sorted by net farm income. (All graphics are courtesy of North Dakota Farm Management Education Program)
Lenders particularly find the information provided by the average books useful as it helps them to gauge how their client may compare to others throughout the state. An AgCountry Farm Credit Services lender says, "The annual reports published by the ND Farm Management team serve as a useful resource that allows farmers and ranchers to align their operation to the averages in their specific region. As an ag lender, we keep these books at our side and reference them often throughout the year. The market can vary immensely across the state, so it is tough to find region-specific data of this caliber. The average books show us state results as whole and then break the information down into smaller regions. Whether a producer is interested in pursuing a new commodity, is planning for the upcoming year, or simply wants to know where they fall compared to others, it is beneficial to have quality information tailored to their respective location. We are confident this data has been accurately analyzed and comes from a reliable source." When asked why an operator should consider being enrolled in NDFME, a First Western Bank & Trust lender said, "Well, I'd see the biggest benefit coming back to when they sit down with their ag lender at renewal time. They can make sure they're accurate and utilize different types of programming so they can see where they sit financially through the various analysis that the farm program does. When you can simplify that and make my job easier, I can get you an answer more quickly."
Despite what others may perceive, being enrolled in NDFME does not mean that an operation is struggling financially, rather that the producer values the ability to continuously improve their operation by utilizing the tools provided by this program. Many are surprised by the longevity of most of producers enrolled in the NDFME program. Approximately 65% of participants have been enrolled in the program for over 10 years with nearly an additional 20% being enrolled for 6-10 years, as shown in Figure 1. The largest age demographic of enrollees in the program is 35-44 years old followed closely by 60-64 years old, as shown in Figure 2. Long-term participants benefit from years of collected data, generating more definitive trends that help compare year-to-year results and allow financial decisions to be made confidently.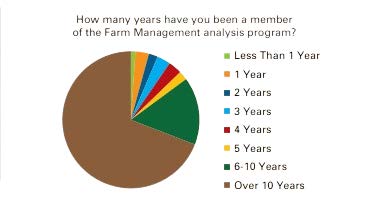 Figure 1: LONG-TERM MEMBERS: This figure shows how many participants have been long-term members of the North Dakota Farm Management Education Program, with the majority being members for over 10 years.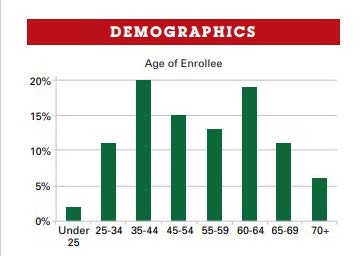 Figure 2: DEMOGRAPHICS: This figure shows the age ranges for participants in the North Dakota Farm Management Education program, with the highest enrollment being in the age ranges of 35 to 44 and 60 to 64.
Some participants in NDFME may be required by FSA to complete training as part of a loan agreement. This is to help borrowers develop and improve important skills to help them be successful farm and ranch operators (the law directs FSA to determine a borrower's need for training and require it when appropriate). The training helps FSA borrowers gain knowledge, address problems or operational weaknesses, and plan for financial success. If training is deemed necessary, the borrower has 2 years from the loan closing to complete training. Many producers that enrolled originally to meet the FSA requirement continue to participate in the program because they find the information gained while working with their instructor to be incredibly valuable to their operation. A Bismarck State College enrollee says, "The Farm Management Program is absolutely a critical tool for my operation. It is vital to securing my operating funds. It is crucial to my decision-making. It is extremely useful when comparing to other producers throughout the state to evaluate things that are good or poor. Every farm operation, large or small, should be required to participate in this program."
Understanding and updating an operation's financial data regularly allows farmers and ranchers to make smart business decisions based on reliable data in a timely manner. Just like agronomists are consulted for their expertise on soil health and veterinarians are required to treat sick animals, NDFME is just another tool in a farmer or rancher's belt to ensure the long-term success of their operation. Our mission is to provide lifelong learning opportunities in economic and financial management for persons involved in the farming and ranching industry. If you have any questions or are interested in learning more, please visit ndfarmmanagement.com, our Facebook @NDFarmManagementEducation, or contact Craig Kleven, State Supervisor for Agricultural Education, at crkleven@nd.gov or 701-328-3162. The ND Farm Management Education Program is sponsored by the North Dakota Department of Career and Technical Education.