Why Dakota College at Bottineau?
Identified as a "Military Friendly" status.
Quality Online Courses meeting CCAF standards and Degree Completion Requirements.
Small college that provides one-on-one assistance and advising to all students, not just the ones on campus.
We work with military members to award prior learning credit for learning gained through military experiences.
Air Force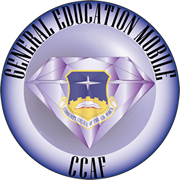 GEM is a CCAF and Dakota College at Bottineau (DCB) collaboration to provide an online coursework for Airmen to complete their CCAF Degree's General Education requirements.
General Education Mobile (GEM) enables students to sign up for their general education requirements in a single block of courses from the same college, providing greater educational continuity and faster completion of an airman's associate degree.
With the GEM program, students near the beginning of their education will enroll for general education classes as a single five-course sequence taken online. Credits will transfer and apply toward the CCAF degree.
The Air Force Portal serves as the central online location for the program. From there, airmen will be able to browse our course offerings and register for the five-course sequence. Part one of the Steps to Enroll will walk you through this process.
Steps to Enroll
Part One: Select Dakota College at Bottineau's GEM program in the Air Force Virtual Education Center
Log in to the Air Force Virtual Education Center, accessed through the Air Force Portal (https://www.my.af.mil/)
Complete a CCAF Education Goal on the Air Force Portal.
Select Dakota College at Bottineau (DCB) on the TA application. The TA application will be sent to DCB.
Dakota College will contact you with the steps to complete course registration. You are now registered in the GEM Program. Completion of Part Two is required to finalize the DCB campus course registration. This includes your online course account and book ordering.
Part Two: Apply for Admission to Dakota College at Bottineau
Fill out the online admission form and pay the $35.00 one-time admission fee. Click here to apply online
Identify yourself as a non-degree seeking student.
Complete the DCB GEM Form. (This identifies you as a GEM student)
Submit official transcript from an accredited or state-approved high school or GED report to: Dakota College at Bottineau Admissions Office-105 Simrall Blvd-Bottineau, ND 58318-Transfer students submit official transcripts of all previous academic work from each institution attended.
Results from the American College Test (ACT) are used for placement into math and English coursework. Fax ACT scores to (701)228-5499. Dakota College at Bottineau's ACT school code is 3204. If ACT scores are unavailable, students will take the online ACCUPLACER placement exam prior to enrolling for these courses.
Apply for Financial Aid by clicking here. (Federal School Code is 002995)
Contact the Business Office to make payment arrangements for any tuition costs not covered by TA.
Army Students
Army students using tuition assistance must file TA requests through www.goarmyed.com.
The following enrollment guide walks students through enrolling in DCB courses with GoArmyEd. Please note: DCB is a non-LOI school. Please follow the correct steps to request TA at a non-LOI school.
GoArmyEd course enrollment guide (Non-LOI school)
Uploading Student Agreement guide
Using Course Planner guide
Military Dependents
Click on a topic below to learn more about the benefits pertaining to military dependents.
Veterans
DCB was selected by G.I. Jobs magazine as a "Military Friendly School" because of the college's dedication to providing military veterans with a quality education. By earning this designation, DCB is among the top 15 percent of schools in the nation recommended by the magazine as a quality school for veterans to attend.
We are here to support veterans by offering a range of online courses, student services, T.A. eligible certificates/programs and a large welcome mat for the men and women in our Armed Forces. Although we are small in size, we are large in determination to do what it takes to provide Veteran's the service they need. We want to help you reach your educational goals and stretch your hard-earned dollars. We are a Service members Opportunity College (SOC) and award college credit for prior learning and military training as applicable.
Helpful links for Veterans:
GI Bill®
Dependent's Educational Assistance
GI Bill® is a registered trademark of the U.S. Department of Veterans Affairs (VA). More information about education benefits offered by VA is available at the official U.S. government Web site at http://www.benefits.va.gov/gibill.
Questions?