While you may be attending Dakota College at Bottineau for a quality education and/or athletics, don't forget about participating in our Student Life programming. Your first years of college will be among the most memorable in your life, and we hope you have a blast while here at DCB. Our Student Life department, along with Resident Assistants, Head Residents, faculty and staff, all work together to plan lots of fun and diverse activities, events and intramurals for you to be a part of outside of class and practice.
Come cheer on the Lumberjacks and Ladyjacks at our home games! Catch a baseball or softball game in the Lumberyard, watch hockey at the Lumberdome, and root for our basketball and volleyball teams in the Woodshed! We like filling the stands with our students, and our teams love the support.
Stop into the Student Center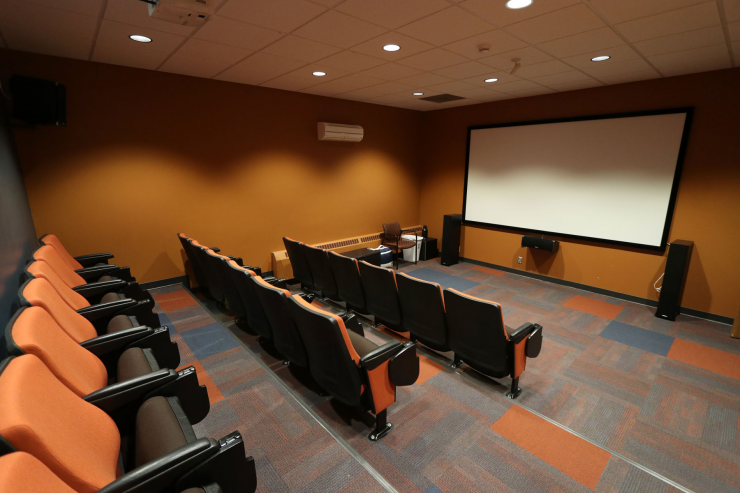 for a wide variety of games, TV, events and socials. Our Student Center has a pool table, a ping pong table, a foosball table and an air hockey table. We have big screen TV's and a 140" projection screen, all with a full cable package and internet access! Grab some friends for movie night and chill out in the Student Theater just for students. Our Student Life team hosts different events and activities throughout the year in the Student Center for students. We have a wide variety of events; Grocery Bingo, Door Decorating Contests, Socials/Dances, Movie Nights, Painting Nights, crafting days, Dorm Wars competitive activities like Dodgeball, Human Foosball, Slip n' Slide Kickball and more. Plus we offer unique presentations from local organizations.
If you need a little more competition in your life, you'll like our Intramurals program. Each month students host a different Intramural sport for all students on campus to participate in! Come play Dodgeball, Cornhole, Badminton, Blackout Volleyball and more with your peers.
We want you to enjoy your time at DCB. Our Student Life Team promotes a safe and respectful environment for all students on campus. We offer a positive and welcoming atmosphere, in and inclusive community. Start small and go far at Dakota College at Bottineau.