---
Dakota College at Bottineau is excited to announce its first graduating class of the Diagnostic Medical Sonography (DMS), also as known as ultrasound, program. The following four students completed the final semester of this five-semester program this summer 2021 (listed left to right from photo attached): Gabrielle Bohl, Tara Hancock both from Minot, Mayce Brodehl from Newburg and Gregory Davis from Darien, GA.
Dakota College welcomes a couple of new faces to the Bottineau campus this summer as two retirements left the Physical Plant Director and Bookstore Manager positions vacant.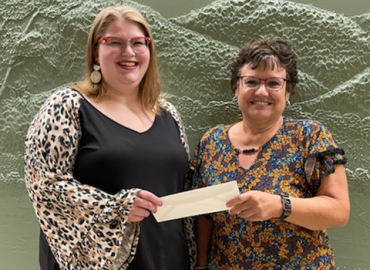 Dakota College at Bottineau held their eighteenth annual rummage this week. Dakota College employees hold this event each year to support local community charities and service groups. The 2020 event was not held due to COVID precautions.
---
Mahalia Cruz

As a child growing up in Lakota, North Dakota, Mahalia Cruz knew she wanted to work in health care. "When I was 11, I wanted to be a pediatrician, but when I found out schooling takes an average of 13 years, I thought nursing would be a better fit," said Mahalia. She enrolled in the nursing program at Dakota College at Bottineau in 2016, but her career goals soon took another path. "I got interested in the business side of health care, so I switched to the medical administrative assistant program. My ultimate career goal is to be a hospital administrator."

Megan Goodell

Her grandmother's garden and her mother's many houseplants were the inspiration for a career in horticulture for Megan Goodell. "I knew I wanted to pursue horticulture after cannabis became legal in Colorado," said Megan. "That caused a cultural shift with more people becoming interested in plants. They want houseplants and gardens, and with COVID-19 last year the whole industry saw a major boom."

Jessie Lafferty

After settling in Willow City, Jessie started looking for nursing programs in the area and discovered the programs offered at Dakota College at Bottineau. "I was very blessed to have such a great resource nearby, almost as if it fell into my lap," Jessie said. "The nursing instructors were very helpful because they encouraged us to learn as much as we could academically, and they also taught us the importance of a good bedside manner."