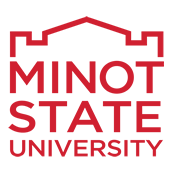 The Passport Program is a unique collaborative program offered by Dakota College at Bottineau and Minot State University.
The Passport Program is available to students who are not eligible for full admission at MSU but want to attend college on the MSU campus and pursue a four-year degree.
Spend 1 year as a DCB student on the Minot State Campus, then 3 years as an MSU student to earn a 4-year degree.
Benefits
Eligibility for Certificate in College Studies
Full access and participation in MSU's student life, housing, dining services, organizations, facilities, and activities (excluding varsity athletics)
Receive academic preperation for a four-year degree program.
Tuition and Fees
Students will receive one bill for tuition and fees for all their DCB and MSU courses. The other charges, for example room & board, will be billed separately from MSU through Campus Connection.
Financial Aid
Federal financial aid is available for the Passport Program. Contact the DCB Financial Aid Office at 701-228-5437 or 800-542-6866 for details.
Steps to Enroll
Apply to see if you qualify for admission to Minot State University. Follow the MSU admission requirements.
If your MSU admission application is denied, complete the MSU Passport Program Release Form attached to your denial letter.
A DCB admission packet will be sent to you containing imporant information on Campus Connection.
Submit the MSU housing application and $100 deposit fee, if housing is needed.
Plan your schedule and set your goals with your DCB advisor.
Transition from the Passport Program to MSU
Meet with your DCB Advisor.
Fill out a new MSU admission application (you do NOT need to pay the application fee again).
If there are no holds on your Campus Connection account, MSU will pull your official transcript. If there are holds on your account, you will need to send your official DCB transcript to Minot State. A final, official transcript is needed when you complete your last semester at DCB.
More information can be found here for requesting your DCB transcript
Contact Us