Trinity Health Foundation Awards Nursing Scholarships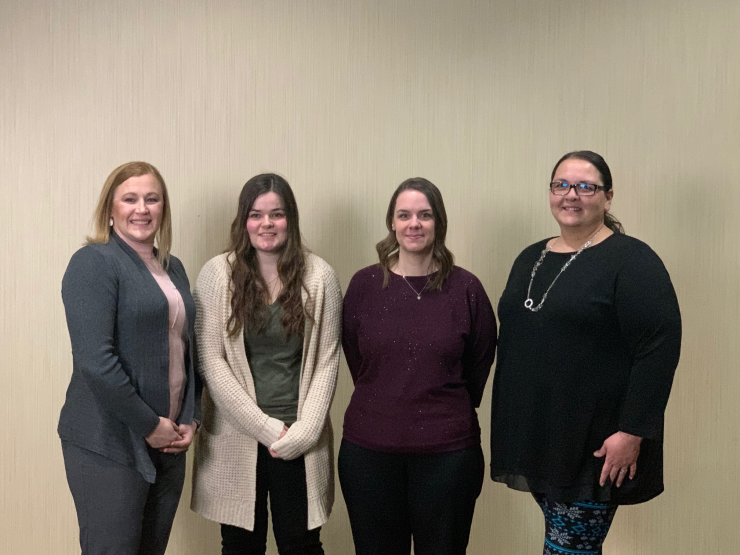 Trinity Health Foundation celebrated the most recent Nursing Scholarship recipients at a Scholarship Nursing Banquet last week. The event brought students and supporters together to recognize recipients and honor contributors to the Foundation's Nursing Scholarship Endowment.
Trinity Health Foundation has awarded $145,000 to 43 nursing students over the past four years. This newest group of recipients included four Dakota College at Bottineau nursing students. Dakota College is fortunate to have recipients at three of their locations. Attending the Dakota College campus in Minot recipient Linnzi Aberle, hometown Minot is enrolled in the Associate Degree nursing program and Tessa Pierson, hometown Sidney, MT is enrolled in the Practical Nursing program. Alysia Rufsvold, is a Practical Nursing student at the Dakota College in Valley City campus and Mandy Evers, hometown St. John, ND is an Associate Degree nursing student at the Dakota College at Bottineau campus. The photo provided pictures the recipients respectively.
Dawn Romfo, Director of Nursing at Dakota College thanks everyone who donates and supports the Trinity Health Foundation, "Over the past four years, I have heard from several of my students about how much the scholarship impacts their ability to continue working hard in accomplishing their goal in becoming a nurse. The Nursing Scholarship Endowment is a very noble, generous gift that is given by individuals who truly appreciate and value the nursing profession." This grant responds to the goal to help ease a nationwide nursing shortage. We congratulate these nursing students on this accomplishment.