Thrivent Financial and Dakota College Provide Care Packs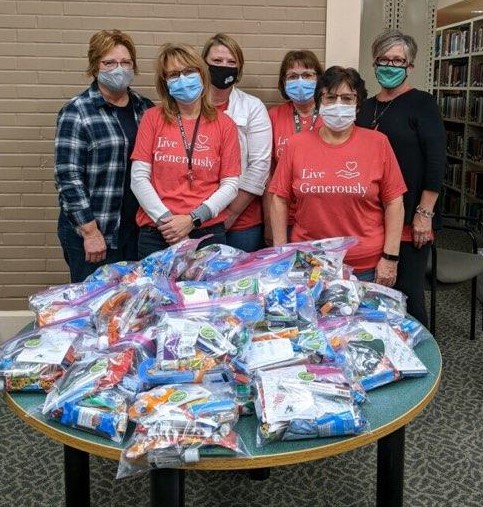 Left to Right – Terri Hauge, Sandy Hageness, Heather Vestre, Janeen Pollman, Denise Schroeter and Kim Kvernum
This past Friday a group of Dakota College staff assembled 172 Jack Care Packs. These packs were a result of funding donated from Thrivent Financial and matched with donations from faculty and staff at Dakota College.
The Jack Care Packs were put together to lift the spirits and show the students support on behalf of Dakota College. They included a large variety of snacks, chap stick, a Jacks face covering, hand sanitizer, and a note of encouragement written by a faculty or staff member. Janeen Pollman who lead the project says "It's important to the faculty and staff that the students know we support them. Especially during these uncertain times". Support did not only come from local faculty and staff members, but also a distance adjunct faculty member wrote notes and donated snacks along with a community member who donated money.
A special thank you to Thrivent Financial. Also, to the Athletics Department for the face coverings and Physical Plant for the individualized hand sanitizers. This support resulted in the Jack-Care-Packs going from quart size to gallon size bags distributed to all on-campus students.