Smokey's Court Announced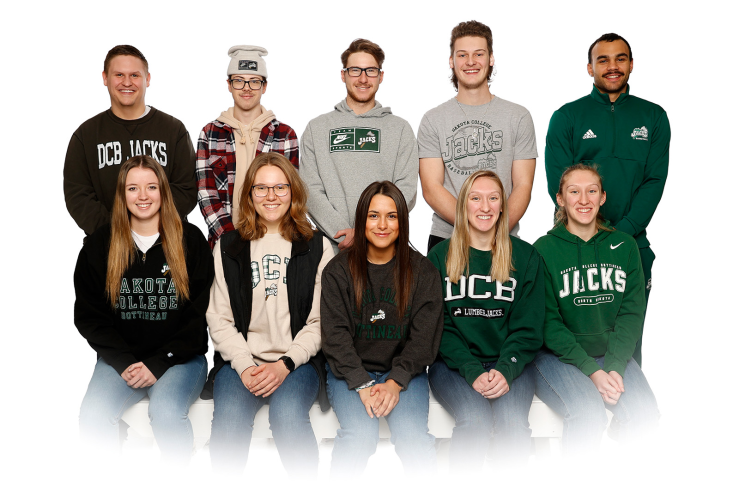 court listed below is the order of photo, starting back row first, left to right
To keep with the storied tradition that dates back to 1961, Dakota College at Bottineau faculty and staff are excited to announce their nominations for Smokey's Court 2023.
Nominations for Smokey's court were held last week by faculty and staff. Students eligible for the honor must have completed 24 credits and be full-time degree-seeking on-campus students with a cumulative GPA of 3.0 to be considered.
Dustin Gilseth – Horticulture, Langdon, ND
Kyle Harmon – Small Business Management, Boissevain, MB
Ryan Patterson – Agriculture Management & Technology, Boissevain, MB
Trevor Thompson – Accounting, Keizer, OR
Loukas Triantis - Liberal Arts, Sydney, Australia
Koylynn Gulliford – Health Services, Coaldale, CO
Lauren Gust – Nursing, Kramer, ND
Michelle Landsverk – Liberal Arts, Crosby, ND
Alexa St. Pierre – Liberal Arts, Trenton, ND
Alyssa St. Pierre – Liberal Arts, Trenton, ND
Smokey's coronation will take place Tuesday, February 7th at 3:00 pm in the Woodshed followed by a Lumberjack hockey game vs Williston State College. Area high school students are invited to join the Jack Pack that night, attending the game for free and receiving free pop, popcorn, and DCB apparel. During the first and second periods of the hockey game, the Jacks basketball coaches will test their hockey skills in the Slapshot Regatta. Coach Larry Roberts, Ladyjack basketball coach will shoot at the net with assistant Lumberjack basketball coach Cassey Pierson at guard.  The intent of Smokey's Week is to celebrate Dakota College with current students and alumni. The community is encouraged to participate in all the Smokey's Week events.
Keep posted on all of the events scheduled www.dakotacollege.edu/smokeys.