Smokey's Court Announced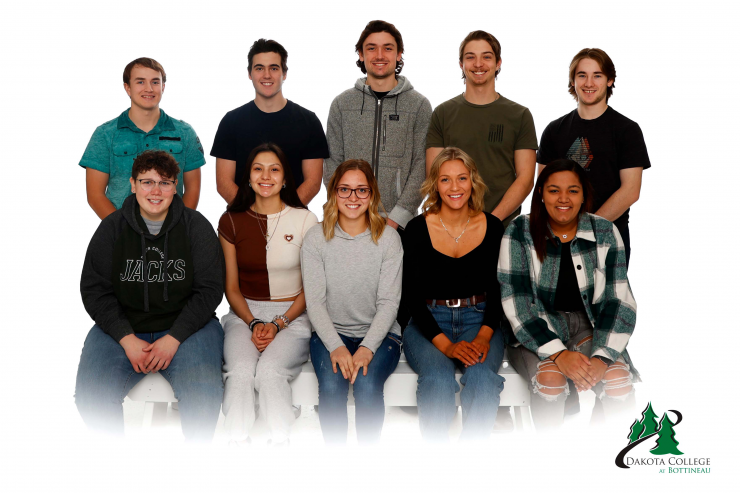 Front LtoR: Karlee Schmitt, Maria Moore, Ashtyn Allard, Chloe Burt, Addy Jelleberg
Back LtoR: Connor Beck, Tanner Clyne, Nic Vercaigne, Dale Kjorstad, Tyson Pringle
To keep with the storied tradition that dates back to 1961, Dakota College at Bottineau faculty and staff are excited to announce their nominations for Smokey's Court 2022.
Nominations for the Smokey's court was held last week by faculty and staff. Students eligible for the honor must have completed 24 credits, and be a full-time degree seeking on-campus student with a cumulative GPA of 3.0 to be considered.
Ashtyn Allard – Liberal Arts: Health Professions, Psychology Bottineau, ND
Chloe Burt – Liberal Arts: Biology, Maidstone, SK
Ady Jelleberg – Liberal Arts: Elementary Education, Bottineau, ND
Maria Moore – Liberal Arts, Mandan, ND
Karlee Schmitt – Liberal Arts: Psychology, Hazen, ND
Connor Beck – Liberal Arts: Wildlife Management, Wolford, ND
Tanner Clyne: Liberal Arts: Finance, Marketing & Management, Boissevain MB
Dale Kjorstad – Agriculture Management & Tech, Williston, ND
Tyson Pringle – Small Business Management, Boissevain MB
Nic Vercaigne – Liberal Arts: Agriculture, Melita, MB
Smokey's coronation will kick off the week on Monday, February 7th followed by a smoke house dinner in the dining hall and a lighted parade through Bottineau. The intent of Smokey's Week is to celebrate Dakota College with current students and alumni. The community is encouraged to participate in all of the Smokey's Week events. Prizes will be awarded to the parade entry with the most Jack spirit.
Keep posted on all of the events scheduled www.dakotacollege.edu/smokeys.