Rybchinski Named Coach of the Year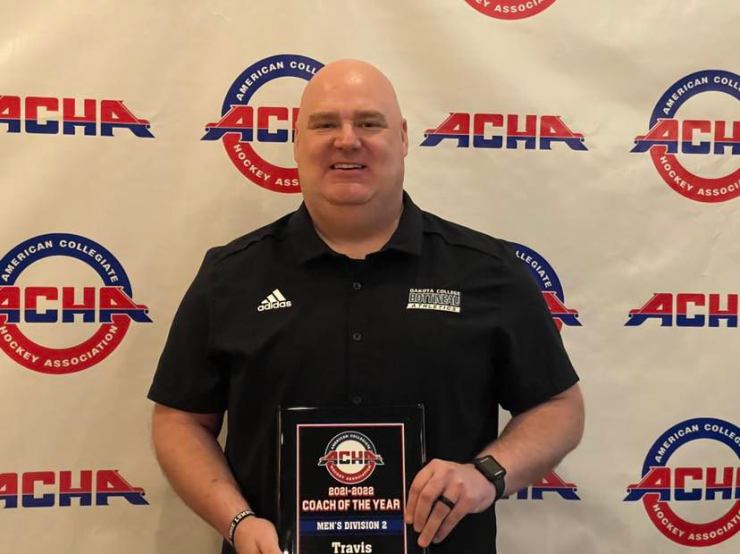 Dakota College at Bottineau Is proud to announce Coach Travis Rybchinski has been selected as the 2021-2022 Men's Division 2 National American Collegiate Hockey Association Coach of the Year. Coach Rybchinski is originally from Saskatoon, Saskatchewan. He led the Lumberjacks to a 17-10-3-1 record and was the #2 ranked team in the West Region this year. Coach Rybchinski was assisted this season by Corey Gorder.
Travis has been involved with the Dakota College since the early 2000s. He helped guide the Lumberjacks to multiple National Championships at the NJCAA level and spearheaded the move to the ACHA. He has led the Lumberjacks through seven NJCAA National Championships. The team has continued to have great success under his leadership, going to three consecutive National Championship Tournaments. As a player at Dakota College, Rybchinski helped win a National Championship for his alma mater, and also played at the NCAA level with Concordia.
Coach Rybchinski was first selected as the 2021/2022 West Region Coach of the Year, putting him in consideration for the National award, along with the Mike DeFazio (UMASS, NE), Bryce Hatten (Miami, SE), and Shaun Gibbons (ISU, C). He, along with the other Divisional Coaches of the Year, was recognized at a banquet in Naples, FL in April.