Out on the Range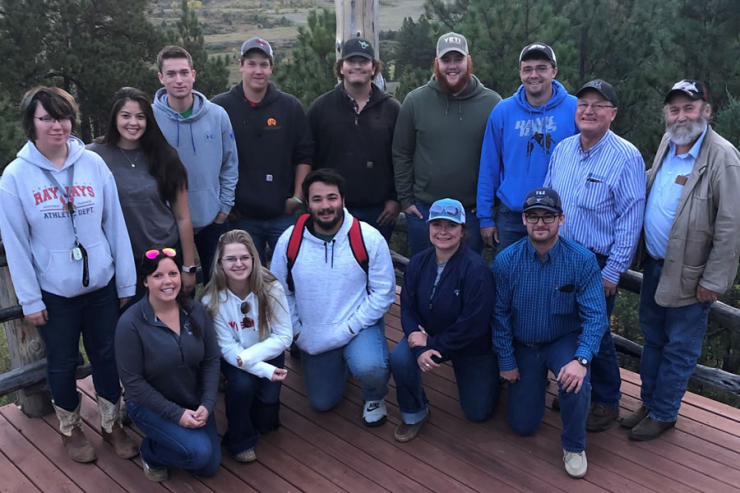 At the end of September, students from Williston State College's Agriculture program, joined by Dakota College at Bottineau (DCB) and Dickinson State University (DSU) students, attended a two-day range tour across western and central North Dakota.
WSC and DCB, along with Lake Region State College, are part of the North Dakota Agriculture Consortium (NDAC) which provides flexibility to students pursuing an agricultural degree by offering courses on-campus, online, and via Interactive Video Network (IVN).
Jessalyn Bachler, WSC's Agriculture Instructor, traveled with her Introduction to Range Management class, a NDAC class taught over IVN which includes WSC and DCB students, as well as her Ag Entrepreneurship class. Bachler's group was joined by DSU's Toby Stroh, Assistant Professor Agriculture, and his Range Management class. "In the agriculture field, hands-on experience is key to learning the important concepts that we review in class," explained Bachler. "This allows students to apply their knowledge to real-world situations."
The first day they visited the Chinn Ranch, owned and operated by Brad and Roger Chinn, in Grassy Butte. The group learned about two grazing systems: early May crested wheatgrass grazing and the twice-over rotational grazing used on federal (forest service) permitted land with a cattle rotation.
At the Wayne Gerbig Ranch in Amidon, they reviewed Gerbig's twice-over grazing system, looking at rangeland/pasture management of rough terrain with clay-hardpan soils using a cattle rotation.
The group also visited Initial Rock where General Custer and his men camped on the way to the Battle of Little Big Horn, and the Burning Vein historic area where the 1999 Gap Fire ignited and caused the vein to burn for decades.
Over a steak dinner, they ended the day with a discussion of ag entrepreneurship with one of the Logging Camp Ranch owners, Jennifer Hanson.
The tour continued the next day at the Black Leg Ranch, owned and operated by Jerry Doan and his family, in McKenzie.
"The Doan's are huge ND ag entrepreneurs and each of Jerry's sons have added another venture to the working cattle ranch including lodging, a venue/wedding hall and brewery, and custom cattle grazing," emphasized Bachler. "We toured these areas and their internationally recognized holistically managed rangeland where they run cattle and bison. Combined with all of their success in ag entrepreneurship, this was an amazing opportunity for students!"
The tour ended at the Gabe Brown Ranch in Bismarck, a diverse operation that does direct marketing, selling items like meat and eggs to customers in ND. Like Doan, Gabe Brown is internationally known for his holistic management of soil, range, and livestock sectors. The group toured Brown's grazing system where he runs cattle, sheep, hogs, and chickens all on rangeland.
When asked about her range tour experience, WSC Agriculture student, Hailey Hauge emphasized, "This trip allowed me to see more diverse career opportunities that were available in the ag industry, especially in the field of ag tourism after seeing the ranches."
Dani Zaste, another WSC Agriculture student added, "the tour was eye-opening for range and pasture management to understand how much time ranchers put into grazing systems on their operations."
Since the range tour, Bachler and her Livestock Evaluation class visited the Skedsvold Ranch in Alexander, ND to evaluate market ready hogs.
"The overall goal of this lab was for students to understand what hog they would like to butcher; which hog has the best meat to fat content; and a general evaluation of market and breeding hogs," explained Bachler. "This helps students understand the visual traits that are wanted in the pork industry, whether they are directly marketed to consumers or conventionally marketed at a sale barn."
Next week, Bachler will travel with her Livestock Evaluation class to the Glasoe Angus Ranch in Wildrose, to evaluate cattle.
For more information on this trip or the Agriculture Program, please contact Jessalyn Bachler at 701.774.4539 or jessalyn.bachler@willistonstate.edu.
For more information, please visit www.willistonstate.edu, call 701.774.4200, or stop by 1410 University Avenue, Williston, ND.