Nursing Program Accepting Applications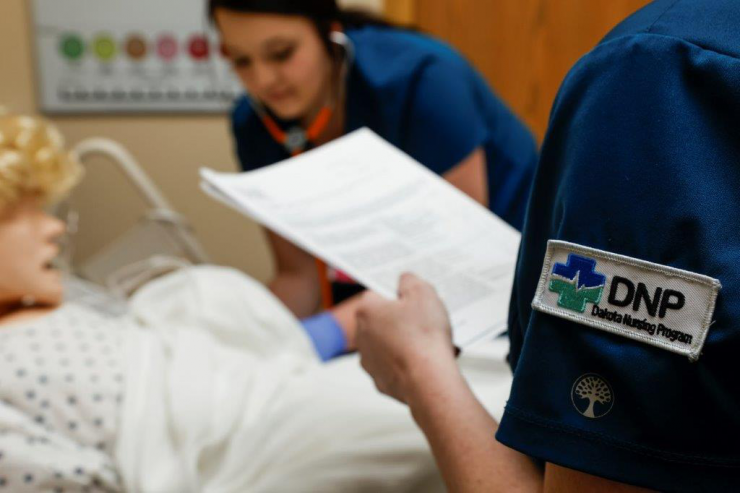 Dakota College at Bottineau's nursing program application process opens December 1, 2022. As a member of the Dakota Nursing Program, Dakota College is part of a consortium of four community college nursing departments that work together to offer a common curriculum for a three-semester Practical Nursing Certificate (LPN), and a two-semester Associate in Applied Science in Nursing (AD-RN) degree. These programs allow students to get into the workforce within two years or less. A successful graduate may also transfer to a four-year university within the North Dakota University System seamlessly.
Working to meet North Dakota's growing need for nurses, Dakota College provides nursing degree programs on the Bottineau campus and three satellite sites across the state: Minot, Valley City, and Jamestown. In the summer of 2022, Dakota College pinned 41 Practical Nursing students, and, in the spring of 2022, 36 Associate Degree in Nursing students. The program collaborates with medical centers across the state where students gain practical experience. The nursing program has proven successful, as graduates consistently score higher than the national average on exit exams.
After students graduate from Practical Nursing (LPN) or the Associate Degree in Nursing program (AD-RN), the final step in becoming a licensed nurse is sitting for the National Council of State Boards of Nursing's (NCSBN) NCLEX licensing examination. The National Council Licensure Examination (NCLEX) tests a student's knowledge and aptitude in safe and effective care environments, health promotion and maintenance, psychosocial integrity, and physiological integrity to practice nursing. Graduating students are eligible to take the NCLEX for licensing to begin their career as a Licensed or Registered Nurse.
Nursing applications are accepted between December 1 to March 5 annually. The nursing application may be found on the Dakota College at Bottineau website along with the registration for the Test of Essential Academic Skills (TEAS) and scholarship application opportunities. For additional information, interested applicants may contact Carissa Pollman, Dakota College advisor to the Nursing Program, at 701-228-5449 or carissa.pollman@dakotacollege.edu.