New Program at DCB in Minot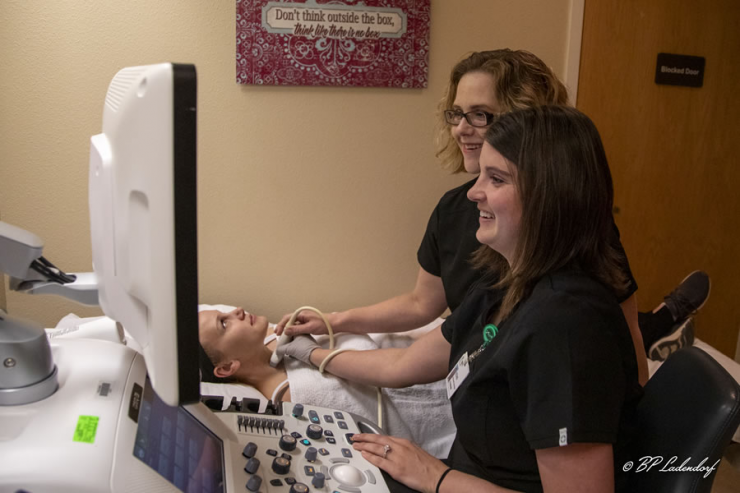 Dakota College at Bottineau (DCB) is excited to announce a new health care program in Diagnostic Medical Sonography (DMS) also known as ultrasound technology. This program will be offered in Minot in collaboration with Trinity Health. Currently, DCB offers an associate degree in Paramedic Technology and certificate and associate degree program in nursing to student in Minot. DCB also offers online allied health programs in Medical Administrative Assistant, Medical Coding and Medical Assistant.
The Associate of Applied Science (AAS) in Diagnostic Medical Sonography (DMS) prepares students for a dynamic career in sonography (ultrasound). Professionals in DMS, also known simply as sonographers, are trained to acquire and analyze produced sonographic images for diagnostic image quality and submit them to a qualified physician for interpretation. These images are then used to help physicians diagnose and treat many medical conditions. Since ultrasound is a non-invasive way to visualize internal organs, it is often the first imaging test performed when a disease is suspected. Therefore, sonographers have an important role in conducting and interpreting initial tests that may help narrow down a patient's diagnosis and quickly get them the medical care they need.
This program focuses on general abdominal, obstetric and gynecological sonography courses. Ultrasound physics and instrumentation, abdominal, obstetric, gynecologic, vascular sonographic imaging procedures and patient care will be studied. The DMS program prepares individuals to have foundational skills and knowledge of human anatomy and pathology, ultrasound physics, equipment operation and safety, and quality patient care. Clinical laboratory and practicum (hands on) experiences are included in the educational plan. A vital component of student learning occurs in the clinical setting where students have the opportunity to apply what is learned in the classroom and lab while gaining valuable experience to prepare for a sonography career.
Professional healthcare positions are on the rise. Sonographers practice in hospitals, clinics and physician's offices, and in many clinical specialties. A recent article in U.S. News ranked diagnostic medical sonography #4 in terms of best healthcare support jobs. For future sonographers, that translates into an expected 21,000 jobs opening by 2026; a growth rate of 17%. Amy Hofmann, Trinity Health DMS Program Director, shares, "A quick search on health care employers' websites will show that sonographers are a priority position in many imaging services departments in the state, while there is a limited number of sonography programs in the upper Midwest region. Trinity's goal in sponsoring a sonography program is to identify individuals from the region who would enjoy a career in the highly rated, rapidly growing health care profession of sonography and become successful, committed staff members that will stay long term."
DMS students are eligible to apply for the Sonography Physics and Instrumentation (SPI) examination during the last semester of the program. The American Registry of Diagnostic Medical Sonography (ARDMS) administers a national certification examination. Once successfully passing the SPI, graduates are then eligible to apply for the Abdomen (AB), and/or Obstetric/Gynecologic (OB/GYN) specialty examinations.
Because of the continued support of Trinity Health, DCB is able to offer students a DMS program in Minot. The classes will be held in the Trinity Health HC - 5th Ave Building, located at 307 5th Avenue SE, while clinical hands-on training will take place in various patient care areas of Trinity Health, under the supervision of registered sonographers. The classroom site is shared with the paramedic and nursing programs. Amy Hofmann will serve as the DMS program advisor for DCB. Questions may be directed to Amy at 701-857-5620 or by accessing the website www.dakotacollege.edu/Minot Applications are now being accepted for the DMS program which will begin during January 2020.