New Nursing Site in Jamestown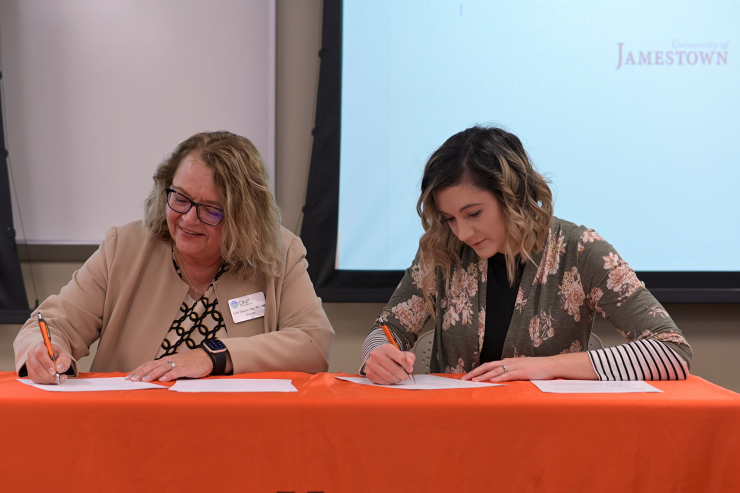 Julie Traynor, DNP Consortium Director and Paige Baade, DCB Nursing Director
To help address the state's nursing shortage, Dakota College at Bottineau announces an additional Dakota Nursing Program site at the ND State Hospital in Jamestown. Students may receive their Practical Nursing (PN) degree starting the fall of 2022.
Upon completing the 11-month PN program, students are eligible to take the National Council Licensure Examination (NCLEX) exam to become a licensed practical nurse (LPN). LPN's are needed in the healthcare system throughout the state. Students completing the PN curriculum may start a career or may elect to continue their nursing education for an additional year by applying to the Associate Degree Nursing (ADN) program through Dakota College.
Graduates from the ADN program are eligible to take the NCLEX exam to earn their credential as registered nurses (RN). ADN program completers have the qualifications to climb another step on the education ladder and pursue a Bachelor of Science in Nursing (BSN) or Master of Science in Nursing (MSN). Another exciting announcement is the partnership between University of Jamestown and Dakota College. Students may transfer seamlessly to the University of Jamestown to complete the bachelor of science nursing program.
Dakota Nursing Program sites through Dakota College at Bottineau now have extended it to four distant sites that include Minot (Trinity location), Rugby (Heart of America location), Valley City (Mercy Hospital location) and Jamestown (ND State Hospital location). "We are excited to bring a practical nursing program to the Jamestown area to assist in combating the nursing shortage seen within the state. The partnerships with DCB from the North Dakota State Hospital and the University of Jamestown is what helps make this program possible." Paige Baade, MSN, RN Director of Nursing at DCB.
Students interested in the program can view program details online at www.dakotacollege.edu/nursing. Applications for the nursing program are being accepted now until March 4, 2022.