Natural Resource Institue Part I Water Held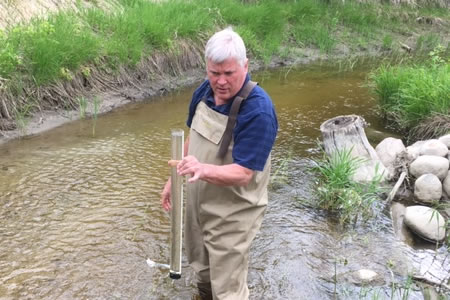 Miles Peterson in Oak Creek
A small group of eight educators gathered for the first in a teacher professional development series held at Dakota College at Bottineau last week. This was a joint effort between the ND Natural Resource Trust, ND Water Commission and Dakota College instructors.
Educators had the opportunity to earn 1-2 graduate credits for attending the workshop. They learned about creating and understanding the functions of a watershed model along with getting an analysis in water quality. The teachers participating were from Minot, Bottineau, Belcourt and Rolla. Miles Peterson, Minot was elated and says that it was "Just Plain Awesome!"
Dakota College instructors Dr. Shubham Datta, Larry Brooks and Angie Bartholomay enjoyed the Institute as much as the participants. They showed participants how to create a watershed model and observed how surface water flows. By watching how surface water flows they could observe the physical characteristics of a watershed and investigate the impacts of human land use decisions.
Maps were created to characterize a watershed and identify the key parts and functions of the watershed. They studied actual stream flow, substrate, bank and stream morphology, aquatic habitats and fish assemblages to determine stream quality and assess overall health. These activities all came together in a graph showcasing the water quality data, then analyze, compare and summarize the trends in water quality. Participants conducted a chemical assessment of Oak Creek to determine the overall health of the stream. They also conducted a simulated bioassessment of Oak Creek, learning how to identify macroinvertebrates using a dichotomous key to determine the overall health of the stream. Day two of the Institute participants toured the Dakota College aquaponics, hydroponics and greenhouses followed by a presentation by Bottineau County Agent Sara Clemens and a tour of the J Clark Salyer Wildlife Refuge with Todd Grant.
Part II of the Natural Resource Institute focusing on another section of natural resources will be held summer 2021. The goal is to have a three-part Natural Resource Institute to familiarize formal and informal educators with activities they can use to teach different natural resources. Participants will have an opportunity to earn 1-2 graduate credits and have a program in hand to use with their students at any level.