Looking Forward
MINOT, N.D. – "You should next time. There's always a next time."
The words struck a chord with Marina Carrillo, a senior in the energy economics and finance program at Minot State University.
Carrillo was talking with North Dakota Governor Doug Burgum and Lieutenant Governor Brent Sanford following Burgum's 2018 State of the State Address at Ann Nicole Nelson Hall when the conversation turned to Minot's American Petroleum Institute (API) chapter meeting.
New officers were going to be presented that night, and Burgum wondered why Carrillo hadn't ran for a position. She didn't have an answer, but Sanford did. There would be another opportunity, he assured her.
Carrillo applied Sanford's advice soon after their conversation. When the Williston Basin Section of the Society of Petroleum Engineers (SPE) had new officer openings, she threw her name in the running.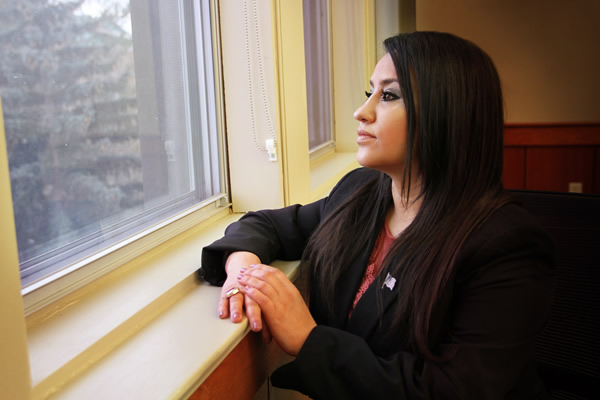 "This is one of the best memories I have," Carrillo said. "When I was introduced as one of the two new board of (student) directors by Mr. Andrew Eis, he said something I will never forget. 'All these years she has proven herself. And she has earned a place among us.'"
Carrillo's journey to the API and SPE — and the energy economics and finance program at Minot State — has been anything but straight forward.
Growing up in San Francisco, Chihuahua, Mexico, Carrillo made her way to the United States nearly two decades ago. After living in Missouri for 10 years, her ex-husband gave her the option of moving to Colorado or North Dakota. She chose North Dakota.
"And it was the best decision I could have made," Carrillo said, "because I finally found the help I needed to get away from the relationship."
Carrillo got in touch with the Domestic Violence Crisis Center (DVCC) shortly after moving to Minot in December 2009. By 2011, she had separated from her spouse.
"That was when the flood happened. I was affected by the flood, so my three kids and I were living in the streets for six months. I was just trying to survive," Carrillo said.
Carrillo eventually secured a FEMA trailer for her family and began working for a Bakken staffing company at Command Center as a quality control manager. The management position gave Carrillo some stability and she began looking towards the future. She enrolled at Dakota College of Bottineau (DCB) on Minot State's campus and started a customer service career at a local hotel.
Following graduation from DCB, Carrillo assembled her children for a family meeting. She wanted to pursue another degree, this time at Minot State, but had also been offered a good job from a local business. Together, they weighed the pros and cons.
"My kids said, 'Go for the big fish,'" Carrillo smiled.
While previous life choices had been focused on survival, this time Carrillo was able to focus on a subject that interested her — energy economics.
"I picked my major because I grew up in a monopoly industry, the energy industry," Carrillo said. "I saw how the market was behaving back then and how it affected the citizens, how it affected the economics of the country because PEMEX (Petróleos Mexicanos) was owned by the government."
It was in her program of study, and the relationships formed with like-minded members in the oil industry community, that Carrillo found where she belonged.
"It was the best decision after the DVCC, enrolling in my major in energy economics and finance. I know that I'm in the right place at the right time," Carrillo said.
She began attending API meetings and joined several clubs and organizations on campus. Next came the SPE and, this past summer, an opportunity to internship in Santiago, Chile for an energy consulting firm named B-Green.
When Carrillo returned to campus for the fall 2018 semester she was on track for a December graduation. Then, a series of personal setbacks occurred.
"It was either take a step away (from some courses), regroup, and hurt my grades or not take care of myself and my family," Carrillo said.
Carrillo chose family, knowing there's always a next time or, in this case, a next semester. She will continue her coursework in the spring and plans to graduate in 2019.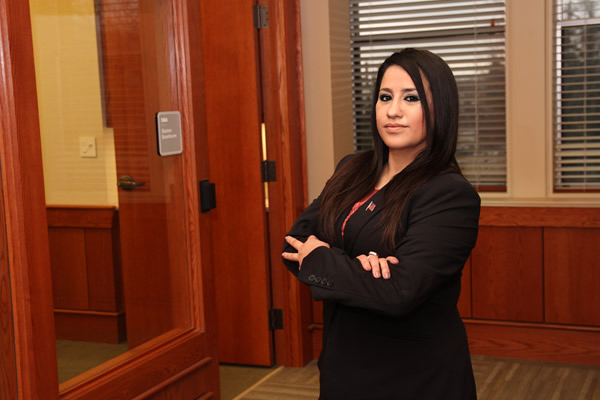 "I have my own bad story, but it's in the past. I managed to get out of there. I managed to learn. This is nothing," Carrillo said about her current obstacles. "Whenever you want something, you will find a way to get it."
ABOUT MINOT STATE UNIVERSITY
Minot State University is a public university dedicated to excellence in education, scholarship, and community engagement achieved through rigorous academic experiences, active learning environments, commitment to public service, and a vibrant campus life.
Amanda Duchsherer
Digital Communications Specialist
University Communications, Marketing, Red & Green
Minot State University
Minot, N.D. 58707
701-858-3199, 800-777-0750