Horticulture Student Adds New Skill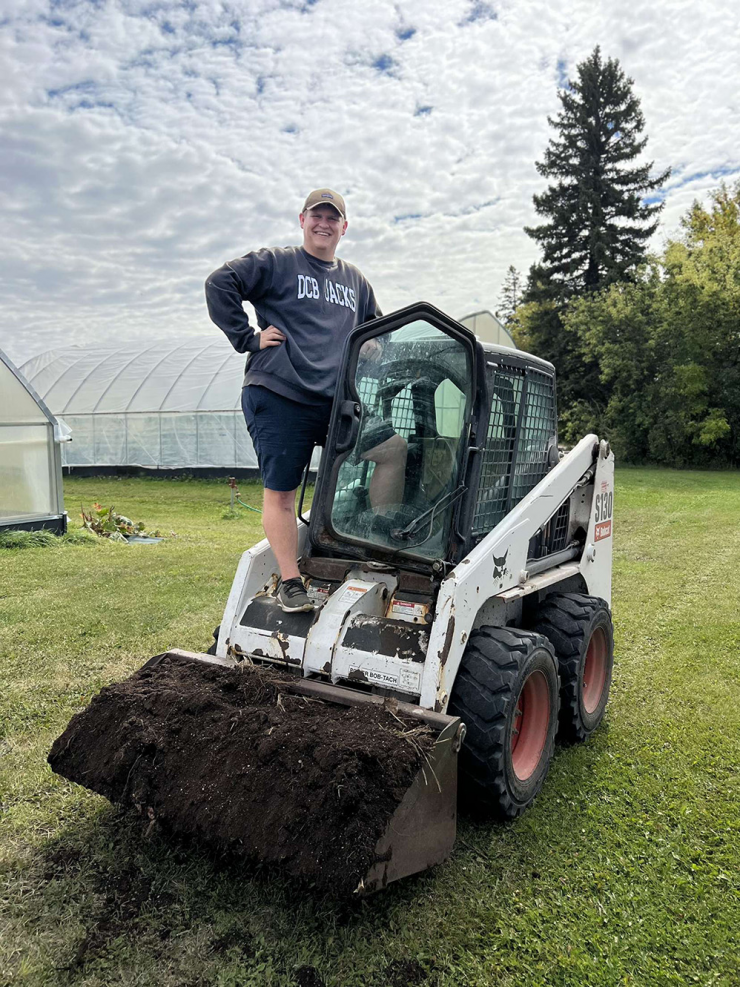 No matter what stage in life you are, whether it is high school, college, or in the armed forces, there is always something new to be learned. This proves to be true for Dustin Gilseth, who is a Horticulture student at Dakota College at Bottineau. Dustin is from Langdon, ND, and is anticipated to graduate with his AAS in Horticulture with a concentration in Greenhouse Technology this spring.
Lynn Nero, Dakota College Greenhouse Manager, also assists in the Horticulture practicum, shares "Dustin is always willing to help and is always excited to learn". In the practicum, students learn a variety of different skills including landscaping, greenhouse operations, and soil nutrition. One exciting new skill that Dustin recently learned is how to operate the Bobcat. Stuart Oien, who works with the Campus Physical Plant, took on the task of training Dustin on how to use the Bobcat properly and safely.
With this new skill, Dustin has been a huge help to Lynn when it comes to taking care of the various gardens and high tunnels which are located on the Dakota College campus. He has helped haul compost from different areas of the college and bring them over to the compost bins. Dustin helped clear out the high tunnels to get them ready for winterization. According to Lynn, "he is a breath of fresh air and he is always willing to figure things out".
Dustin has always had an interest in being outside. When he learned about the Horticulture department at DCB, he knew that was where he wanted to start his college career. "Being here really expands my knowledge for being outdoors and doing what I love," states Dustin.
When asked what he enjoys most about learning new skills and working side-by-side with Lynn, he states that "she is the reason I come at 8 am every day. She is always so positive and is always pushing me to learn and do my best. She has done amazing things in the Greenhouse in her short time here and I look forward to being around her and learning from her this year".
Next year, Dustin will be missed. "I would love it if he stayed here after graduation, but I know that wherever he goes, he will do well," states Lynn.