Farm Business Management Instructor Hired for Minot Area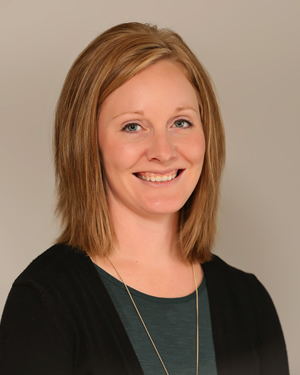 Dakota College at Bottineau has hired a Farm Business Management instructor for the Minot area. Lynsey Aberle, a 2010 NDSU Graduate with a degree in Ag Economics and Animal Science officially started work in this position on October 1, 2018. Farm Business Management courses are available through Dakota College at Bottineau in the Minot, Rugby and Bottineau areas. Instructors meet with enrolled farmer and ranchers to assist in completing a whole farm analysis to determine their actual profitability as well as individual enterprise analysis to determine the profitability of crops or livestock enterprise.
Lynsey worked as the Farm Business Management Instructor for Dakota College back in 2012 for two years and then moved to Dickinson to work as the Dickinson Farm Business Management instructor for two years through Bismarck State College. She moved back to the area to get married and worked at a local credit union until becoming a stay at home mom the past year. Lynsey was raised on a ranch just south of Granville. She and her husband, Eric farm just south east of Surrey. They have an 18-month-old girl, Jayde who loves everything about animals and farming. Lynsey shares that she is truly excited to be back. "I loved being a Farm Business Management Instructor." In her spare time, Lynsey enjoys working outside as much as possible around the farm, in her garden and yard, and spending time with family and taking pictures.