ECH Hosts Second Annual Field Day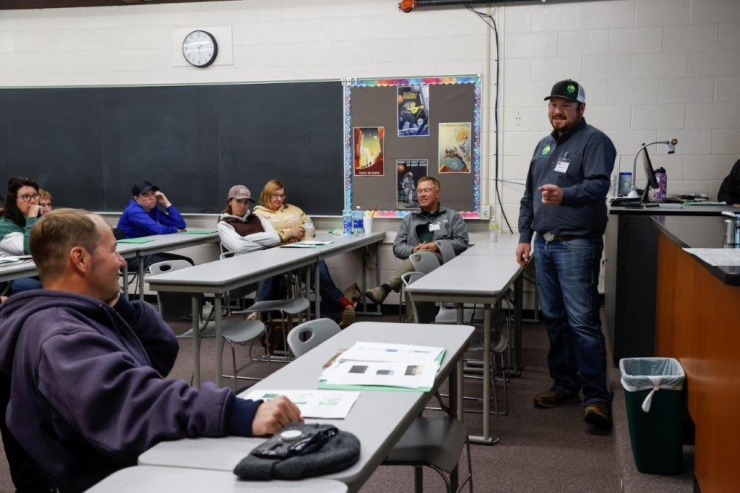 On September 22nd the Entrepreneurial Center for Horticulture held its second annual interactive field day on the Dakota College at Bottineau campus. This field day started getting planned last year after the first one had commenced, which was initially postponed in 2020 due to the COVID-19 pandemic. Grants awarded to Dakota College at Bottineau were used to assist in funding the event. Just under 40 individuals participated in this event which was almost triple compared to last year's event.
The event started with opening remarks and history from the new Dakota College Campus Dean, Dr. Carmen Simone, and Keith Knudson, Horticulture Department Instructor. A tour of the campus included the greenhouse, industrial hemp research plots, community orchard, various gardens, high tunnels, and the wash and pack facility. Other staff and students assisted with the tours.
Participants attended informational sessions after lunch. "We were lucky enough to have speakers who are very well educated in their chosen informational topic" stated Knudson. Cody Clemenson, who is a Forest Stewardship Specialist with the North Dakota Forestry Service spoke about windbreaks. He helped install the community orchard located on campus as well as plant the windbreak located next to the baseball field. Dr. Linda Burbidge, instructor for the Small Unmanned Aircraft Systems (sUAS) presented drone practices in specialty crop production. Dr. Burbidge was just awarded a grant to help with teaching sUAS classes to high school students across the state of North Dakota. Matt Olson, NDCDEA Director, spoke on high tunnels and the many uses they provide to farmers and producers. Jaden Deckert, Urban Conservationist in Bismarck, spoke on cover crops & compost.
The Entrepreneurial Center for Horticulture is grateful to the speakers, facilitators, and everyone who helped organize events, the field day was a tremendous success. "It was a lot of fun touring your facilities and learning about a few different areas that I don't have much knowledge on" stated Deckert.