DCB Teams Up with Local High Schools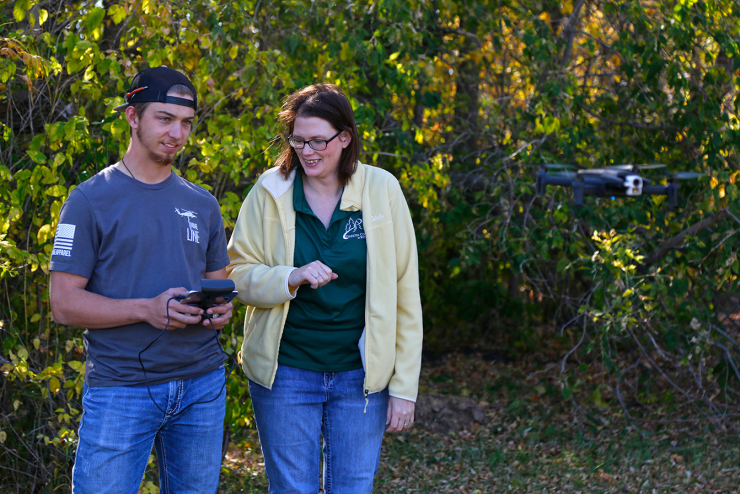 Dakota College at Bottineau (DCB) is excited to announce they have teamed up with Rugby Public Schools (RPS) and Kenmare Public School (KPS) to offer a new dual credit course for high school students to earn college credit. RPS and KPS high school students can earn college credit in the agricultural field: Drones – (small Unmanned Aircraft Systems) sUAS 102 – Basic Flight Training Course.
While in high school students can save money and time in completing college courses before attending college. The ease of transfer is a benefit for students as their dual credit courses transfer to any college or university in the North Dakota University System.
The Basic Flight Training Course provides hands-on training in pre-flight, post-flight, pilot in command (PIC) responsibilities, spotter responsibilities, and hazard avoidance. Students will gain an understanding of spatial disorientation and become proficient in basic small UAS operations such as ascent, descent, altitude hold, and directional change. They will gain experience by demonstrating level flight, horizontal, vertical, circle and figure-8 patterns. Numerous stage checks will be utilized to ensure student understanding and proficiency in basic operations and maneuvers.
Upon completion of this course, students will have reliably demonstrated the ability to fly small sUAS in a controlled environment. Students will become proficient in basic operations and maneuvers while demonstrating their ability to avoid obstacles in the flight environment. Students will also take UAS 101 which is an Introduction to UAS Operations.
A minimum number of students must register for the course scheduled for fall 2023. This course will spark interest in drone use in all vocations as well as increased awareness about the rules and areas around hobby flight.