DCB Recognizes 2019 Leap Graduates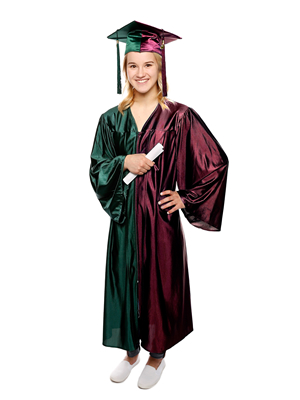 Dakota College at Bottineau (DCB) is proud to announce the LEAP (Leading to Education and Advanced Preparation) program graduates. Designed for high schools, LEAP allows high school students to earn a Certificate of College Studies alongside their high school diploma. This spring DCB graduates 18 students from eight high schools in North Dakota; Bottineau, Drake, Mohall-Lansford-Sherwood, Newburg, Our Redeemers, Rugby, Westhope and homeschool. Each graduate will be acknowledged as a high school and college graduate at their high school commencement exercise.
Eight high school students will be walking across the stage at DCB to receive recognition for completion of the LEAP program. The commencement exercise will be held on the Dakota College at Bottineau Campus Friday, May 10th at 3:00 pm in the gym located in Thatcher Hall.
Students earn 24 general education college credits while in high school, by taking two dual credit offerings from DCB during each semester of their junior and senior year. This program launched in the Fall 2017 semester and offers great benefits for students including time and cost savings, flexible delivery either online or via Interactive Video Network (IVN) and transferability. General education courses transfer to any campus in the North Dakota University System (NDUS). This allows students to take quality courses from DCB at an affordable rate and then either continue their education at DCB or transfer their courses/credits to any campus in the NDUS.
Several LEAP graduates exceeded the general education credits for Certificate of College Studies. Jill Rotherham, Drake High School is the first Associate Degree LEAP student. Jill earned two associate degrees along with the Certificate of College Studies. Naomi Worlund, who is a homeschooled graduate is the first Phi Theta Kappa (PTK) dual credit member. All dual credit students are eligible for PTK upon completion of twelve-credit hours with DCB and maintain a 3.5 GPA or above. Naomi also completed her Bookkeeping Diploma.
LEAP Graduates: *Honors (3.5-3.79) **High Honors (3.80-4.0)
Bottineau High School
Alexis Heil, COS *

Drake High School
Lillian Martin, COS
Jill Rotherham, AA, AS, COS **

Mohall-Lansford-Sherwood
Chase Driscoll, COS **
Charles Eriksmoen, COS **
Jorie Holsten, COS **
Tyson Marshall, COS
Dalton Moberg, COS **
Grace Solemsaas, COS **
Taylor Steeves, COS *
Isaac Undlin, COS **

Newburg High School
Harley Blada, COS
Trent Hunskor, COS

Our Redeemers, Minot
Dalyce Leslie, COS **

Rugby High School
Kyla Radomski, COS *
Gracie Wagner, COS

Westhope High School
Dexter Dunham, COS **

Homeschool
Naomi Worlund, Bookkeeping **