DCB Receives Virtual Realty Headsets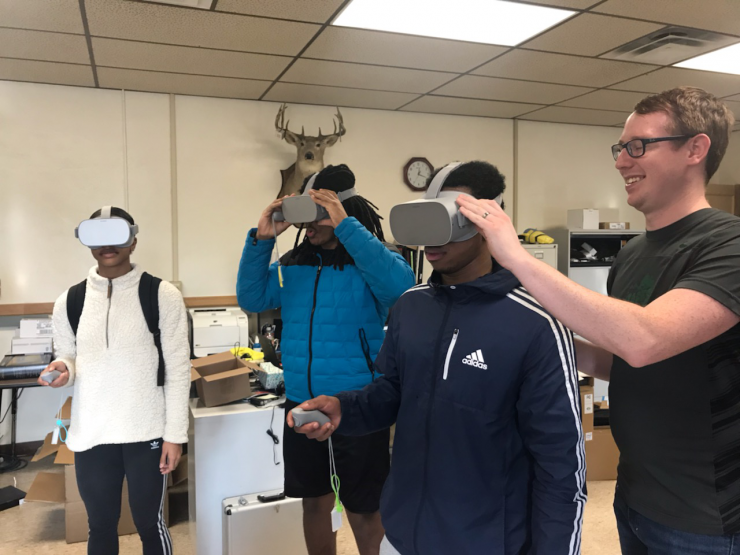 Jacob Nelson, DCB Information Systems Specialist adjusting headset for student Isaiah Woodley while (left to right) Jayla Howard and Shaun Dickerson test their headsets.
The North Dakota Space Grant Consortium (NDSGC) is participating in NASA's pilot program for their newly developed content related to NASA's Commercial Crew Program. As a partner in piloting these activities, Dakota College at Bottineau's (DCB) Associate Science Professor Angie Bartholomay attended the Next Gen STEM Commercial Crew Program Pilot Space Grant Training last spring. She was trained on the newly developed NASA content which aligns with NASA's Commercial Crew Program, including virtual reality training.
NDSGC supported DCB with a set of Oculus Go headsets and associated materials to support outreach programs conducted across North Dakota. To assist NDSGC in their goal to engage students across North Dakota, DCB requested additional virtual reality headsets from NDSGC. The award has granted 30 headsets to DCB. Professor Bartholomay said, "I am excited for the opportunity of bringing new resourceful educational materials to my campus and the community". Bartholomay plans to use them within the classroom and through opportunities as a STEM Ambassador. Through DCB, Bartholomay hosts several community outreach presentations, STEM Day at DCB, Water Festival and Career Fairs. The goal is to inspire students to explore the field of Science, Technology, Engineering and Mathematics.
Caitlin Nolby, Deputy Director of NDSGC said, "We are appreciative of DCB being part of the NASA Commercial Crew Program workshop, which included VR headset training this spring. We are excited to collaborate with Dakota College at Bottineau on this project".