DCB Receives RCS Award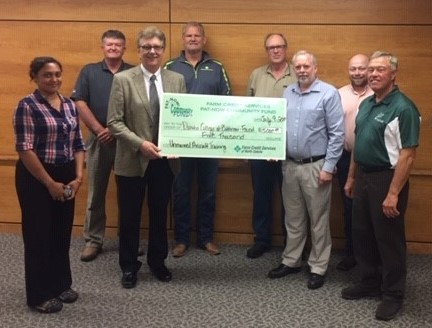 Back Row LtoR: Bob Little FCS Bottineau Branch Manager, Mark Martinson FCS Director, Tom Henry FCS Director, Robbie Lunnie DCB Instructor
Front Row LtoR: Indrani Sasmal DCB Grant Writer, Dr. Jerry Migler DCB Campus Dean, Gordon Hanson FCS CEO, Keith Knudson DCB Instructor
Dakota College at Bottineau recently received a grant award from Farm Credit Services of North Dakota. DCB is the recipient of the Pat-NOW Community Fund (PNCF) in the amount of $5,000.00. The grant funds will help fund training for students on unmanned aircraft as part of the college's new agriculture program.
Representatives from Dakota College are pleased to accept the check and utilize the grant funds towards the training program.
"Farm Credit is proud to grant funds to Dakota College at Bottineau for their Agriculture Management and Technology unmanned aircraft program," says Gordon Hanson CEO of Farm Credit Services of North Dakota. Agriculture is a top industry in North Dakota and Dakota College at Bottineau is taking steps to support growth in professions associated with agriculture. Enabling them with these funds will benefit students, staff and the ag community in the region as well as across North Dakota. This is a worthy education project, and Farm Credit Services believes it's important to give back. "We are excited to help them with this valuable project that will also include collaboration with Williston State College and Lake Region State College for delivery of the program," Hanson adds.
Farm Credit Services of North Dakota established the Pat-NOW Community Fund to assist in the implementation and development of projects and programs in local communities and rural areas in western North Dakota.