DCB Offers Live, Interactive, Virtual Lectures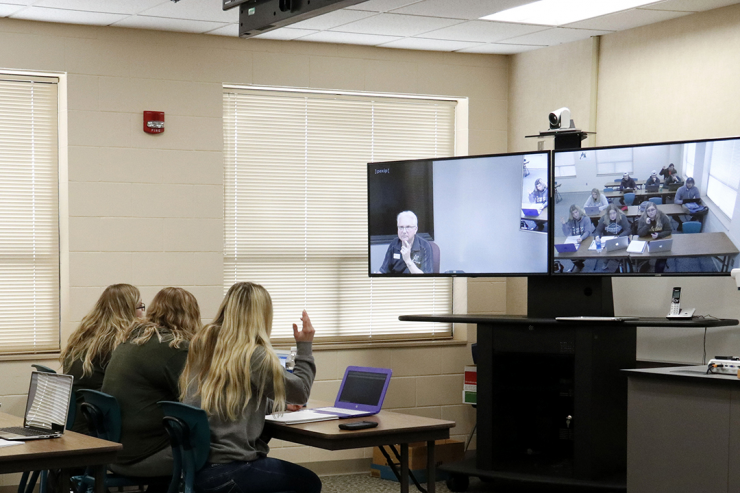 Dakota College at Bottineau offers an Education Outreach program to area residents, schools and businesses. Faculty and staff highlight their expertise on a variety of topics. Areas range from photography and arts to health and team building. The presentations may be interactive classroom presentations, lectures and most are suitable for all ages. DCB offers this program as a free service providing live, interactive, virtual lectures.
The Dakota College at Bottineau's photography and art instructor, Clint Saunders, heads up the photography program and enjoys traveling to middle schools and high schools as a guest lecturer for art, photography, and career classes. Over the past several years he has presented at schools in North Dakota, South Dakota, Wyoming, and Idaho.
Saunders travels to present at schools for several reasons stating, "It started as a method to promote our college and my program, but it's more than that. It's an opportunity to reach out to a younger generation and get them excited about art, photography, career planning, and learning. I love traveling, teaching, working with kids, and discussing these topics that I'm passionate about," said Saunders.
With the COVID pandemic, Saunders was unable to travel to schools in person, so he tweaked his traveling lectures to present in a virtual setting. "I do miss being in the classrooms," Saunders said, "but I'm very happy with the interaction and feedback I'm getting on the virtual lectures. Some students log in from their homes, and some are in their regular classroom where their teacher logs in. It's a unique learning environment, but the students are all engaging at a high level and responding well to the material."
Saunders currently offers four different virtual lectures.
6 Steps to Better Photography – this is an interactive lecture in which students participate by taking photos with their cell phones during the lecture and sending them in for live critiques.
Truth, Lies and 1/60th of a Second – this is a lecture about finding truth in photos and photojournalism. Students participate via an open discussion throughout the presentation.
What is Art – this is an interactive discussion in which students discuss what art is. The presentation travels back in time to the studio of Marcel Duchamp and discuss his most influential piece, "The Fountain." Pursuing your passion and careers in art is also discussed.
Careers in Art, Following Your Passion – In this shorter lesson, Saunders shares his personal journey of pursuing a career as an artist, and discuss following your career passion, whatever it is.
In addition to Saunders presentations, Dakota College has guest speakers in Nature and the Environment, Science and Math, Career and Technical Educaiton, Athletics, Health and other topics added per special request. The newest addition to the Outreach program is Admissions as looking at higher education options can be overwhelming. The Dakota College Admissions representatives are available to talk new students through the process helping provide a pathway to success.
If you'd like more information about having Saunders as a virtual guest lecturer, you can contact the Educational Outreach Coordinator, Sandy Hageness at 701-228-5480 or Sandy.Hageness@dakotacollege.edu.