DCB Library Offers Free Patron Access to Ancestry Library Edition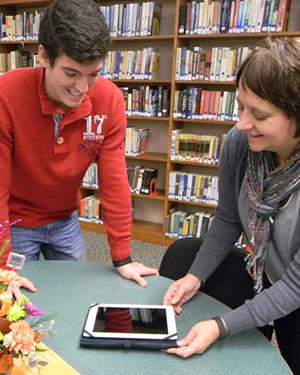 Ancestry® Library Edition, distributed exclusively by ProQuest and powered by Ancestry.com, delivers billions of records in census data, vital records, directories, photos, and more.
Ancestry Library Edition brings the world's most popular consumer online genealogy resource to Dakota College Library. Patrons have access to an unprecedented online collection of individuals from North America, the United Kingdom, Europe, Australia, and more.
Answers await everyone—whether professional or hobbyist, expert or novice, genealogist or historian—inside the more than 7,000 available databases. Patrons can unlock the stories of family members from years gone by with sources like censuses, vital records, immigration records, family histories, military records, court and legal documents, directories, photos, yearbooks, maps, and more.
Ancestry Library Edition differs from the Home Edition in that patrons use the common database but are restricted from creating a profile and storing information on the site; however, documents can be printed, or emailed to the patron so information can be saved and stored. Ancestry databases are consistently updated with new content.
Popular and recently added collections include:
U.S. collections deliver hundreds of millions of names from sources such as federal and U.S. censuses; birth, death, and marriage records including the Social Security Death Index; and U.S. border crossing and trans-ocean ship records.
Canadian collections provide nearly 60 million records from the Census of Canada, and key vital records, such as the Drouin Collection (1621-1967), which includes nearly 30 million baptism, marriage, and burial records from Quebec.
U.K. collections offer censuses for England, Wales, Isle of Man, Channel Islands, and Scotland, with nearly 200 million records: Births and Baptisms (1834-1906), Marriage Licenses (1521-1869), Deaths and Burials (1834-1934), and Poor Law Records (1840-1938) in London, and more.
Other international collections continue to grow with more than 46 million records from German censuses, vital records, emigration indexes, ship lists, phone directories, and more; Chinese surnames in the large and growing Jiapu Collection of Chinese lineage books; Jewish family history records from Eastern Europe and Russia; and more.
Military collections deliver over 150 million records containing information often not found elsewhere and includes records from the colonial to the Vietnam era.
Multimedia collections deliver millions of files ranging from family and gravestone photos to postcards and newsreels.
All this, plus an intuitive search interface, detailed search indexes, and helpful Learning Center tools, makes Ancestry Library Edition an indispensable resource for DCB library patrons interested in pursuing genealogical research.
DCB Library recently hosted the Forest Carlson's ND History Class from Bottineau High School to assist them in their ancestry class project.