DCB to Host Live Science Olympiad Building Event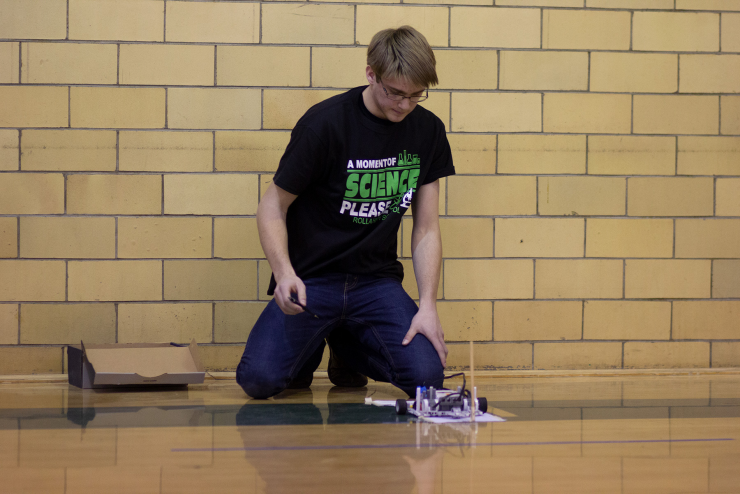 The Northeast Regional Science Olympiad was held virtually this year with the exception to an on-site building event scheduled for Tuesday, March 30, 2021. The building event will be held at Dakota College at Bottineau with students participating from area junior high and senior high schools. Students will be competing for the chance to qualify for the North Dakota State Science Olympiad competition. For more than 25years Dakota College has been the host for the NE Regional Science Olympiad. Providing a competition allowing students to use their creativity and knowledge to expand their horizons. Teamwork is a required skill in most scientific careers today, and Science Olympiad encourages group learning and emphasizes active, hands-on group participation.
Each school-based team brings students who cross-train for a variety of events in their skill set. Science Olympiad competitions are like academic track meets, consisting of a series of team events within their division (Division B is junior high; Division C is senior high). The events reflect the ever-changing nature of genetics, earth science, chemistry, anatomy, physics, geology, mechanical engineering and technology. By combining events from all disciplines, Science Olympiad provides a wide cross-section of opportunities for student involvement.
The hands-on building competition at Dakota College will host seven schools from North Dakota; Langdon, Cavalier, Minnewaukan, Drake-Anamoose, Mohall-Lansford-Sherwood, Rolla and Bottineau. Students will compete in divisions facilitated by area professionals who critic the on-site testing of the device's students built.
These events are:
Boomilever - Students design and build a boomilever, a cantilevered wood structure. More simply, a wood structure that is attached to a wall from a single point or area that holds weight. It is then tested at the event for efficiency.
Circuit Lab - Students participate in activities related to electricity and magnetism
Gravity Vehicle - Teams design, build and test one vehicle and ramp that uses the vehicle's gravitational potential energy.
Machines - Teams will design and construct a lever-based measuring device prior to the tournament that will allow the team to determine the ratio between 2 different masses.
Mousetrap Vehicle - Students design, build and test one vehicle that uses a mousetrap as its sole means of propulsion to reach a target as quickly and accurately as possible.
Write It, Do It - One participant will write a description of how to build a specific structure. The other participant will use that description to attempt to construct the same object from the description.
Science Olympiad is a national non-profit organization dedicated to improving the quality of K-12 science education, increasing male, female and minority interest in science, creating technologically-literate work force and providing recognition for outstanding achievement by both students and teachers. The winners of the Regional Science Olympiad will compete for the state title later this spring.