Dakota College Recognizes Excellence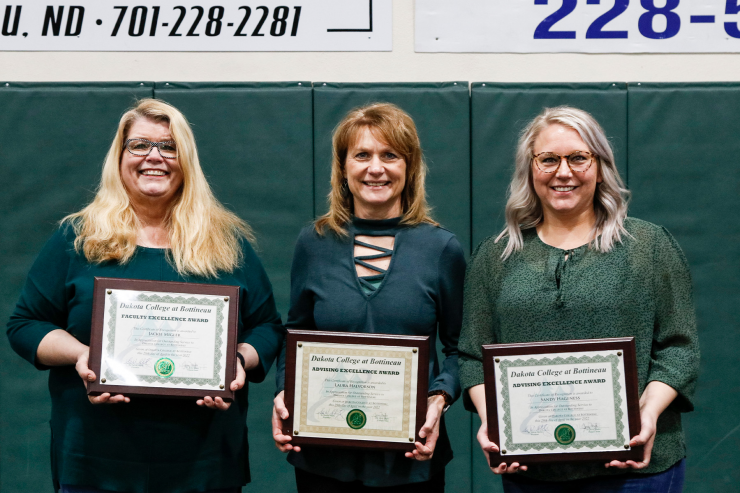 Excellence Award Recipients, Left to Right: Jackie Migler, Sandy Hageness, Laura Halvorson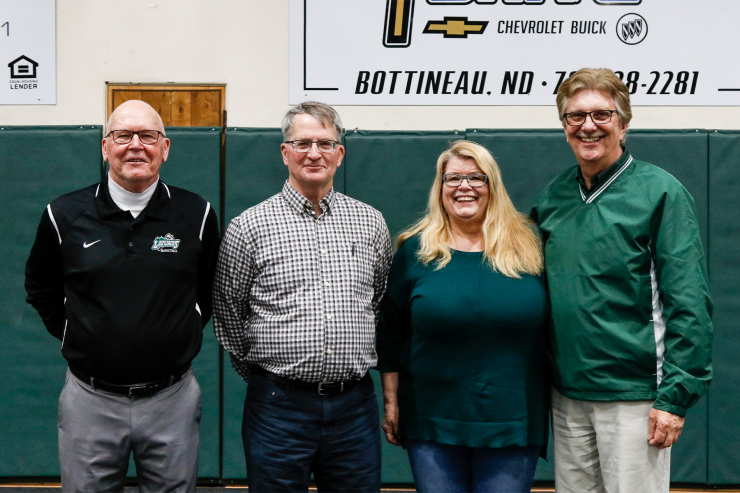 Retirees, Left to Right: Wayne Johnson, Rodney Armstrong, Jackie Migler, and Dr. Jerry Migler
Dakota College at Bottineau held its annual faculty and staff recognition luncheon last week, April 29, 2022. Excellence awards, which are determined by peers, were presented to faculty, staff and advisors.
The Faculty, Staff, and Advising Excellence awards are intended to recognize and reward employee efforts whose job performance adds value to the college experience for students, colleagues, and the campus community. Recipients demonstrate qualities that make it clear their contributions are exemplary and go beyond what is required for the routine discharge of their duties. Sandy Hageness, Administrative Assistant to the Campus Dean and Marketing Coordinator is the 2022 recipient of the Staff Award for Excellence. Jackie Migler, Education Program Coordinator/Instructor and Disability Services Coordinator is the recipient of the Faculty Award for Excellence. Laura Halvorson, Advisor and Director of Retention is the recipient of the Advising Award for Excellence.
Sandy Hageness has been employed at the college since 2015. Administrative Assistant to the Campus Dean, Sandy also coordinates the marketing efforts for Dakota College. She is the frontline face of Dakota College, from the time you walk in the door of Thatcher Hall to encouraging students and supporting faculty and staff in day-to-day operations. She is passionate about Dakota College's mission and is a professional teammate. This skill facilitates greater progress in making and obtaining goals that improve our delivery of education to our students.
Jackie Migler has grown the education program at Dakota College since her inception in 2015. It is now recognized as one of the college's top programs. She continuously looks for opportunities to make the education program and disability services a positive experience for students. She is an inspiration to her students by the example she sets. Jackie was nominated by her peers and several students. "She is always looking for feedback to ensure her work is done at the highest quality possible. Her determination to help every student achieve excellence shows just how much time and effort she puts in, in order to create an environment where everyone is able to be successful". Katelyn Muchoski, nominating student.
The Excellence in Advising Award recognizes student advising efforts on campus. Advisors have an impact on advising students on their career, academic, and personal goals. This award recognizes the positive effect advising has on student retention and persistence to graduation. DCB's 2022 recipient, Laura Halvorson started her career at Dakota College as an admission counselor in 2015. Laura connects with students every day. Students willingly seek her out for
advice and growth. She keeps students on task and reminds them why their progress here is a priority.
In addition to the Excellence Award recognition, Dakota College honored retirees
Howard Prouty, Physical Plant, 37 years
Rodney Armstrong, Farm Management Education, 8 years
Wayne Johnson, Ladyjack Basketball Coach, 23 years
Dr. Jerry Migler, Campus Dean, 7 years; and
Jackie Migler, Education Program Coordinator/Instructor and Disability Services Coordinator, 6 years
Each of the retirees was personally recognized by either a Dakota College peer or supervisor.