Dakota College Recognizes Excellence
Dakota College at Bottineau held its annual faculty and staff recognition luncheon last week, April 30, 2021. Excellence awards, which are determined by peers, were presented to faculty, staff and advisors.
The Faculty, Staff and Advising Excellence awards are intended to recognize and reward employee efforts whose job performance adds value to the college experience for students, colleagues, and the campus community. Recipients demonstrate qualities that make it clear their contributions are exemplary and go beyond what is required for the routine discharge of their duties. Stacy Allard, Distance Education Specialist is the 2021 recipient of the Staff Award for Excellence. Paige Baade, Director of the Nursing Program and instructor is the recipient of the Faculty Award for Excellence. Beth MacDonald, Director of Recruiting & Admission is the recipient of the Advising Award for Excellence.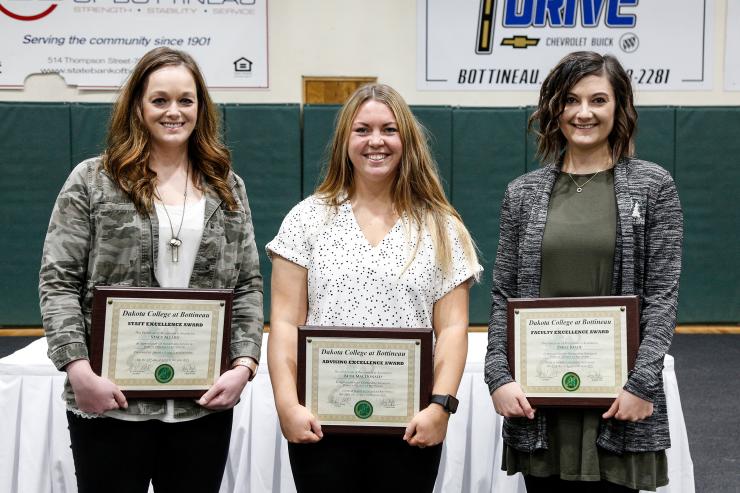 Award Recipients Left to Right: Stacy Allard, Beth MacDonald, Paige Baade
Stacy Allard has been employed at the college since 2014. She stared in the Business Office as an Accounting Clerk/Cashier. In 2019 she transferred to the Distance Education Office. Stacy works closely with distance education students and staff to assure the process flows smoothly. Through the COVID pandemic, she displayed great efforts to stay connected with students she advises by creating web conference to provide quality assistance and interpersonal connections. Anyone that communicates with Stacy knows she has excellent customer service skills.
Paige Baade was hired as a nursing instructor at DCB's Valley City program in 2018. She was recently hired as the Nursing Director of the Dakota College nursing programs at Bottineau, Minot and Valley City. Nominated by several of her students, Paige has exemplified a student first philosophy through excellent communication, reinforcement of accountability and as a role model. While maintaining professionalism, Paige encourages her students to step out of their comfort zone during clinical experiences. She is an inspiration to her students by the example she sets.
The Excellence in Advising Award recognizes student advising efforts on campus. Advisors have an impact on advising students on their career, academic, and personal goals. This award recognizes the positive effect advising has on student retention and persistence to graduation. DCB's 2021 recipient, Beth MacDonald has been with DCB since 2016. She started her career at DCB as an Admissions Counselor and in 2018 added the role of Director of Recruiting and Admissions. Colleagues describe Beth as someone who goes above and beyond, always thinking of students first. She is interested in the student's career path working with them on their goals and finding courses that fit their learning style.
In addition to the Excellence Award recognition, DCB honored retirees Russ Gagnon and Janeen Pollman. Russ Gagnon, Business Professor, was congratulated on his 24 years of teaching and advising students at DCB in Minot. Russ played a significant role in many student's academics over the years and has impacted many DCB student's lives that attended on the MSU campus. After ten years in the Business Office, Janeen managed the bookstore from 2010 until here retirement this spring. Janeen executed many positive developments for students in the bookstore while supporting them through their college career. "Let the work that you do, be the play that you love." – author unknown