Dakota College Recognizes 2022 LEAP Graduates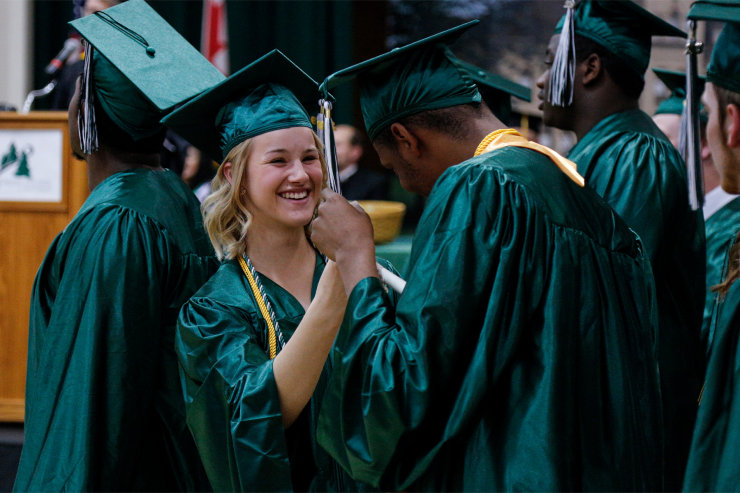 Dakota College at Bottineau (DCB) is proud to announce the LEAP (Leading to Education and Advanced Preparation) program graduates. Designed for high schools, LEAP allows high school students to earn a Certificate of College Studies alongside their high school diploma. This spring Dakota College graduates eleven students from six high schools in North Dakota; Des Lacs–Burlington, Max, Midkota, Mohall-Lansford-Sherwood, South Prairie, TGU-Towner. Each graduate will be acknowledged as a high school and college graduate at their high school commencement exercise.
The LEAP students will be recognized for completion of their College Studies program. There will be seven LEAP graduates walking at the Dakota College commencement ceremony. Students walking include Kyra Brandt, McKynna Stenberg, Rielee Williamson, Shayla Rickford, Josie Johnson, Taylor Johnson, and Kyra Schwartz. The commencement exercise will be held on the Dakota College campus on Friday, May 13, 2021. The commencement event will also be streamed at YouTube.com/c/DakotaCollege.
Students earn 24 general education college credits while in high school, by taking two dual credit offerings from Dakota College during each semester of their junior and senior year. This program launched in the Fall 2017 semester and offers great benefits for students including time and cost savings, flexible delivery either online or via Interactive Video Network (IVN), and transferability. General education courses transfer to any campus in the North Dakota University System (NDUS). This allows students to take quality courses from Dakota College at an affordable rate and then either continue their education at Dakota College or transfer their courses/credits to any campus in the ND University System.
LEAP Beyond is a new program uniquely offered to high school students through Dakota College at Bottineau. Leading to Education and Advanced Preparation – LEAP Beyond students earn 60 college credits throughout their Junior and Senior years of high school. This entitles them to graduate with an Associate's degree alongside their high school diploma. Along with being a time savings benefit through a flexible delivery system, it saves students on tuition and allows transferability to any campus in the North Dakota University System.
LEAP Graduates: *Honors (3.5-3.79) **High Honors (3.80-4.0)
TGU Towner High School
Kyra Brandt, LEAP Certificate in College Studies
South Prairie High School
Molly Frey, LEAP Certificate in College Studies *
Lance Pitner, LEAP Certificate in College Studies
McKynna Stenberg, LEAP Certificate in College Studies
Rielee Williamson, LEAP Certificate in College Studies
Midkota High School
Josie Johnson, LEAP Certificate in College Studies
Shayla Rickford, LEAP Certificate in College Studies *
Logan Topp, LEAP Certificate in College Studies *
Max High School
Taylor Johnson, LEAP Certificate in College Studies **
Des Lacs Burlington High School
Kyra Schwartz, LEAP Beyond Associate in Psychology **
Mohall Lansford Sherwood High School
Lauren Steeves, LEAP Certificate in College Studies