Dakota College Announces First DMS Graduates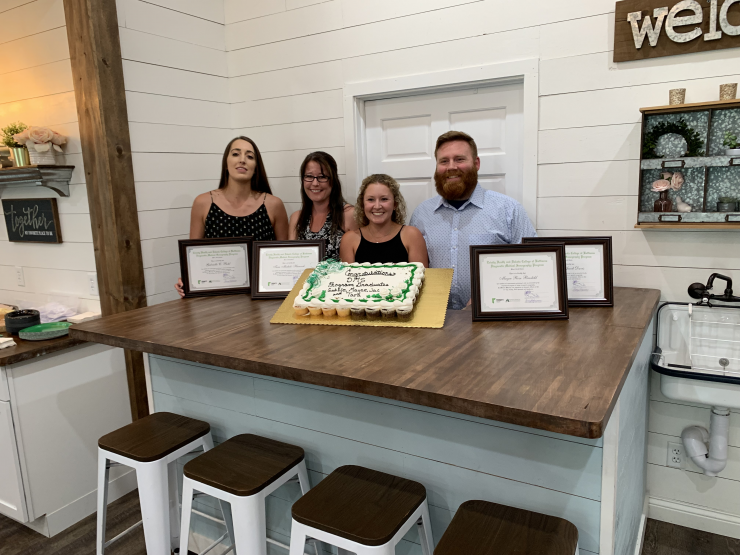 Dakota College at Bottineau is excited to announce its first graduating class of the Diagnostic Medical Sonography (DMS), also as known as ultrasound, program. The following four students completed the final semester of this five-semester program this summer 2021 (listed left to right from photo attached): Gabrielle Bohl, Tara Hancock both from Minot, Mayce Brodehl from Newburg and Gregory Davis from Darien, GA.
Graduates of the DMS program are eligible to apply for the Sonography Physics and Instrumentation (SPI) examination during the last semester of the program. The American Registry of Diagnostic Medical Sonography (ARDMS) administers a national certification examination. Once successfully passing the SPI, graduates are then eligible to apply for the Abdomen (AB), and/or Obstetric/Gynecologic (OB/GYN) specialty examinations.
The Associate of Applied Science (AAS) degree in Diagnostic Medical Sonography (DMS) prepares students for a dynamic career in sonography (ultrasound). Professionals in DMS, also known as sonographers, are trained to acquire and analyze produced sonographic images for diagnostic image quality and submit them to a qualified physician for interpretation. These images are used to help physicians diagnose and treat many medical conditions. Since ultrasound is a non-invasive way to visualize internal organs, it is often the first imaging test performed when a disease is suspected.
The DMS program focuses on general abdominal, obstetric and gynecological sonography courses. In addition to didactic classes, clinical laboratory and practicum (hands on) experiences are included in the program. A vital component of student learning occurs in the clinical setting where students have the opportunity to apply what is learned in the classroom and lab while gaining valuable experience to prepare for a sonography career.
The DMS program is a collaborative effort between Trinity Health and Dakota College. Amy Hofmann, DMS Program Advisor shares, "Through this partnership, Trinity Health and Dakota College are committed to working together to provide the education and technical training for local students to gain the knowledge and scanning skills required of an ultrasound technologist. As the program director, I am so pleased to present these four graduates as educationally prepared and clinically competent entry level sonographers, ready to join the workforce and serve our healthcare communities".
In addition to the DMS program, Dakota College partners with Trinity Health to offer a certificate and associate degree in Paramedic Technology and a certificate and associate degree in nursing to students in Minot. Dakota College offers online allied health programs in Medical Administrative Assistant, Medical Coding and Medical Assistant.
Amy Hofmann serves as the director and lead instructor for the DMS program. Questions about the DMS program may be directed to Amy at 701-857-5620.