Agriculture Department Receives NIFA Grant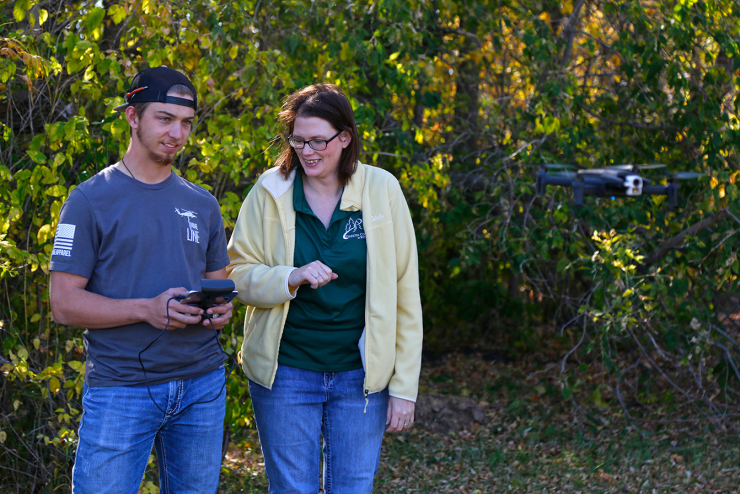 Dakota College at Bottineau's Agriculture Department is one of the seven recipients of the National Institute of Food and Agriculture (NIFA) grant to support the Secondary Agriculture Education Challenge Grants Program. NIFA's main objective in this grant is to "promote and strengthen food and agricultural science education" (United States Department of Agriculture (USDA) & National Institute of Food and Agriculture (NIFA), 2022).
Drones have become a powerful tool in the agriculture and food production industry and this technology has great potential to make agricultural operations more efficient and productive, especially in states like North Dakota where farms are large and the workforce is small. Unfortunately, there is a lack of accredited Unmanned Aircraft Systems (UAS) training programs.
Dakota College at Bottineau has implemented a UAS program. Dakota College has teamed up with three local area high schools to implement the training There are four main outcomes:
1) produce hybrid online and in-person curricula in ag-related UAS technology,
2) equip the high schools and community colleges with UAS hardware and software to provide students with hands-on experience,
3) increase the quality of online technology instruction by creating a hybrid of online and in-person labs, and
4) produce the three high school instructors with the qualifications to teach UAS labs.
Upon implementation of the program, it can be shared and replicated in other high schools and colleges which would expand the technical education opportunities across the state to North Dakota students. Students who complete the UAS program will be equipped to take the commercial drone license exam and be prepared to apply their knowledge of UAS to North Dakota's fields.