2022 Arbor Day Recognition Held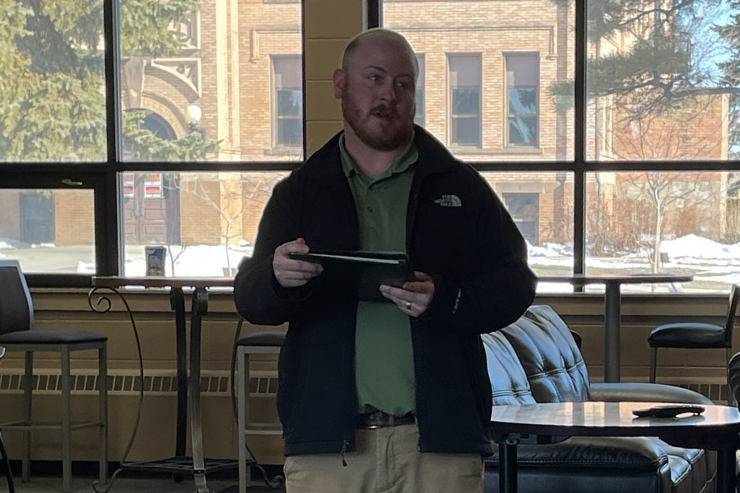 Dakota College at Bottineau staff and constituents gathered on April 20, 2022 to celebrate Dakota College at Bottineau's appreciation and commitment to tree protection and planting on campus. This commitment and passion are rooted deep in the Dakota College history from when it first started out as the School of Forestry in 1906. It continues through today with as Dakota College hosts an annual tree planting program to recognize individuals for their care and compassion of their natural surroundings. This same care and passion are shared with faculty, staff, students, and the community with the college's mission and vision.
Cody Clemenson, Forest Steward Specialist with ND State Forestry highlighted Dakota College's Tree Campus recognition at the celebration. Dakota College is currently 1 of 392 colleges throughout the US that are recognized as a Tree Campus of Higher Education and 1 of 4 in the state of North Dakota. This status has been held since 2019, but many of the five core standards of being a Tree Campus of Higher Education were being meet before 2019. Maintaining this status continues to show the commitment that Dakota College at Bottineau has towards the trees on campus which provides a livable, healthy, and beautiful environment that welcomes and benefits the student on campus.
Even though a tree was not officially planted at the celebration due to the delayed spring and current weather conditions, Cody Clemenson charged the group to think how they are able to share this same commitment to their own backyard. The conservation celebration continued throughout the day with a guest presentation from James Barilla the author of My Backyard Jungle. Cody states that in Barilla's presentation, "You may find new ways to care for the nature and beauty right in your own back yard like we have on our own campus".
Bottineau and the college community are fortunate to have The ND State Forestry office located within the community. They are a wealth of information and support for our natural resource environment. Tree care tips were also provided for the guests at the presentation.
It is never to late to plant a tree. You can still get the enjoyment of it while it is still young but you are really benefiting the future generations with the large canopies and shade that that tree will produce.
Choose the appropriate tree for the site. Consider mature size, soils, zone and growth habits when you are selecting and planting a tree.
Trees need care and maintenance. Trees come from a forest where shade and other environmental factors help the trees produce a single stem and helps shed unwanted lower branches. When we plant trees in a wide-open space we need to help the trees and conduct corrective pruning to produce that same form it would develop in a forested environment. Trees will need supplemental watering in their first few years after planting.
Trees also need protection. One of the number one killers or damaging agents to trees is from a lawn mower or weed whacker. Installing a protective zone of mulch around a tree prevents the need to get close to the tree and damage the thin young bark.
Additional tips and resources may be requested at the ND State Forestry office in Bottineau.