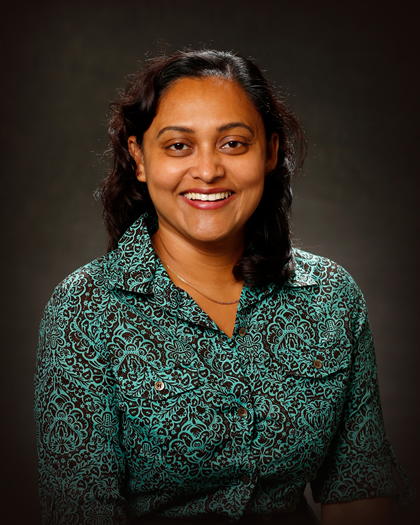 Dr. Indrani Sasmal
Coordinator of Grants / Grant Management
Dean's Office
701-228-5677
About Indrani
As a Coordinator of Grants Writing and Grants Management Indrani provide overall coordination of grants development and management for programs funded by federal, state, and private funds with a special focus on grants that support the college's mission in the area of Wildlife and Fisheries Technology, but also to include other areas of natural and environmental resources such as Horticulture, Forestry, Recreation Management and Agriculture. She earned a PhD from South Dakota State University in Wildlife Biology. Since earning her PhD she has conducted research as post-doctoral research associate at South Dakota State University and North Carolina State University, for the past 8 years.  She has a strong publication record (10 journal articles and one book chapter), have made major presentations at recognized conferences, and have been a reviewer for top journals and conference abstracts in the field of wildlife conservation biology. She has also developed grant proposals, managed teams of natural resource management executives and taught graduate and undergraduate classes. She is a mother of two amazing daughters, 3 and 7 and wife to a loving husband who is also an ecologist. She loves to read and travel.
Expertise & Responsibilities
provide oversight for the financial administration of federal, state, and private grants
provide oversight and support to faculty and staff with grant funded projects to help assure that they accomplish their approved program initiatives and that the college meets compliance and reporting requirements
assist faculty and staff in the budget development process for proposed projects and perform budget analysis duties on active grant projects as assigned by the College Business Manager or his/her designee.
Assist individual grant writers with proposal development
Take the lead in writing high-quality grant proposal narratives, applications, and supporting documents
Manage the proposal submission process to ensure timely submission of all required materials
Effectively manage the process of gathering data and other needed information from college faculty, staff and/or departments for grant applications or proposals
Serve as a liaison with principals and other departments on issues regarding awarded grants
Assist Business Office in evaluating the fiscal administration of grant programs
Provide assistance to project leaders in requesting changes or amendments to approved grants
Provide leadership and assistance to project leaders in identifying and maintaining records of key project metrics or data
Assist project leaders in writing summary reports for completed grants
Lead the process for developing the college's "Indirect Rate" for federal grants
Develop a manual with policies and procedures for grant writing and management at DCB
Develop and maintain a proposal calendar
Develop an annual grants strategy
Develop and implement assessment activities for the grants writing and management office to meet college accreditation requirements
Education
Ph.D. Wildlife Biology, South Dakota State University    
M. S. in Zoology with Specialization in Molecular Genetics, University of Calcutta, India.
B. S. in Zoology (Major), Botany, Chemistry, Environmental Science, University of Calcutta, India.