Haley Crawford remembers it well. She was walking home from the school bus stop and saw her horse had a large cut in his side. That night, when the vet was able to come to their homestead outside of Arlee, Montana she watched every stitch.

"That sparked my interest in the medical field. At first, I wanted to be vet, but then I realized how much schooling that entailed," she said. Then her grandmother was diagnosed with cancer and she moved in to help care for her for two years.
"I was around nurses during that time. My aunt and cousins are nurses and they encouraged me," she said. Now, Crawford is on the cusp of life. She will be finishing her time as a nursing student at Dakota College at Bottineau in May and plans to immediately begin her life helping care for patients.
She is weighing her options. Finding a job back home near the mountains and family sounds appealing, but so does staying in the Bottineau area. She knows the first month will include a steep learning curve, but Crawford says she feels ready.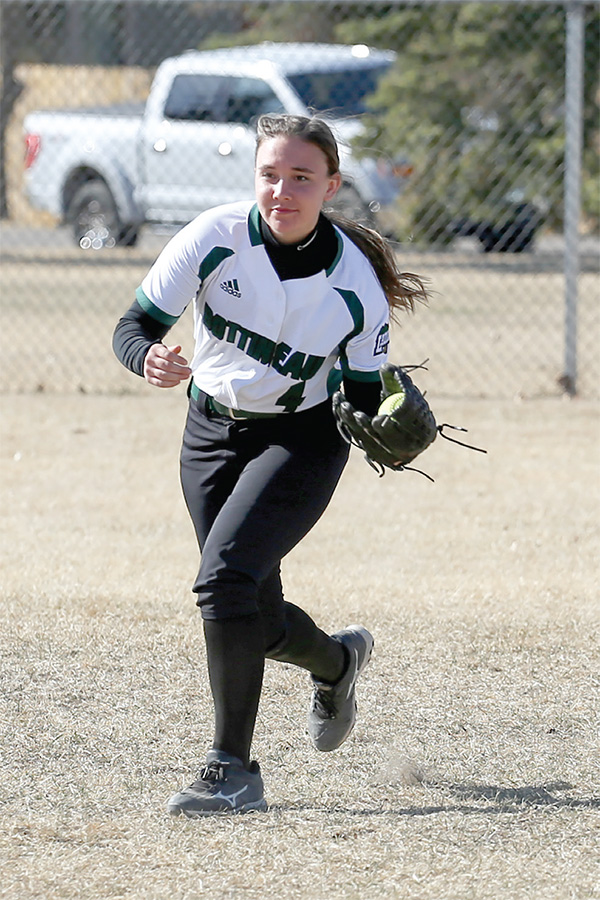 "We spent a lot of time preparing for this. Our instructors were so helpful in explaining things and helping us practice skills," she said. "Anything we needed, they helped with." Between classes, Crawford could be found in the outfield, ready to catch softballs. Crawford has been playing ball since she was five. Her love of softball initially sparked her interest in attending DCB, and after visiting with her dad, she knew it was the place for her.
"I didn't really know what to expect but I liked that it was a smaller campus," she said. "I was used to a small school, so I liked that idea."
Although small, her high schoolcteam had already sent one of her teammates to join the Lady Jacks Softball.
When Crawford got the call asking if she was interested in following as well, she was ready to make the 13.5-hour drive to campus.
As she prepares to become a graduate, Crawford said the plans to update Old Main are important and beneficial for future students.
"Lab areas are kind of small and expanding those areas would make it easier to practice skills," she said. "I like the idea of continuing to use Old Main because of the history of the building. It has been there since the beginning and it's neat we can still use it for classrooms and activities."
In a few years, she hopes Old Main will be a hub for nursing education and she will be continuing to learn about caring for patients.
"I'm not quite sure where I will be yet," Crawford said. "Maybe on a surgery floor or working in labor and delivery. I might even specialize and work to become a midwife."
Wherever her career takes her, Crawford knows her experience at DCB has changed her life. "I've made so many good friends here," she said. "That is something that I will have forever."