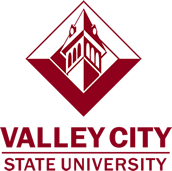 Dakota College offers classes on the Valley City State University (VCSU) campus. You can earn a certification or a two-year degree in a high-demand field from Dakota College in a variety of programs offered through a partnership with VCSU. View our programs available below.
A One-Year Bridge to a Four-Year Degree
Bridges is a cooperative program between Dakota College at Bottineau and Valley City State University. It's designed for students who aren't eligible for admission at VCSU but want to earn a four-year degree while remaining in the Valley City area. Participants in the Bridges program become Dakota College students located on the VCSU campus. After earning 24 credits through Dakota College, students can transfer to VCSU and complete a four-year degree. To start your one-year bridge to a four-year degree, see our website or contact the Bridges program coordinator.
Start small . . . go far with Dakota College in Valley City!
Education & Human Development
Can't find the Formidable Form