Dakota College's Current COVID-19 Risk Level: 2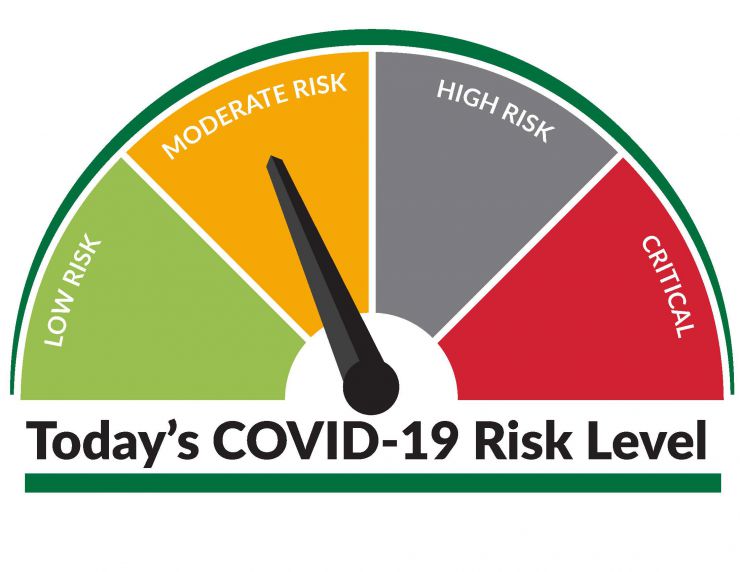 Dakota College at Bottineau's goal is to create a safe and effective learning environment for students, staff, and faculty. To support this goal, multiple strategies will be implemented to reduce risk on campus. Dakota College at Bottineau is following CDC guidelines and the ND Smart Restart Guidance for Employers
Throughout this pandemic, a COVID response team is meeting and planning regularly as the situation unfolds. Several precautionary measures are in place across campus, from additional hand sanitizing stations to protective barriers at the cashier's windows. All personnel and students are asked to wear masks. Masks are available and provided for all campus personnel and students. Masks may be picked up in the Bookstore.
Staff and faculty are available virtually and on campus by appointment, to support you as you work to achieve your educational goals. We know we will need to alter operations as we continue on campus, for the well-being of our community. In true Dakota College spirit, working together will allow us to remain committed to your academic success.
A message from the Campus Dean
Greetings from Dakota College,
I hope everyone had a good holiday break! I'm sure all of us are looking forward to the new year and the start of a return to "normal." However, we are not yet at a point where we can let down our guard regarding the coronavirus. With the start of the new semester, the purpose of this message is to provide an update on measures that will be in place for the spring semester at Dakota College. Some of these are a continuation of practices from the fall, while others are new.
Testing
DCB has been approved to administer the BinaxNOW rapid test for detecting COVID. This test will be administered on a weekly basis to all nursing students and student athletes on the Bottineau campus. Although test results are available within about 30 minutes for the BinaxNow test, it is not as accurate as the PCR test in detecting positive cases of COVID. Therefore, we will continue to work with First District Health in administering the PCR test, which is the test that was in use last semester during the mass testing events on campus.
Our first testing date for the PCR is set for Wednesday, Jan. 13th from 9-11 AM in the gym. All students and staff on the Bottineau campus should find time to be tested at this event, including any students and staff who have also tested with the BinaxNOW (with the exception of those who have already had COVID during the preceding 90 days.) Likewise, students and staff at MSU and VCSU should be tested at the next available event on those campuses. Future PCR testing dates will be posted.
With all of the traveling, visits with family members and friends, and other social activities that occurred during the break, being tested is vitally important in our efforts to prevent a spike in COVID cases at the beginning of the semester.
Any DCB student on the Bottineau campus should contact the Student Health Center if they are experiencing COVID symptoms (701-228-5460). Students on the MSU and VCSU campuses should contact the Health Centers at those sites.
Vaccinations
At this time, the state has identified health care providers as being the highest priority for vaccinations and this phase of vaccinations is currently in process. We are hopeful that the DCB campus will be able to serve as a vaccination site when the vaccine becomes available for students and staff. However, at this time, we cannot predict when that will be. Notice will be provided of the availability of vaccinations to the college community when we have that information.
Face Coverings and Social Distancing
Our requirement for facemasks and social distancing will continue for the spring semester. This requirement includes wearing facemasks during classes and labs.
We noticed that people were getting a bit lax in following the face coverings policy toward the end of the fall semester. As noted above, with people coming back from break and likely being unintentionally exposed to COVID, we can't afford to be lax with face coverings. Facemasks should worn any time we are in an area with other people. Also, both the nose and mouth should be covered. Wearing a facemask below the nose basically defeats the purpose and increases risk. Please wear the mask properly.
Special Precautions for Student Athletes
To minimize exposure for our student athletes, we are asking that every DCB team practice a "team quarantine" process through the end of January. Essentially, when not in class or lab, student athletes should only have social contact with their teammates while in the residence halls, at the dining center, or other activities. The purpose of this requirement is to manage the risk of COVID spreading across teams and preventing a large number of our teams from being able to compete in scheduled games or practices. With most sports moved to the spring semester, we are simply trying to ensure that all teams can fully participate in their scheduled seasons.
Residence Halls
The policy of no visitations between residence halls will continue through the end of January. The policy will be reviewed at that time, and if there is not a major spike in COVID cases, consideration will be made to allowing visitations between residence halls.
Other COVID Information
The College's COVID Information and Updates webpage has been updated for the spring semester. The dashboard for updates on active cases and those in quarantine is also provided on this page and is updated daily.
The good news is that a return to some level of "normal" is on the horizon. In the meantime, we still need to take all the steps we can to ensure that our college community stays safe and healthy. I hope you will join with me in making that our New Year's resolution for 2021.
Thank you and have a good semester!

Jerry Migler, PhD
Campus Dean
Care19 Alert App
Care19 Alert app uses the Bluetooth proximity technology provided jointly by Apple and Google Exposure Notification Systems to keep track of the anonymous keys (transmitted by phones near you) that a user encounters over time.
Care19 Alert quickly notifies you if you've likely been exposed to COVID-19 - empowering you to make decisions that are best for you and your loved ones: like seeking medical advice or staying home. When lots of people use the app it can help public health systems manage the disease and save lives by flattening the curve.
Care19 Alert is the first exposure notification app to connect with the National Key Server provided by the Association of Public Health Laboratories (APHL). Use of this server allows different states' apps to communicate with each other, protecting North Dakotans when they are traveling across state borders or when others are visiting North Dakota and subsequently become COVID-19 positive.
COVID-19 Cases and Reporting as of January 15, 2021
Positive
COVID Cases
Active
Cases
Recovered Cases

On Campus Students

0

54

Off Campus Students

0

24

Faculty & Staff

0

19

Total Positive Cases

0

97
Close Contact
Monitoring
In Quarantine

On Campus
Students

1

Off Campus
Students

0

Faculty & Staff

1

Total Being Monitored

2
COVID-19 FAQs