Tascha Livingstone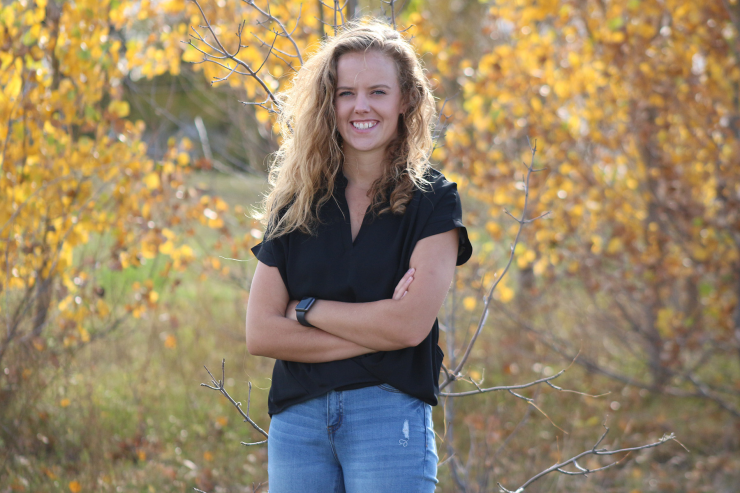 A last minute decision led Tascha Livingstone to an experience at Dakota College at Bottineau she couldn't be more thankful for. The Manitoba, Canada, resident, wasn't sure about plans after high school. But today, after completing two years at DCB, Livingstone is already working a job she loves close to home.
"I didn't really expect to only go for two years and have a successful job like this," said Livingstone, who began working as a legal assistant in Crystal City, Manitoba, the Monday after she graduated from DCB in May of 2018.
She earned a computerized office management degree from DCB while playing both volleyball and softball for the Jacks. The opportunity to compete in collegiate sports was ultimately what drew her to Bottineau.
"I wasn't really planning to go and then heard from my softball coach that DCB was looking for players. It was kind of a last minute decision, but it worked out."
As an introvert, Livingstone felt this was a great way to jump right in to life at Bottineau.
"I met the volleyball girls before school started, so I had friends right away in a place where I didn't know anyone," said Livingstone. "I'm definitely an introvert and would not have succeeded if sports hadn't forced me to meet new people. It opened my horizon."
Another bonus was the fact that Bottineau was only an hour from her hometown in Canada.
"If I would have gone to school somewhere in Manitoba, I would have been further from home and would not have had the opportunity to play sports."
Growing up attending a small school, Bottineau was the perfect fit for Livingstone.
"DCB was still a lot bigger, but it was an easy adjustment," she said.
As a student athlete, the college also offered great flexibility to excel in both school and sports. Livingstone appreciated how understanding the professors were during her athletic seasons. It also allowed her the opportunity to bond with teammates and coaches.
"With the team, you get to be a family. I really enjoyed it."
While busy with both academics and athletics, Livingstone also made time to work in the dean's office at DCB, where she helped with administrative tasks. This job translated perfectly into her career as a legal assistant.
"It was a really good start to my office experience," said Livingstone. "I really enjoyed that and I'm glad I did it."
However, she didn't always know she would follow that particular career path. Without a plan going into her higher education, Livingstone had to decide quickly when she enrolled at DCB.
"I was looking at all the things I could take," said Livingstone. "I wasn't sure what I wanted to do, but I liked computers."
With a computerized office management degree soon in hand in January 2018, Livingstone applied for a legal assistant job her mom had seen in the newspaper's help wanted ads. While she didn't feel quite qualified for the position, her education at DCB helped make her the best candidate for the job.
"I was pretty nervous on the legal part as I didn't think I had what it takes, but my now-boss thought with all my computer knowledge that I would be a good fit," said Livingstone.
She also credits the school's size to her success in landing a fulfilling and successful career right out of college.
"I really liked the small classes and all the one-on-one time with the professors," said Livingstone."
If asked about her favorite part of going to school at DCB, Livingstone will say, "I think it was the people – everyone got to know everybody."