Lauren Lamb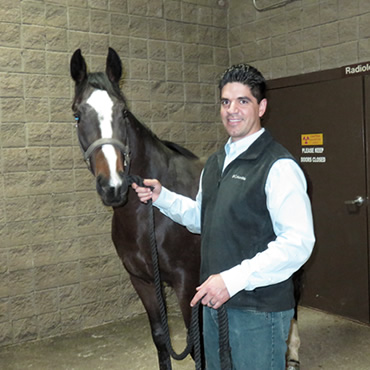 "My time at DCB was extremely valuable in getting where I am today."
Bottineau alumnus Lauren Lamb is a successful veterinarian who works as a surgeon in one of the most prestigious animal hospitals in the nation. If one speaks to Lauren about his journey in becoming a veterinarian he will tell you that his start at Dakota College at Bottineau (DCB) is one of the main reasons he is a vet today.
"My time at DCB was extremely valuable in getting where I am today," Lauren said. "I had the opportunity to receive a high quality education, develop time management skills, establish a strong work ethic and become part of the DCB family. The education I received at DCB was outstanding."
Lauren attended DCB for two years before going on to North Dakota State University (NDSU). After only spending a year at NDSU, he was accepted to veterinary school at Texas A&M College of Veterinary Medicine and Biomedical Sciences.
From Texas A&M, Lauren did his internship at the Oakridge Equine Hospital in Edmond, Oklahoma, which specializes in equine sports medicine and surgery.
He stayed on at Oakridge after his internship and did his three year residency at the facility. With his residency completed, Lauren accepted a position as an associate surgeon at the Oakridge facility.
In the spring of 2012, Lauren was given the opportunity to take the large animal surgery board exam, which he passed and became a diplomat in the American College of Veterinary Surgeons.
In that same year, he became an assistant professor at Texas A&M College of Veterinary Medicine and Biomedical Sciences where he trained veterinary students, interns and residents in large animal soft tissue surgery.
He stayed at Texas A&M for three years, but in 2015 he returned to Oakridge as an associate surgeon, a position he holds in Edmond today.
What Lauren enjoyed at DCB was the college's unique size.
"The classes were small, which for me was great," Lauren said. "I clearly communicated my long term goals to each of my professors that they in turn pushed me to achieve my goals."
"This is not the typical interaction seen in large universities with large class sizes and this is what makes DCB special."
While at DCB, Lauren also played basketball, which he said added to his education and daily life as a veterinary.
"Along with some great memories and friendships I developed while playing basketball, I also had the opportunity to develop time management skills that I utilized every day in my career," Lauren said.
When Lauren thinks back about his start in his college career, he feels DCB was the right choice for him in becoming successful in his career and life.
"I had a great foundation in my education when I left DCB, which I was able to build on moving forward in my educational endeavors," Lamb said. "I am thankful for my time at DCB and am appreciative of all the opportunities I was given while attending DCB."
Lauren and his wife, Jodi, have been married for 10 years, and they have two children, Avery who is four years-old, and Leighton who is 18 months. They are expecting their third child in June.