Jessie Lafferty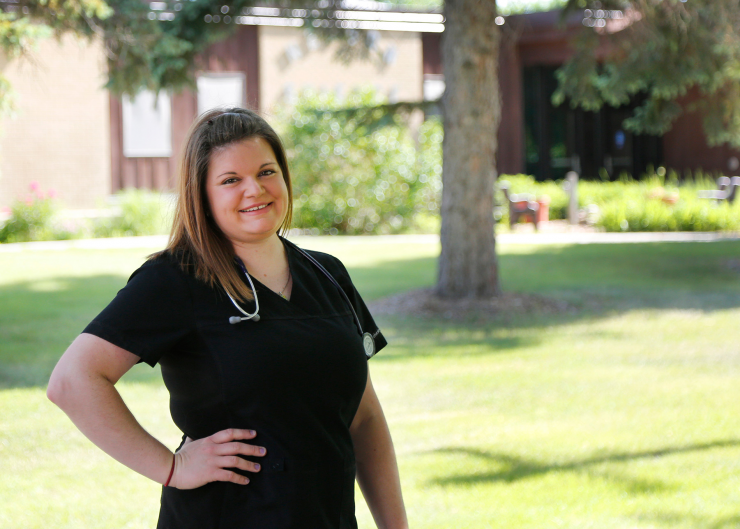 "The scholarships and loans that I was able to get allowed me to stay home and study instead of having to work,.."
Jessie Lafferty knew she wanted to become a registered nurse after her mother suffered a debilitating stroke in 2002 that left her paralyzed on her left side. Jessie was just twelve at the time and learned first-hand what a difference nursing care could make in a person's life.
Jessie's mother was also the motivation for her to move to North Dakota from her hometown of Fort Pierce, Florida. Her parents had moved from Florida to Willow City, North Dakota in 2009, and she wanted to be near them to help take care of her mother. She and her two young children moved to Willow City in 2012.
After settling in Willow City, Jessie started looking for nursing programs in the area and discovered the programs offered at Dakota College at Bottineau. "I was very blessed to have such a great resource nearby, almost as if it fell into my lap," Jessie said. "The nursing instructors were very helpful because they encouraged us to learn as much as we could academically, and they also taught us the importance of a good bedside manner."
As a student nurse, Jessie's bedside manner earned her the Compassion Award for the exceptional care she provided to an elderly patient who had requested a "do not resuscitate" order. The award was given to her by the Dakota College at Bottineau's nursing program in acknowledgement not only of her compassion, but her empathy and advocacy for patients' rights.
The program's affordability was an important factor to Jessie as a young single mom. "The scholarships and loans that I was able to get allowed me to stay home and study instead of having to work, and it granted me more time with my two young kids who were just one and three when I started the program."
Jessie found the program's simulation labs to be good preparation for what nurses encounter in real-life situations. "The simulation labs helped me with hands on-procedures and how to handle them and made me focus on all the steps that need to be taken," she said. "They also used Assessment Technologies Institute programs as practice for National Council Licensure Examination or the state board exams, which prepared me to take the state boards successfully."
After graduating from the RN program in May of 2015, Jessie worked as a nurse in Rugby and Cavalier before taking her current position in 2017 at Pembina County Memorial Hospital, where she works in the emergency room and on the hospital floor.
For Jessie, her experiences at Dakota College at Bottineau went beyond academics and career preparation. "There is a family aspect there," Jessie said. "The staff was always helpful, and the instructors and coordinators were always encouraging. I felt that the teachers were committed to their jobs and the campus. I really enjoyed my time there. It's such a beautiful campus and people seemed to be happy all the time. Moving to North Dakota was big change from Florida, and the small-town aspect of the school prepared me for the small-town atmosphere in the places I have been employed. That helped me adapt to the rural setting that my career revolves around."
In 2017 Jessie married Travis Lafferty Jr., and their children are now ten and eight. She likes the flexibility of her schedule that lets her do the work she loves while still spending time with her family. "My schedule as an RN is usually three days a week, that gives me a lot of time to spend with my family and that is very important to me. I can still work full time and provide for my family and I don't feel like I'm working all the time. It's great."