Program Information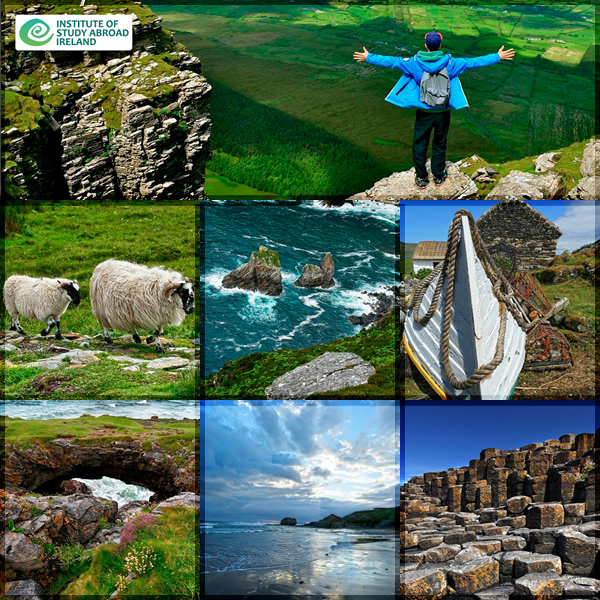 Ireland
September 5 - September 12, 2021
Join DCB Photography Instructors Clint Saunders and Todd Vorenkamp on this amazing photo trip to the scenic Northwest coast of Ireland from September 5th – September 12th of 2021.
Untouched and virtually unexplored, this ruggedly beautiful and remote part of Ireland is known as the Wild Atlantic Way. It's no wonder Donegal was named the 'Coolest Place on the Planet for 2017' by National Geographic.
This is a community education program offered through The Institute of Study Abroad Ireland and Dakota College at Bottineau. This photography adventure is for all ages and levels of photography. It doesn't matter if you're a beginner or a pro, you will have a great experience while capturing the beauty of the Wild Atlantic Way.
Each day includes an informal lecture on the history and culture of Ireland along with photography sessions from professional photographers and college photo instructors.
Age requirements
The program is open to anyone who wants to participate in this opportunity. College students and community members are welcome.
Students must be over the age of 18 to travel alone with the program. Students between the ages of 13 and 18 must be accompanied by a legal parent or guardian. Students under the age of 13 are not allowed on the trip.
Program Highlights
Academic course work
This is an 8 week course. Students will have a 6 week online course – 1 week on location in Ireland with hands on learning and workshops – 1 week after returning from Ireland for post production.
Students will learn all aspects of outdoor photography including lighting, equipment, locations, techniques, post production, image editing, presentation and careers. Students will explore a variety of subject matter including landscapes, seascapes, wildlife, rustic, rural, and urban photography.
List of scenic locations we will visit and photograph (this is a partial list of possible locations. Actual locations will vary depending on weather and time)
Donegal, the Hill of Tara, Tullan Strand, Fairy Bridges, Sligo Horseshoe, Drumcliffe, Mullaghmore, The Ancients, Cavan Burren & Surrounds, St. Patricks Well, Port Na Marbh, Ballyshannon, Glenveagh Castle, Fanad Lighthouse, Errigal & Poison Glen , Sliabh Liag Cliffs, Creevykeel, Glencar Waterfall, Parkes Castle, Giants Causeway, Eagle's Rock, Kinlough, Boat trip to Devinish Island Monastic Site with visit to Enniskillen, Belleek & Castle Caldwell, The Giant's Causeways.
---
Program Fees
The program includes transportation to airport, round-trip international airfare and transportation within Ireland, breakfast and dinners on most days, hotel accommodations, entrance fees, guided sightseeing and walking tours. Hotel accommodations are double occupancy.
Items not included in the program fee are: some lunches and some dinners, optional excursions, transportation for free-time activities, departure fees (i.e. airline luggage fees), travel insurance, and customary gratuities
A typical day will involve and active itinerary including informal lectures on Irish history and culture, photography workshops, transportation to and from photogenic locations, free time, and optional recreational activities.
(the total will vary depending on airfare rates)
Base Program Fee:* $1500
International Transportation up to: $1500
TOTAL: $3000
* Travel insurance is mandatory for all participants.
The insurance fees will be as follows: Applicants under the age of 25 years at the time of travel, add $53, between ages of 26-30 years at time of travel, add $75, between ages of 31-40 years at time of travel, add $112, between ages of 41-50 years at time of travel, add $123, between ages of 51-60 years at time of travel, add $237, applicants age 61 and above at time of travel, add $354. Please see the "payment" section of the website for more detailed information.
** Students taking the course for full credit as part of their degree requirements will also be required to pay regular tuition fees for the course. For full time students this will be part of your semester tuition fees, you will simply sign up for this class instead of PHOT 240.
**Non-Photography majors who take the course for no credit will be required to pay the community education course fee, included in program fees, and have the option of traveling with the group or arranging their own travel to and from Dublin. All students MUST purchase insurance.
Payment Deadline
Make checks payable to DCB Photography
For credit card payments, please call the business office at 701-228-5612
Program Cost
(the total will vary depending on airfare rates)
Base Program Fee:* $1500
International Transportation up to: $1500
TOTAL: $3000
Photo majors traveling with the DCB Photo club – *total $3000
March 1st - $400 due with Application
June 1st - an additional $1400 is due
August 1st - The remaining balance for airfare and insurance (up to $1500.)
The final payment will vary depending on airfare rates.
Non-credit students who are traveling on their own (these payments cover the program fees only, you will be responsible for travel within the US and airfare to and from Dublin.)
March 1st - $400 due with Application
June 1st - an additional $700 is due
August 1st - All remaining fees are due, $700 plus mandatory travel insurance. (see fee schedule)

We accept and encourage people to make monthly payments towards the deadlines as this can make the lump sums easier to manage.

---

Late Payments:

If a payment is received 7 business days or more after the payment due date, your application will be considered withdrawn and you will be responsible for any cancellation penalties.
If for any reason your payment cannot be processed, a fee of $50 will be incurred, plus a late payment of $75 penalty to the Institution of Study Abroad Ireland, if applicable.

Payment Policies:

Under no circumstances will a participant be allowed to depart on the trip unless the program fees are paid in full.
DCB is not responsible for delays caused by late passport applications, late visa applications or visa denials. Any additional costs incurred for such reasons will be the responsibility of the participant.
Transportation Deviation Fees: Group transportation will be arranged from, and to Bottineau. Any costs due to deviations or special requests (such as early departure or late returns) will be the sole responsibility of the student. Community Education students may make their own travel arrangements if they so desire. They will be responsible for meeting at the Dublin airport on September 6th by 11:00am.
Cancellation and Refunds
Withdrawal from the program is effective on the date that written notification is received by DCB's Study Abroad Program, and any airline tickets that have been issued on your behalf have been returned.
If you withdraw the cancellation penalty will be:
After Application is Submitted: $300 (non refundable)
After June 1st: $1,000 (non refundable)
After August 1st: $1,800 (non refundable)
After September 1st: Refund of tuition fees only, per DCB Business Office Policy.
After Departure: No Refund
Please note: DCB will not alter its payment and/or cancellation policies for any reason.
Financial Aid
Financial Aid can be applied to cover study tour fees, so students might want to consider the possibility of obtaining Financial Aid (generally including loans) to assist in funding their program. For more information about this option, please visit the Financial Aid Office, call 1-800-542-6866 or visit their website: https://www.dakotacollege.edu/admission-and-aid/
Financial Aid Considerations: In order to be eligible for fall term federal financial aid, students must be enrolled in a minimum of 12 credits. At least 3 of these credits must be from the course listed above.
Course Audits: Program participants may choose to audit coursework for a 50% discount on tuition only. Financial Aid is not available for audited courses, and grades will not appear on transcripts.
Community Ed Course: Community members who are not college students may sign up for the course through the community education program. Financial aid is not available for community education courses.
Program Rules
Application
APPLICATION DEADLINE - March 1, 2021
Download and fill out either the Word file or PDF file by clicking on the icons below.
If you do not already have a passport, NOW is the time to apply for one.
https://travel.state.gov/content/passports/en/passports.html
Depending upon available space late applications might be accepted after February 15th. Applicants who submit an application after this date are not guaranteed a spot on the program and might be required to pay a slightly higher program fee due to rate fluctuation in transportation costs. Rate increases are typically not significant.
---
Email application to Clint Saunders at
clint.saunders@dakotacollege.edu
OR
Mail in your application and check to
DCB Photography
105 Simrall BLVD
Bottineau, ND 58318