DCB Director Appointed to State Advisory Committee
February 12, 2018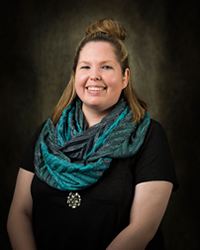 Gov. Doug Burgum announced the creation of a 15-member Innovative Education Task Force last fall.  The Task Force, which is comprised of education, youth development, business and community leaders, is charged with creating a system of identification and support for schools and districts implementing innovative practices. Members are also tasked with providing direction on how state government can empower districts to adopt student-centric learning practices designed to support a 21st century economy impacted by rapid technological change.
In addition to the Taskforce, Gov. Burgum has created an Advisory Committee of individuals who work directly in the field to provide real-life, hands-on feedback to the Task Force.  Dakota College at Bottineau's Distance Education Director, Kayla O'Toole, has accepted an invitation to be a member of the Advisory Committee.  Her term on the Advisory Committee began several weeks. O'Toole is looking forward to highlighting and sharing best practices used at DCB and in assisting the Innovative Education Task Force in their duties.  The Advisory Committee will assist the Task Force's goal of strengthening collaboration between schools and communities.
---
DCB Spring Enrollment Finalized
February 12, 2018
Enrollment is up for the spring semester at Dakota College at Bottineau, based on data for the 20thday of classes, which is the official census date for all North Dakota University System colleges.  The official enrollment this spring is 882 students, which compares to 789 a year ago and equates to an 11.8% increase in the student headcount.  This is a record headcount enrollment for the spring semester, surpassing the previous high of 868 students in the spring of 2011.
Similar to the fall semester, the spring enrollment is the second highest full-time equivalent (FTE) enrollment recorded for the college. FTE is determined by adding all credits for which students are enrolled and dividing by 15, which is the credit equivalent that the system uses to determine full time students.  DCB FTE enrollment for the spring semester is 481.  This compares to the highest recorded FTE enrollment of 510 in the spring of 2011. 
While on-campus enrollment was up slightly, most of the enrollment increase was attributable to the college's online and dual-credit programs.  The number of students enrolled full-time is up by 32 from last spring, while the number of part-time students increased by 61 students.  The largest programs at the college continue to be Liberal Arts, Nursing and Business Administration.
We are encouraged with the increase in our enrollment for the spring semester, as our goal was to maintain last year's enrollment, which was also a significant increase from the previous year.