DCB Project Culminates in Poster Display
October 23, 2017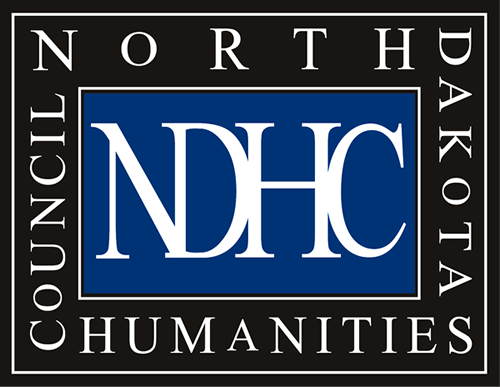 Dakota College at Bottineau will celebrate the culmination of a yearlong project entitled 'Picturing a North Dakota Food Lexicon' with a series of four posters to be displayed in select locations.  A lexicon is the vocabulary of a person or the language used to define the world.  The project, funded in part by the North Dakota Humanities Council, a nonprofit, independent state partner to the National Endowment for the Humanities, examined the definitions of four words: farm, garden, sustainable, and enduring.
Because North Dakota's agricultural landscape is changing, four specific words were selected. North Dakota's number of small farms continues to increase yearly, and the number of farmers markets has grown from 10 to over 50 within the last 6 years.  The concept of a farm in North Dakota used to envision large acres of wheat or soybeans but now includes small farms that produce vegetables or small livestock for meat. The college wanted to see how these changes were affecting the public's definition of what a farm or garden looks like and what the public views as sustainable or enduring.
The project began with selection of DCB's annual book read, 'Deeply Rooted, Unconventional Farmers in the Age of Agribusiness' by Lisa Hamilton.  The book highlights the stories of three farmers in the United States that are conducting agricultural activities in unique ways.  One of the highlighted farmers is North Dakota's own Podoll family in Lamoure, ND.  Through the project, the college involved a variety of disciplines including the English, Conservation, Photography, and Entrepreneurial Center for Horticulture departments.
As a part of the project, a variety of discussions, open to the public and campus community, were held.  At each discussion, participants were asked to write down their own definition of the four chosen words.  Definitions were also collected from participants at the annual Local Foods and North Dakota Farmers Market and Growers Association conference held in Mandan.  One of the topic discussion dates included the author of the book, Lisa Hamilton, who spoke about her work with unconventional farmers, agriculture throughout the United States, and her views on where agriculture is headed.   Additionally, a discussion was held with Teresa Podoll, featured farmer in the book, to see how the family farm had grown since the book was published in 2009.  Other discussions included panel members from small vegetable farms, young farmers, conventional farmers, and land experts.
At the conclusion of the school year, the definitions from all participants were collated into a document that was presented to the Dakota College at Bottineau Photography students.  The students worked to collectively imagine a visual representation of the words supplied by participants.  The Entrepreneurial Center for Horticulture staff worked with the photography students to identify people and places that were photographed for the poster displays.  Photos were taken in September and early October of this year and then overlaid with the words supplied by discussion participants.  The posters include photos of community members in the city of Bowdon who help this community stay sustainable, children of Mirek and Julia Petrovic in their garden, and the Duchsherer's, a farming family near Balta who represent the words "enduring" and "farm".
The posters will be displayed at the Bisman Food Coop in Bismarck, the Prairie Roots Food Coop in Fargo, the Minot Public Library, the Farmtastic Food Hub in Anamoose, and at Dakota College at Bottineau during the latter part of October 2017. 
For more information about Dakota College at Bottineau or this project, please contact Holly Rose Mawby,hollyrose.mawby@dakotacollege.edu or visit the DCB website at www.dakotacollege.edu. To view the posters in this exhibit online, please visit the DCB Photography Facebook Page at: https://www.facebook.com/pg/DCBphoto/photos/?tab=album&album_id=1290801311066031.
More information about the North Dakota Humanities Council may be found at:http://www.ndhumanities.org/Any views, findings, conclusions, or recommendations expressed in the exhibition do not necessarily reflect those of the North Dakota Humanities Council or the National Endowment for the Humanities.
---
National Trust for Historic Preservation Awards Dakota College at Bottineau a Preservation Grant to Reclaim Old Main
October 20, 2017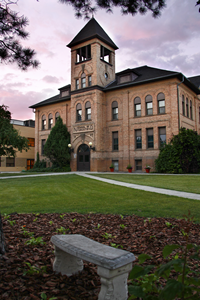 Dakota College at Bottineau (DCB) was awarded a $5000 grant by the National Trust for Historic Preservation from the Johanna Favrot Fund for Historic Preservation. These grant funds will be used to support preservation planning for the interior renovation of the Old Main building on the college's campus.
The college embraces this opportunity to bring the iconic building back into use to serve needs for additional classroom and student services space. The grant award will help to pay for programming and conceptual design. DCB will work with Nostdahl Liptack Architects to determine the functional needs of the building and create plans for the three floor levels, including an elevator to make the building ADA compliant. The college will match this with $5,000 from funds raised by the Committee to Reclaim Old Main, which will cover costs for conceptual design, multiple interior renderings and colored presentation floor plans. Old Main was built in 1907 to house the ND State School of Forestry. It is one of few remaining Romanesque Revival style buildings in the Midwest and is listed in the National Register of Historic Places.
"Organizations like Dakota College at Bottineau help to ensure that communities and towns all across America retain their unique sense of place," said Stephanie Meeks, president of the National Trust for Historic Preservation. "We are honored to provide a grant to Dakota College at Bottineau, which will use the funds to help preserve an important piece of our shared national heritage."
Grants from the National Trust Preservation Funds range from $2,500 to $5,000 and have provided over $15 million since 2003. These matching grants are awarded to nonprofit organizations and public agencies across the country to support wide-ranging activities including consultant services for rehabilitating buildings, technical assistance for tourism that promotes historic resources, and the development of materials for education and outreach campaigns.
For more information on National Trust for Historic Preservation's Preservation Fund grants, visit:
http://forum.savingplaces.org/build/find-funding
About Dakota College at Bottineau
Dakota College at Bottineau provides students with a quality education in a caring environment. The institution values diversity and personal enrichment by promoting engaged learning for employment and university transfer.
About the National Trust for Historic Preservation
The National Trust for Historic Preservation is a privately-funded nonprofit organization that works to save America's historic places to enrich our future.
The National Trust for Historic Preservation is committed to protecting America's rich cultural legacy and helping build vibrant, sustainable communities that reflect our nation's diversity. Follow us on Twitter @savingplaces.
---
DCB Renovates Commons for Student Study Lounge
October 18, 2017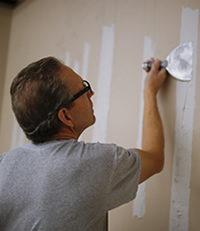 This summer, updates took place throughout the DCB campus. Dakota College at Bottineau is pleased to announce completion of renovations to the commons area located in the Nelson Science Building.

This renovation was made possible due to a generous donation from Elma Severson in conjunction with funding from the college. The commons area, Lumberjack Lounge, has been updated to better accommodate student study needs. A large screen for student presentations, computer stations, lounge furniture and study tables have been installed for student collaboration.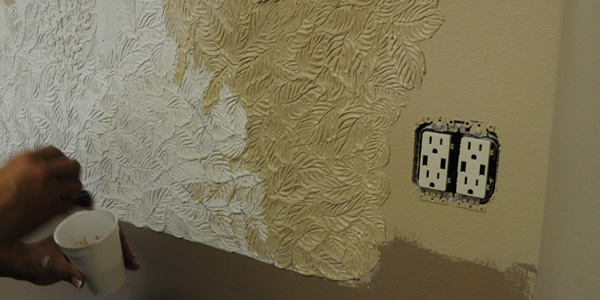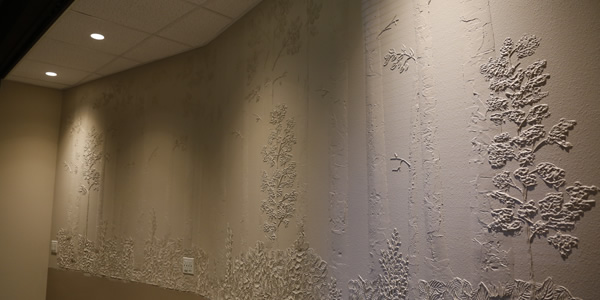 The goal was to have the Lumberjack Lounge ready for students to use during the 2017 fall semester. Thanks to the contractors and vendors, the Lounge is now complete. Please join DCB in an open house to dedicate the Lumberjack Lounge, Wednesday October 25th from 2:00 – 4:00 pm.
---
DCB Nursing Recognizes National Stroke Awareness
October 17, 2017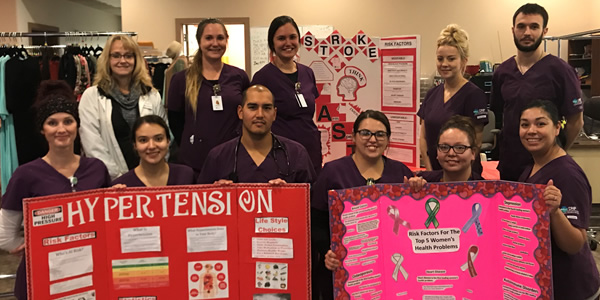 The DCB Associate Degree RN students participated the 6th Annual Women's Health Awareness Expo sponsored by St. Andrew Health, which was held on Wednesday, October 11th. According to the National Stroke Association (2017): each year stroke kills twice as many women as breast cancer and is the third leading cause of death for women. Stroke affects blood flow in the brain. First of all, we have an ischemic stroke which is an interruption of blood flow to the brain, usually as the result of a blood clot. Hemorrhagic stroke is the result of bleeding or a rupture of a blood vessel in the brain. The resulting leakage into surrounding brain tissue causes damage to nerve cells.
Jerilyn Alexander, Stroke Coordinator from Trinity, was the guest speaker for the event. Jerilyn discussed how important it is to know the causes of strokes, the signs and symptoms of a stroke and what people need to be done in case of person is experiencing a stroke. Strokes are occurring more in women than men and are occurring between the ages 30 to 65, which is having debilitating effects on their lives.
Jerilyn Alexander and the DCB Nursing Students promoted information on symptoms of a stroke and the "9 Tips for Stroke Prevention, according to the Center for Disease Control 2017. The CDC's web site lists nine steps people can take to help prevent stroke:
Prevent and control high blood pressure.
Prevent and control diabetes.
Don't smoke.
Prevent and control high cholesterol.
Treat atrial fibrillation (an irregular heart rhythm).
Don't drink alcohol excessively.
Maintain a healthy weight.
Get regular physical activity -- at least 30 minutes per day on most days, with
your doctor's permission.
Eat a healthy diet that includes plenty of fruits and vegetables without a lot of
artery-clogging saturated fat.
Stroke Symptoms: What to Do
Seek emergency medical care at the first sign of a possible stroke, which are the following:
Sudden weakness or numbness in the face, arm, or leg on one side of the body.
Abrupt loss of vision, strength, coordination, sensation, speech, or the ability to understand speech. These symptoms may become more marked over time.
Sudden dimness of vision, especially in one eye.
Sudden loss of balance, possibly accompanied by vomiting, nausea, fever, hiccups, or trouble with swallowing.
Sudden and severe headache with no other cause followed rapidly by loss of consciousness.
Brief loss of consciousness.
Unexplained dizziness or sudden falls.
Many strokes are preventable and treatable. Every woman can take steps to prevent stroke by knowing her risk factors and making healthy changes. It is important to educate yourself and your family, regardless of their age, because while stroke usually only affects the aging population, it can often be the quick thinking of a younger soul that can save a life and change a family for the better.
---
DCB ECH Hires Two
October 16, 2017
Entrepreneurial Center for Horticulture (ECH) is happy to introduce two new faces to the DCB Campus, Amy Koehler and Jessica Marshall.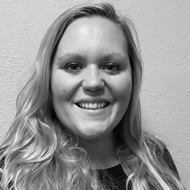 Amy has filled the ECH-Small Farm Technical Assistant and Horticulture Instructor position.  She will be working with Holly and Keith on a total of three grants that have tasks to be completed during the course of the next year.  Originally from Michigan, Amy has a degree in Plant Biology from Michigan State University.  Amy has spent some time as a volunteer in the US Peace Corps.  She recently worked for J. Clark Salyer as a Biology Science Technician.  In her spare time, she enjoys the outdoors, biking, kayaking and hiking.  Amy says she is very excited in the opportunities to work with both faculty and ECH staff.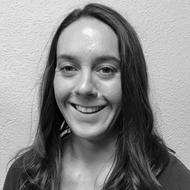 Jessica has filled the dual roles of Farm Manager and Greenhouse Maintenance, which are combined into the new College Farm Manager position.  She has received educational training through the ND Extension Master Gardener Program which goes beyond ordinary education and invests in creating gardeners to serve the needs of their communities.  Jessica is originally from the state of Wyoming and recently moved from Palermo, ND.  In her spare time, she enjoys the outdoors.  Jessica is looking forward to working with everyone at DCB.
---
Book Read Announces Panel Discussion
October 5, 2017
Aldo Leopold saw hunting not only as a form of recreation but also as a form of conservation. The second Brown-bag presentation for the 2017-2018 DCB book read series features hunting and conservation.  The panel is made up of Tom Nowatski, president of the Bottineau County Wildlife Club, an area representative of the Rocky Mountain Elk Federation, and Johnathan Tofteland, Bottineau area Game Warden, will discuss the effect hunters have on conservation.
All are welcome to attend and participate in the discussion. The panel and audience will meet at noon and 7 P.M. in the Alumni Center in Thatcher Addition. Box Lunches will be available at noon.
Aldo Leopold's Sand County Almanac and Sketches here and There is the current book read at DCB, and in conjunction with the book, the campus will host presentations that relate to the topics discussed in the book. The first a video of Leopold's life and work was presented September 21 and the third which will discuss the elk population in the Turtle Mountains will be presented November 29.