Agriculture Author to Speak at DCB, March 8
February 17, 2017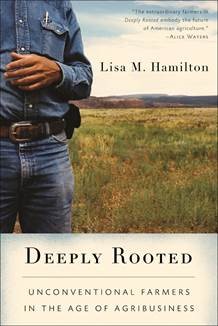 Lisa M. Hamilton, nationally known agriculture writer and photographer will speak to the DCB campus and community on March 8, 2017 at noon and 7:00pm in the DCB Centennial Alumni Center, Thatcher Hall. Her book, Deeply Rooted: Unconventional Farmers in the Age of Agribusinessis the current selection for the college's annual campus book read.
Hamilton will speak about what she has learned about agriculture in her work interviewing and photographing unconventional farmers throughout the nation. She will also meet with DCB students from 1:30 pm to 3:30 pm to discuss student questions aboutDeeply Rootedand to talk about writing as a working journalist and photographer.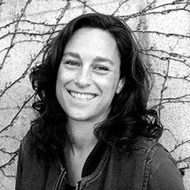 Hamilton focuses on agriculture and rural communities. Her writing and photography are published inThe Atlantic, Harper's, The Nation, Orion, The Virginia Quarterly Review, Gastronomica, The Grand Forks Herald, and many other publications.  She features North Dakota people and places in her book and in several articles. The Podoll family of LaMoure, North Dakota are featured in Deeply Rooted for their work in seed saving and developing garden vegetables that thrive in northern climate and soils. "Spirit Lake Rising: The Endless Flood of Devils Lake" a three-part series published in The Atlantic, discusses the impact to local farmers of Devils Lake flooding. An Op-Ed, "Let's Grow a New Crop of Farmers" appeared in the Grand Forks Herald. Hamilton's work is at www.lisamhamilton.com
The public is invited to join DCB's faculty, staff, and students to hear Lisa M. Hamilton's presentations at noon and 7:00 pm on March 8 and to join the discussion from 1:30 – 3:30 pm.  Box lunches will be available at the noon presentation for $6.00.
---
Scholarships Available
February 17, 2017
Dakota College at Bottineau has scholarship opportunities for all full time students on campus. Students have 1 month remaining until the deadline of March 15, 2017 for priority funding for 2017-2018 scholarships. Below is the link to either apply online or print it off and turn into Student Services.https://www.dakotacollege.edu/admission-and-aid/scholarships/
All applicants must submit a letter of recommendation and a transcript (obtainable from Student Services) for their application.
There are several scholarships available and each has special criteria attached, therefore applicants should read each one carefully when choosing which application(s) to submit.   For example, there is a scholarship available to Bottineau County residents interested in attending Dakota College at Bottineau full time in the fall of 2017.  There is a $2,500 financial assistance grant available for the 2017-2018 academic year.
This assistance is available to students through the Vern and Ruth Berge Scholarship Foundation.  Vern was a Souris area farmer and Bottineau County Commissioner, and his wife, Ruth was a former schoolteacher.  They were always interested in education.  Vern and Ruth wanted to make it possible for every Bottineau County resident student to have an opportunity at a college education. 
---
Wildlife Society Recognizes DCB Student
February 17, 2017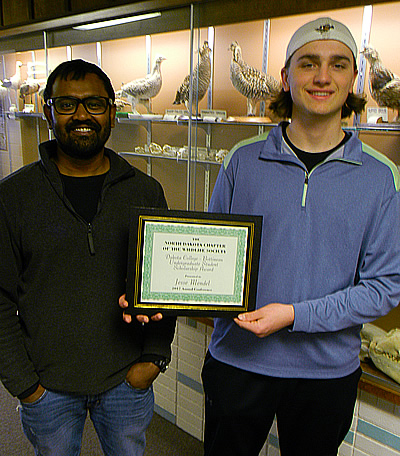 The North Dakota Chapter of the Wildlife Society (NDCTWS) annually recognizes students for their academic achievement, quality research, and professional involvement. 
This year's recipient of the NDCTWS undergraduate student award winner is Jesse Mendel (Annandale, MN).  Jesse, an active sophomore is pursuing an Associate of Science degree in Fish and Wildlife Management.  His future career goal to become a biologist in Minnesota. 
---
DCB Announces Spring Enrollment
February 17, 2017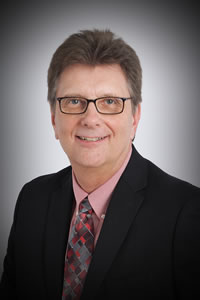 Jerry Migler, PhD, Campus DeanEnrollment is up for the spring semester at Dakota College at Bottineau. The official enrollment this spring is 789 students, which compares to 717 a year ago and equates to a 10% increase in the student headcount. Additionally, the college enrolls students at Minot State University and Valley City State University through its Passport and Bridges programs. These off campus programs account for another 79 students in developmental education courses, for a total of 868 students enrolled in DCB courses this spring. The comparable number of total students last spring was 793.
While on-campus enrollment was up slightly, most of the enrollment increase was attributable to the college's online and dual-credit programs.  The largest programs at the college continue to be Liberal Arts, Nursing and Business Administration.
DCB's spring goal was to maintain enrollment at last year's level.  The 10T increase in student headcount is encouraging according to Dr. Migler, DCB Campus Dean.  "We would like to increase our fall enrollment by 5%, primarily in our CTE programs."     
---
DCB Faculty Receive ND Community College Consortium Awards
February 14, 2017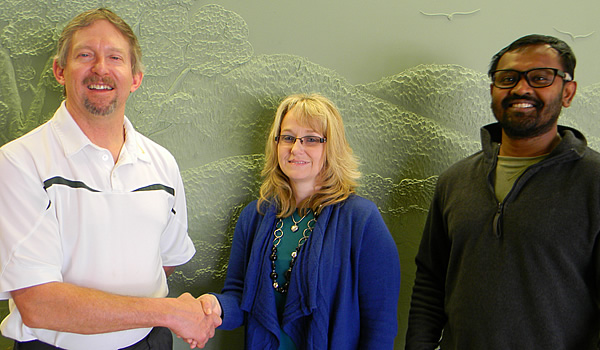 The North Dakota Community College Consortium (NDCCC) has announced two awards to Dakota College at Bottineau faculty.  The NDCCC is comprised of representatives from each of the two-year institutions. Two faculty and one administrator from each campus serve on the committee. The consortium sponsors the ND Great Teachers Seminar, Technology Boot Camp, and faculty professional development awards.  Each two-year campus along with the North Dakota University System provides funding to support the mission of NDCCC. 
The NDCCC faculty professional development awardees from Dakota College are Shubham Datta, PhD, Wildlife and Fisheries Assistant Professor, and Dawn Romfo, MSN, RN, Director of Nursing.  The funding allowed Dr. Datta the opportunity to participate in the ND Chapter of the Wildlife Society's annual conference and Ms. Romfo has the opportunity to participate in the "Nuts & Bolts for Nurse Educators Conference."
NDCCC's goal is to support continuing professional education to improve teaching and learning strategies within all disciplines of the consortium.
---
DCB Space Grant Scholarship Recipients Announced
February 13, 2017
The North Dakota Space Grant Consortium, under the direction of the University of North Dakota, made available $7,000 in scholarship funds to students at Dakota College at Bottineau.  These funds are awarded to students who show promise in the areas of science, technology, engineering or math (STEM).  The goal behind the North Dakota Space Grant Scholarship program is to identify, recruit and retain students in science, technology, engineering and mathematics; to encourage women and under-represented students to enter these fields of study; and to increase NASA activities and awareness in North Dakota.  To qualify for the Space Grant Scholarship, students must show academic excellence, have a sophomore standing, and have education and career interests relevant to STEM.
This year's selection includes the following four students from Dakota College at Bottineau (DCB):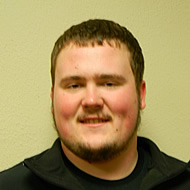 Spencer Dorsey(Tecumseh, NE) is pursuing an Associate of Science degree in Fish and Wildlife Management.  He plans transfer to a four-year university to pursue a bachelor's degree and possibly a master's degree in fisheries biology.  Spencer's career goal is to become a fisheries biologist.
---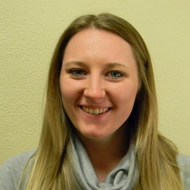 Taylor Hewson (New England, ND) is pursuing an Associate of Science degree. Currently, she is undecided on where she wants to pursue a higher degree after she graduates from DCB.  Taylor's future career goal is to become a physical therapist.
---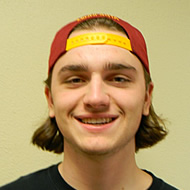 Jesse Mendel(Annandale, MN) is pursuing an Associate of Science degree in Fish and Wildlife Management.  Jesse's future career goal is to become a biologist in Minnesota.
---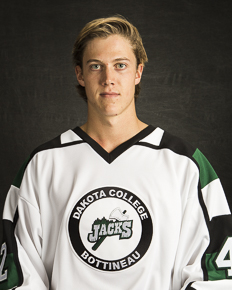 Braden Pewe(Bottineau, ND) is pursuing an Associate of Science degree in pre-engineering.  After graduating from Dakota College at Bottineau, Braden plans to attend the University of North Dakota to pursue a degree in mechanical engineering.  He plans to work in a field helping to create engines that are more efficient.
---
DCB Aquaponics Expands Opportunities in Agriculture
February 6, 2017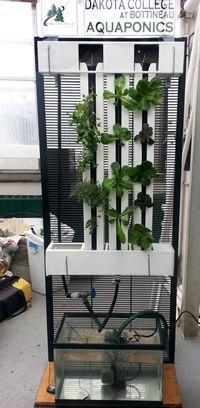 Dakota College at Bottineau's aquaponics program offers opportunities to learn about another kind of agriculture. Funded in part by grants from USDA Rural Development, the program provides training and an associate degree or certificate for students who want to start their own indoor aquaponics operations. Aquaponics is a joining of the words "hydroponics" (growing plants indoors in water instead of soil) and aquaculture (farming fish). Aquaponics Instructor, Keith Knudson and several students raise fish and plants together in a closed loop system.  Schools of tilapia in 170-gallon tanks produce waste that the system filters and turns to nutrient-rich fertilizer. Hydroponically grown herbs, lettuce, and tomatoes grow in a foam raft floating on the water's surface. The plants thrive on the nutrients provided by the fish waste and filter the water that is pumped back into the fish tank.
Knudson and students are expanding the system by adding a green wall and a Nutrient Film Technique (NFT) system. The green wall is a series of vertical tunnels affixed to the wall, filled with a medium in which the plants grow. The nutrient-rich water flows through the vertical tunnels watering and nourishing the plants growing on the wall. When the NFT system is in place, plants will also grow in horizontal watertight channels, similar to the rain gutters on a house.
Through DCB Community Education, Knudson will also teach a non-credit online aquaponics course. This non-credit training course provides an overview of aquaponics and its history, five different plant growth subsystems, fish and plant species, fish and plant health, and environment control methods. Registration is currently open for this eight-week course, which will run from February 20-April 14. Interested participants can register online athttps://www.dakotacollege.edu/about/community-education/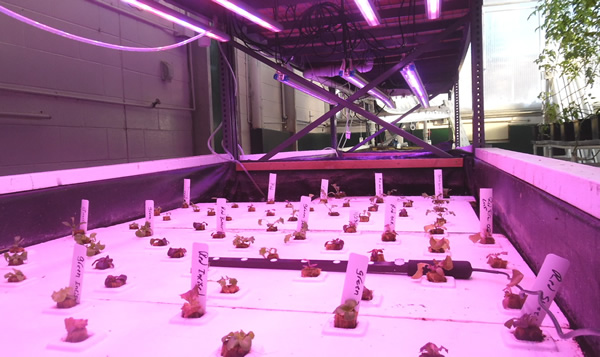 DCB offers both an AAS and a Certificate in Aquaponics Production and Management. The program prepares students for careers in aquaponics, hydroponics, aquaculture, and greenhouse production. Those interested in learning more about DCB Aquaponics or enrolling in the Aquaponics program should contact Keith Knudson atkeith.knudson@dakotacolleg.eduor 701-228-5489.
---
DCB Wants to Know What Will Help ND Horticulture Grow
February 1, 2017
Dakota College at Bottineau is surveying North Dakotans involved in horticulture. DCB wants to learn how the college's horticulture programs can help keep North Dakota's horticulture industry growing. Anyone who grows plants, horticulture businesses, employees, specialty crop farmers, educators, students and horticulture enthusiasts are all encouraged to take a brief survey.
It will take less than ten minutes to complete the survey, available atwww.dcbsurvey.com. We will collect data through February 24, 2017. Those living in REAP Zones, specific counties in north central and southwest regions of North Dakota, will also be asked if they'll participate in a brief phone interview.
The survey and interview questions focus on the educational needs of those in horticulture. What trends do people in the field see? What classes and subject matter would help them expand horticulture businesses? Through what delivery methods are they most likely to take courses?
DCB's horticulture faculty will use the information gathered to make changes to the college's horticulture programs. Currently DCB offers degrees in Floral Design and Greenhouse Technology, Landscape Design and Maintenance, Aquaponics Production and Management, Sustainable Vegetable Production, and Urban Forest Management.
Those who want to participate in the survey can find it atwww.dcbsurvey.com
Those who would like to participate in an interview or would like more information can contactinfo@dcbsurvey.com
---
Farm Business Management
February 1, 2017
Activity never ceases for farmers and ranchers across North Dakota. Even though most of the machinery is quiet for the winter, many important activities still occupy their time during the winter months; marketing grain, feeding cattle, preparing for calving, educating through farm shows and seminars and getting ready for income tax season.  For students in a Farm and Ranch Business Management Education program this time of year also means gathering financial and production records to prepare a financial analysis for the previous year.
Everyone needs to have adequate income and expense records to file an accurate income tax return, but this does not give a true picture of a farm's finances.  The Farm Business Management program goes beyond accurate cash accounting records. We create accrual based income statements that show true profitability of the business for the year. We develop balance sheets and whole farm financial analyses, analyze individual enterprises, develop budgets, and put together cash flow projections for the coming year along with other financial statements. We strive to make these as complete and accurate as possible.
So what is the purpose of all this "extra" work? Our goal is to educate the farmer or rancher through these tools to have a more complete understanding of the financial health of the farm business. As operations become more complex, we need a more detailed picture than what cash income and expenses can tell us.  Armed with this knowledge you can make informed financial decisions for the future.
If interested in joining this group of progressive farmers and ranchers and having a better understanding of farm and ranch financial health, visit with the Farm Business Management instructor in your area. Dakota College at Bottineau has programs at three locations: Rugby (Al Graner-701-776-5095), Minot (BillieJo Shae-701-857-7682) and Bottineau (Rodney Armstrong-701-228-5481). Give them a call to visit about how the program can work for you and how to enroll.