Photography Scholarship Contest for High School Seniors
January 26, 2017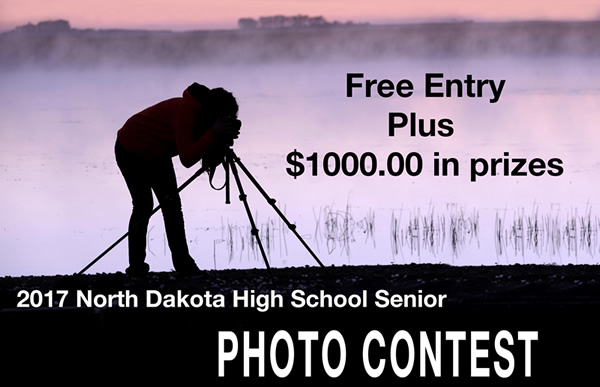 The Dakota College at Bottineau's commercial photography program is pleased to announce the 2017 North Dakota High School Senior Photo Contest. The contest offers 4 prizes including 1st through 3rd place and a People's Choice Award all totaling $1000 in scholarships. All scholarships are for the 2017-2018 school year to study photography on campus at Dakota College at Bottineau.
The photo contest is free to enter and is open to any subject material. Photographs must be original and created by the individual submitting for the contest. Photos may be of any subject matter. Images may be film or digital, however entries must be submitted digitally in jpeg format. Image sizes should be 8x12 format, or 12x8 and be 1200 pixels wide. Entrants may submit a maximum of 3 images.
To see all entries and to help judge for the People's Choice Contest please look up DCB Photography on Facebook or go towww.Facebook.com/DCBPhotoand on Instagram @D.C.B.Photo. There you will also find student work and pictures of events around the DCB campus.
Dakota College at Bottineau is home to the premier commercial photography program in the state of North Dakota. Offering a 1-year certificate or a 2-year degree, DCB takes students from beginner level through classes that prepare them for a career in portrait, wedding or advertising photography. Classes are offered in person at the Bottineau campus or online. Visit https://www.dakotacollege.edu/photography/or call (701) 228-5488 or toll free at (800) 542-6866 to enroll or find out more.
Contest Rules
Eligibility:
Must be a current North Dakota High School senior intent on studying photography at DCB starting the fall of 2017. All photos must be original and created by the student submitting the work. Photos may be of any subject matter.
---
Prizes:
1st - $400 Scholarship*
2nd - $300 Scholarship*
3rd - $200 Scholarship*
---
Dates:
Entries due by Wednesday, March 1st 2017, noon (CST).
Winners announced March 20, 2017
---
How to enter:

Photographs may be film or digital, however the entries must be submitted as digital files (jpg) sized to 1200 pixels wide. All photos must be 8x12/4x6 format. Photos should be titled with the photographers name and image title. ie: Doe_John_OldBarn.jpg
Submit up to 3 digital photos todcb.photo@dakotacollege.edu
*Scholarships for tuition to study photography at Dakota College at Bottineau starting Fall 2017. If the winner does not enroll Fall of 2017 the award will go to the next runner up until all awards are exhausted.
---
DCB Honors Program in Fifth Year
January 23, 2017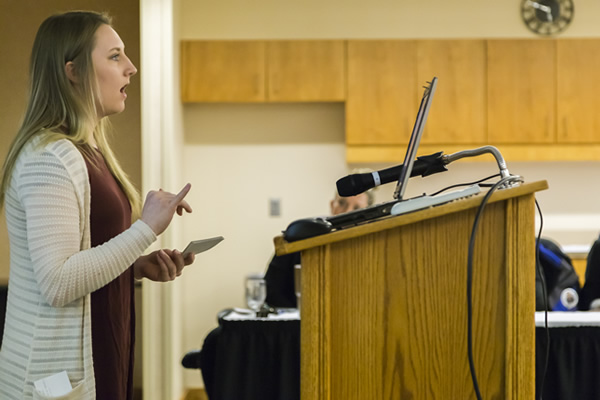 The Honors Program is in its fifth year of course offerings at Dakota College at Bottineau.  The DCB Honors students presented their research last week at the Honors Symposium held on January 18, 2017.  At the close of each semester the honors students present their research to faculty and staff at DCB.  The symposium highlights the achievements, studies and work that has been completed in the honors courses. 
The symposium featured several different courses and departments from the Dakota College at Bottineau campus.  Nikola Ves was a guest speaker presenting the research he completed while working this past summer at the University of North Dakota on a biomedical internship titled "Evaluating the Expression of ASCL4, SLC27A2, SLC16A4, SLC2A3, and IGFBP2 in HK-2, HK-2(MT3), and hTERT Cells and Human Proximal Tubular Isolates."
Chemistry honors students Taylor Hewson, Morgan Kersten, Lauren Mach and Victoria Gullett presented "A Study of Electrolyte Absorption."
Lauren Mach presented for History honors with her project "A Look Into the Roman Empire".
Anatomy and Physiology honors student Taylor Hewson presented research on "Genetic Disorders."
The Sociology honors students presented their research on "The Battle of the Sexes" which was conducted by Chelsie Deibert and Jonathan Sundell. 
Noah Grant completed work in both the Sociology and Anatomy & Physiology programs with his presentation "What's in a McDonald's Cheeseburger?"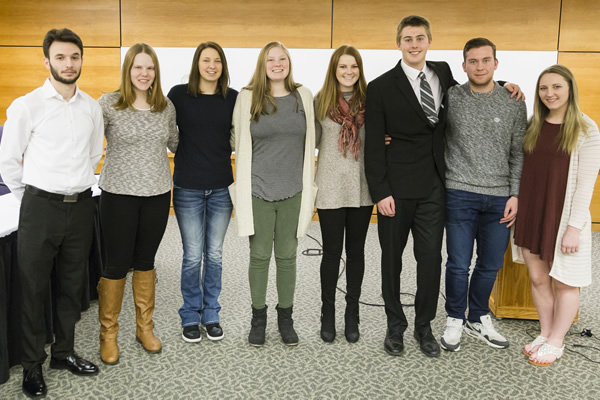 The Dakota College at Bottineau honors courses are tied to several of the "core" courses which students take in their studies.  The program was created to work with the current courses being offered on the DCB campus. 
Students enroll in the "core" course and also enroll in a one credit "honors" course.  All of the Honors courses are conducted differently based upon the course.  Some courses involve additional writing and research, some involve projects and others involve presentations or community service.
Keri Keith, Coordinator of the Honors Program stated that "Our symposiums provide a valuable opportunity for our honors students to present their research in an academic setting.  This experience will be incredibly beneficial for our students as they progress in their programs and perform more in-depth research and are presenting to groups in their field or in advanced graduate level work. "
To qualify for the Honors Program, incoming freshmen must have a minimum 3.25 GPA or an ACT composite minimum score of 22.  Current college students with at least 12 earned credits must have a minimum 3.25 GPA.  To remain in the program, students must maintain a 3.25 GPA. 
---
DCB - One of the 2017 Most Affordable Online Colleges
January 17, 2017
Dakota College at Bottineau has recently been named to the top 20 most affordable online colleges in the nation by SR Education Group. This educational group has been publishing rankings of online colleges since 2009 and awarding scholarships since 2010. The ranking is based on research and fair assessment of all available online programs, with the goal of helping students make educated decisions when choosing an online degree. Each school considered must have an annual tuition rate of less than $5,000 and offer at least 10 full online degrees at the associate, bachelor or master degree levels to be eligible as one of the Most Affordable Online Colleges.

Dakota College at Bottineau has an annual tuition rate of $4,371 and accredited by the Higher Learning Commission. Online associate degree options at Dakota College at Bottineau include programs in photography, paraprofessional education, urban forest management, and caregiver services. Students who want a more generalized education or who intend to transfer to a four-year program may be interested in the Associate of Arts or Associate of Science in Liberal Arts. Online students also have the opportunity to take classes from other North Dakota colleges, as Dakota College is part of the North Dakota University System, a collaboration between higher education schools in North Dakota.

Students from more than twenty states and three provinces in Canada enroll in DCB's online courses and programs. In Fall 2016, DCB had over 300 students take at least one online class, an increase of 110 students from Fall 2015. Ashley Bradford, an online student from Minot, ND, is positive about her online experience. "I am on my second semester with Dakota College of Bottineau. I have taken three online classes and enjoy them a lot. By taking an online class, I have the flexibility to do my work a little bit ahead of time and at home around my schedule. I have kids so taking online classes helps me with working around their schedule as well. I like online classes because you can work at your own speed and have more time to work on an assignment than you would in some classes."

SR Education Group is an education research publisher founded in 2004. The organization promotes tuition transparency in higher education, conducts extensive in-house research into program-specific tuition data and compiles research into affordability rankings covering 68 subjects. For the 739 colleges that met the criteria for inclusion, annual tuition rates were manually researched and calculated using data collected from schools' official websites. The colleges were then categorized based on annual tuition rate, and the top 25 were named the 2017 Most Affordable Online Colleges Overall.
DCB is very proud of their publication in the 2017 Most Affordable Online College rankings on OnlineU.org. For more information about DCB's online programs, visit our Online Page.
---
Winter Survival: Prevention & Treatment of Common Winter Injuries
January 11, 2017
Dakota College at Bottineau is offering a free winter survival class for the Bottineau community and surrounding area. Due to the unusual winter conditions North Dakota has experienced it is important and appropriate to understand prevention and treatment of common winter injuries. Aden Clark from the Bottineau Ambulance will share on common injuries, prevention of such injuries and consequences related to avoidance and delay in treatment.

Frost bite is defined as injury to body tissues caused by exposure to extreme cold, typically affecting the nose, fingers, or toes and sometimes resulting in gangrene (Oxford Dictionary, 2017).

Once the wind chill makes the temperature feel like -28 or below, exposed skin can freeze in under 30 minutes. When it drops to -40 frostbite can occur in less than 10 minutes. With wind chills of -55 you are in danger in less than two minutes.
The first sign of frostbite is a stinging or burning sensation in skin that has been exposed to the cold for too long. The length of time depends on how cold it is — or how bad the wind chill.

Exposed skin will become red and swollen before the stinging or burning sensation kicks in. If it remains exposed, the skin will feel like it is tingling and it will turn white and waxy as the frostbite progresses.
These sensations occur because less blood is flowing to the body's extremities. With a loss of warming blood flow, the fluid within your cells and tissues start to freeze, forming ice crystals and causing physical damage and permanent changes in the chemistry of the cell. Skin can become blistered or turn black if not treated promptly.

Hypothermia is another life threatening situation that is common during the low, freezing temperatures experienced in North Dakota. Hypothermia is caused by prolonged exposures to very cold temperatures. When exposed to cold temperatures, your body begins to lose heat faster than it's produced. Lengthy exposures will eventually use up your body's stored energy, which leads to lower body temperature.

Body temperature that is too low affects the brain, making the victim unable to think clearly or move well. This makes hypothermia especially dangerous, because a person may not know that it's happening and won't be able to do anything about it. Warnings signs of hypothermia in adults include, but are not limited to shivering, exhaustion, confusion, fumbling hands, memory loss, slurred speech and drowsiness.

Another strange but not abnormal finding in individuals experiencing hypothermia is paradoxical undressing. This phenomenon is thought to be a last stitch effort made by hypothermic individuals to get comfortable before unconsciousness and death. The thought behind the cause of paradoxical undressing is that the primary defense against the cold and hypothermia is vasoconstriction of the peripheral circulation. Meaning the circulatory system shunts the blood to the warm core and the skin becomes a more effective layer of insulation. However, vasoconstriction causes energy consumption, which can only last so long.

Vasodilation, on the other hand, is a process that is basically the opposite of vasoconstriction. Vasodilation requires the smooth muscles that make up the blood vessels to relax. Over time, the vasoconstricted vessels begin to run out of energy because of the poor circulation, and they fatigue and relax, thus vasodilating. This allows the warm core-blood to re-perfuse from the organs back to the skin, causing a sensation of warmth. With disorientation and the feeling of warmth individuals begin to shed layers, thus the paradoxical undressing. Between the peripheral vasodilation and the loss of layers of protective clothing, core temperature begins to plummet and this hastens death from hypothermia.

Please join us to learn how to prevent and treat winter injures, January 25, 2017, 12 noon to 1 p.m. in the McMaster Conference Room in Thatcher Hall at Dakota College. A brown bag lunch is available for $6.00.
---
Career and Technical Education in Memorial Hall
January 10, 2017
There is a level of academic content and skill that is required for success in today's career and technical, formerly known as vocational, careers. Despite the ongoing marketing of Career and Technical Education (CTE), there are many people who are not aware of the impact CTE programs provide, the career opportunities available in the state, and what North Dakota students can do after completing career and technical education and training.
Dakota College at Bottineau (DCB) will speak to CTE success by showcasing three of their programs during CTE in Memorial Hall at the State Capitol Building on January 24-26, 2017. Faculty and students will demonstrate and explain programs, projects and the impact of CTE within the State. The three signature programs DCB will showcase include nursing, information technology, and horticulture.
DCB is a partner in the Dakota Nursing Program, a collaboration between Bismarck State College, Dakota College at Bottineau, Lake Region State College and Williston State College. This program prepares students to complete a one-year certificate in practical nursing and a two-year associate nursing degree.
DCB is also a partner in the Northern Information Technology Consortium (NITC), which is a collaboration between Dakota College at Bottineau, Lake Region State College, Turtle Mountain Community College and Williston State College. This unique partnership allows campuses to share specialize IT coursework through interactive video network and online delivery.
DCB's horticulture program is the only two-year degree program in the ND University System which prepares students for careers in floral design, greenhouse management, aquaponics and sustainable vegetable production. DCB is currently partnering with the International Peace Garden for the delivery of these programs.
The exhibits are intended to help legislators and others to learn about the quality career and technical education taking place in North Dakota.
---
Free Basic Sign Language Course Offered at Dakota College at Bottineau
January 4, 2017
Dakota College at Bottineau has collaborated with the ND School for the Deaf to offer a Basic Sign Language (level 1) course to area residents. This is a great introductory course to begin communicating with the hearing impaired.  This class is offered at no charge.  The only expense is the book which may be purchased through the DCB Bookstore.  The class is scheduled to meet on Tuesdays from 4:00 PM – 4:50 PM beginning January 17, 2017 and run through April 25, 2017. This course will be offered on the Dakota College at Bottineau campus over Interactive Video Network (IVN).
The book can be purchased through the DCB Bookstore. If you are interested in taking this course, please call 701-228-5623 or you may register online at:www.dakotacollege.edu/about/community-education
---
Baking for a Better Community
January 4, 2017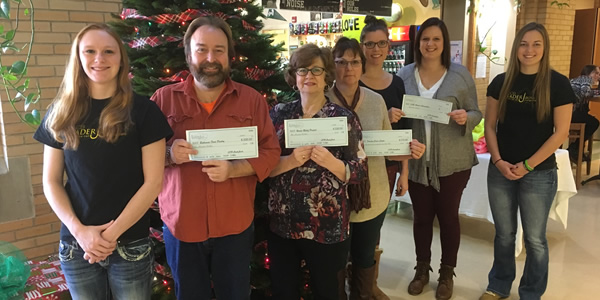 The Baking for a Better Community project came about because a group of 35 Dakota College at Bottineau students that make up a student organization called the LeaderJacks chose baking as a fun way to give back to the community. Most of these college students have never baked before so not only did this project give money to the community, it also provided many valuable lessons to the students.
This project consisted of five baking events where a Thrivent grant was used to purchase the supplies needed. Students planned what they would bake and what supplies would be needed to do the baking. There was a bucket placed on the table at each event in which people could make contributions. The events raised over $700 and were as follows; Family Crisis Center bake sale which was held in conjunction with their annual rummage sale. Students sold their baked goods and helped with the set-up, carry out and clean-up of the rummage sale. Two bake sales were held on campus during the men's and women's home basketball games. The proceeds went to the Bottineau Food Pantry and to the World Relief Project.
The World Relief Project began when a community member challenged the students to fill 30 backpacks and donate the backpacks to the group. In addition to filling the backpacks they also collected supplies and purchased the rest that was needed to make 36 personal care kits.
During the community Christmas event the LeaderJacks baked cookies for children to decorate with them. Each child received a cookie and the rest were donated to the Food Pantry. A freewill donation was collected for the Food Pantry.
The final event was a pie social where the LeaderJacks baked and served the pies. Faculty, staff, students and community members were able to make a freewill donation for a slice of pie or purchase a whole pie. The proceeds were split among the three charities chosen by the organization for the semester.
The 35 students completed a total of 625 hours of community service throughout the semester by doing things that included helping at the food bank, helping at the after school program, serving meals, coaching little league basketball and hockey, projects with patients at the hospital and nursing home in addition to the baking project.
---
DCB Launches Online Photography Program
January 4, 2017
Dakota College at Bottineau launched a full time Online Photography Program this past fall semester. Clint Saunders, head of the online photography program, said that the program has been in the works for a couple of years, "we have been adding a class here and class there, and we're finally able to offer the full program online beginning this fall," stated Saunders.
The program is a CTE (Career and Technical Education) program designed to train students to become professional photographers. The program is made up of eleven photography courses and is set up so that students can start in the fall and graduate with a certificate in the spring. While the program can be finished in two semesters, students can spread it out over two or three years if they prefer to take it slower or are pursuing an AAS degree.
While the program has only been available for one semester, it has already attracted eight full time online photography majors and new students are expressing interest every week. Saunders feels the rapid growth is due to the convenience of the program, "photography is a popular subject, and the online program makes it possible for students to earn a certificate or degree from home without the need to live on campus or travel for classes," stated Saunders.
With the rapid growth of the program, DCB has already hired another part time, online photography instructor. DCB is proud to announce the hiring of Todd Vorenkamp as their newest online photography instructor.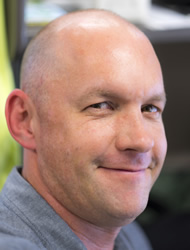 Vorenkamp began taking photos as a child with his Grandmother's handed-down Kodak 110 point-and-shoot film camera. After high school Vorenkamp accepted an appointment to the U.S. Merchant Marine Academy (USMMA) at Kings Point, New York. Students at Kings Point spend half of their second and third years at sea working on merchant vessels that steam and motor all over the world. Knowing he was about to embark on global journeys, he asked for a Nikon 6006 SLR as a high school graduation gift.
Following graduation from USMMA, Vorenkamp joined the United States Navy and was sent to flight training. He received his Wings of Gold on 17 December 1999. From there he went on to become a helicopter pilot in the Navy and the Coast Guard, flying supply missions in the Iraq War and search and rescue in the mountains of Northwest Washington State and off the coast of Northern California as an aircraft commander in the Boeing CH-46D Seaknight, Sikorsky UH-3H Sea King, Sikorsky MH-60S Knighthawk, and Eurocopter MH-65C Dolphin helicopters.
Vorenkamp's photographs have consisted mostly of aviation and nautical subjects and recorded much of his worldwide travels. "A large part of the pleasure of sailing and flying for me is the unique perspective it affords on the elemental dangers and beauty of the natural world and the imposing technology of our attempt to control and exploit it," states Vorenkamp.
Encouraged by both the Navy and Coast Guard to pursue an advanced education, he decided that it was time to find a formal education in photography. Vorenkamp found the Academy of Art University through an Internet search and began the Masters of Fine Arts program in the spring of 2008. He graduated from AAU with an MFA in Photography in December of 2011.
Now a formally trained photographer and artist, Vorenkamp enjoys engaging in self-generated photography projects that allow him to capture the beauty of the man-made world that surrounds us. When not photographing, and teaching photography workshops, he works as a Senior Creative Content Writer at the largest non-chain camera store in America, B&H Photo in New York City.
---