Leap into College Early and Save Time & Money
March 28, 2017
Dakota College at Bottineau (DCB) is proud to announce the addition of the LEAP (Leading to Education and Advanced Preparation) program to their fall curriculum.  Designed for high schools, it allows high school students to earn a college certificate alongside their high school diploma, saving students time and money. Students will earn 24 general education college credits while in high school, by taking two dual credit offerings from DCB during each semester of their junior and senior year. This new program launches in the Fall 2017 semester and offers great benefits for students including the following:
Time Savings– By taking 24 credits, students will save a year of college, allowing them to enter the workforce a year sooner.
Cost Savings– Dual credit students receive a current discounted tuition rate of $122.84 per credit vs the $178.38 per credit, creating a savings of $55.54 per credit. The Bank of ND Scholarship covers tuition and books for two classes per academic year for qualified students.
Flexible Delivery– Many of the courses are available either online or over IVN (Interactive Video Network). For added flexibility, teachers at some of the participating high schools instruct courses.
Transferability– General education courses transfer to any campus in the North Dakota University System (NDUS). This allows students to take quality courses from DCB at an affordable rate and then either continue their education at DCB or transfer their courses/credits to any campus in the NDUS.
Students begin this program their junior year of high school and earn a Certificate of College Studies from DCB. The curriculum requires students to take two classes in the fall semester and two classes in the spring semester during their junior and senior year at high school. The LEAP program is unique to DCB and students will begin enrollment this spring and summer to be ready to begin their studies the Fall of 2017. 
Questions may be directed to Kayla O'Toole, Director of Distance Education, 701-228-5479 or visit our website athttps://www.dakotacollege.edu/academics/dual-credit.
---
Regional Science Olympiad Held at DCB
March 28, 2017
The Northeast Regional Science Olympiad was held at Dakota College at Bottineau on March 23.  This event brought in ten area schools and twelve teams from Minnewaukan, Bottineau, Mohall-Lansford-Sherwood, Langdon, Rolla, Towner-Granville-Upham, Turtle Mountain Community High School, St. John, Divide County and Williston. The schools competed for the chance to qualify for competition at the North Dakota State Science Olympiad, which will be held at NDSU in April. 
"This year we hosted one of our largest number of competitors. In order to host an event such as this we had a real team effort with many faculty, staff and students pitching in to help. It was a successful event!" said Angie Bartholomay, Assistant Science Professor at DCB and co-chairperson for the NE Regional Science Olympiad. The teams made up of junior high and senior high teams had over 300 students competing in events ranging from hovercraft, tower building, and wind power to diagnostic detectives, dynamic planets, chemistry lab and electric vehicles. 
The winners of the Northeast Regional Science Olympiad who will compete for the state title include:
Junior High Division

1)      Langdon

2)      Rolla

3)      Bottineau

4)      TGU Granville

          

Senior High Division

1)      Langdon

2)      Mohall-Lansford-Sherwood

3)      Bottineau

4)      Minnewaukan
---
DCB to Host Science Olympiad
March 17, 2017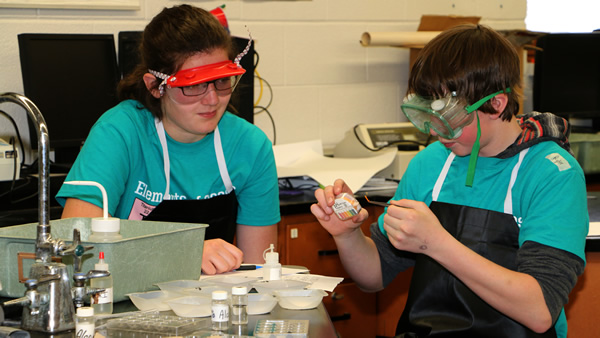 The Northeast Regional Science Olympiad will be held at Dakota College at Bottineau on March 23, which includes area schools and who create teams to compete for the chance to qualify for the North Dakota State Science Olympiad competition.  Depending upon the school districts, teams comprise junior high and senior high students.  During the competition, students will compete in a variety of events, which deal with the science curriculum students learn in their classrooms. 
Science Olympiad is a national non-profit organization dedicated to improving the quality of K-12 science education, increasing male, female and minority interest in science, creating technologically-literate work force and providing recognition for outstanding achievement by both students and teachers.  The winners of the Regional Science Olympiad will compete for the state title on the campus of North Dakota State University in April. https://www.soinc.org/info/about-science-olympiad
Join DCB on Thursday, March 23rdas they welcome area students to the competition.
---
DCB Offers Allied Health Programs
March 13, 2017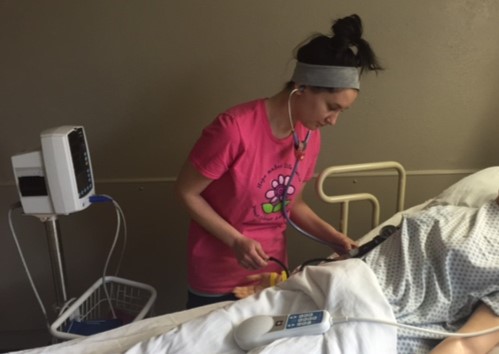 Dakota College at Bottineau offers three Allied Health programs; Medical Administrative Assistant, Medical Coding and Medical Assistant.  Allied Health is a term used to describe the broad range of health professionals who are not doctors, dentists or nurses.  
When thinking of a profession in healthcare, but prefer the administrative side, a Medical Administrative Assistant can earn an Associate of Applied Science degree (AAS).  Graduates are eligible to sit for the Certified Medical Office Assistant (CMOA) exam through American Medical Technologists (AMT). The mixture of general, medical and administrative/management classes will prepare you to take on a wide variety of tasks. Medical Administrative Assistants can bring skills to a facility that are critical in creating an efficient environment in the ever-changing world of healthcare. 
The Medical Coding Diploma program at Dakota College may be earned in as little as 1 year. Coding is vital to the success of any medical office and is always in demand. Medical providers rely on coders to navigate medical records skillfully, and accurately code diagnoses and procedures. This is key in patient care, and invaluable to any medical facility.  
Medical Assistants are educated to be versatile individuals that are part of a rewarding, growing field. Duties of Medical Assistants may include, but are not limited to measure vital signs, record patient history and personal information, give patients injections as directed by the physician and schedule patient appointments. 
Students train in a combination of clinical and administrative duties, which concludes with a 180-hour cooperative education experience in a medical facility.  There is an option to earn a 1-year diploma and then have the option to sit for the Nationally Certified Medical Assistant (NCMA) exam through the National Center for Competency Testing (NCCT).  Alternatively, there is a 2-year option, which is an Associate of Applied Science (AAS) degree, and graduates sit for the Registered Medical Assistant (RMA) exam through American Medical Technologists (AMT). 
All three programs are offered completely online, in the comfort of your own home.  You can help build the healthcare system of tomorrow while building a successful career for yourself all at a pace that works for you.
---
DCB Announces Spring Performance
March 13, 2017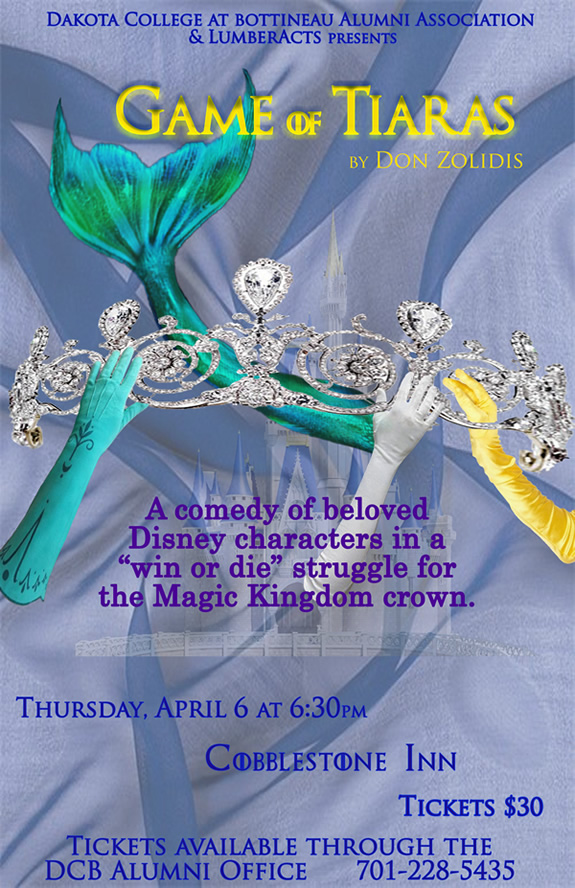 The LumberActs is excited to announce their spring performanceGame of Tiarasby Don Zolidis.  This comedy of beloved Disney characters in a "win or die" struggle for the Magic Kingdom crown has one showing; Thursday, April 6, at 6:30pm at the Cobblestone Inn, Bottineau, ND. The playwright describes the show as "a bloody, bloody tragic comedy in two acts with apologies to Shakespeare."  Michelle Davis, director, calls it "King Lear turned upside down with a cast of Disney Princesses and a Game of Thrones tone."
It is also very funny and requires numerous props and costumes.  This LumberActs involves 30 students performing in this semester's show.  The leading roles for the performance includeDarby Deckert of Rugby as Cinderella, Lauren Mach of Westhope as Ellie the Snow Queen, Alexis Genareo of Sherwood as Belle, and Sydney Miller of Sydney, Australia, as the King. The remainder of the cast is comprised of students from Australia, Nevada, Florida, Hawaii, Washington, Ohio, Montana, Kentucky, Indiana, Pennsylvania, Colorado, Michigan, and North Dakota. The North Dakota cast members are from Crosby, Velva, Surrey, New England, Kildeer, and Bottineau.
Tickets include dinner and the show.  They may be purchased through the DCB Alumni Office on the DCB Campus-Thatcher Hall or by calling 701-228-5435.
---
Students Named to the 2017 All-North Dakota Academic Team
BISMARCK, N.D. – Twelve North Dakota community college students have been named to the 2017 All-North Dakota Academic Team, which recognizes the academic achievements of community college students. The students were honored at a dinner and awards ceremony on Tuesday, March 7, at Bismarck State College. Monsignor Shea, president of the University of Mary, was the keynote speaker for this year's program.

Members of the 2017 All-North Dakota Academic Team, their hometowns and the colleges they attend are as follows:

Robyn Duttenhefner, Menoken, Bismarck State College
Ashton Wiederholt, Mobridge (S.D.), Bismarck State College
Karrie Green, Fort Totten, Cankdeska Cikana Community College
Ronald Walking Eagle Jr., Fort Totten, Cankdeska Cikana Community College
Megan Suhr, Ray, Dakota College at Bottineau
Morgan Kersten, Kramer, Dakota College at Bottineau
Paige Prekker, Elko New Market (Minn.), Lake Region State College
Hannah Swartz, Park River, Lake Region State College
Leah Barnes, Richfield (Minn.), North Dakota State College of Science
Elizabeth Brown, Wahpeton, North Dakota State College of Science
Taylor Nelson, Ray, Williston State College
Mikayla Whiteley, Watford City, Williston State College

"These students are outstanding examples of academic achievement and community involvement," said North Dakota University System Chancellor Mark Hagerott. "Being named to the All-North Dakota Academic Team is a significant accomplishment, one that reflects positively on both the students and their colleges. This is another example of how students who attend North Dakota's community colleges are well prepared to meet the evolving demands of the workforce or continue on for additional education."

In North Dakota, the community college awards are co-sponsored by Phi Theta Kappa International Honor Society and the North Dakota University System College Technical Education Council. The academic team recognition program is active in 37 states. Students named to the state team also are nominated for the All-USA Academic Team.

Nominations are based on outstanding academic performance and service to the college and community. Each member of the North Dakota team receives a certificate of congratulations from Governor Doug Burgum, an award certificate, a medallion and a monetary award. Team members are also eligible for scholarships from Dickinson State University, Mayville State University, Minot State University, Valley City State University, North Dakota State University and the University of North Dakota. The University of Mary and University of Jamestown also offer awards to All-North Dakota Academic Team members.
---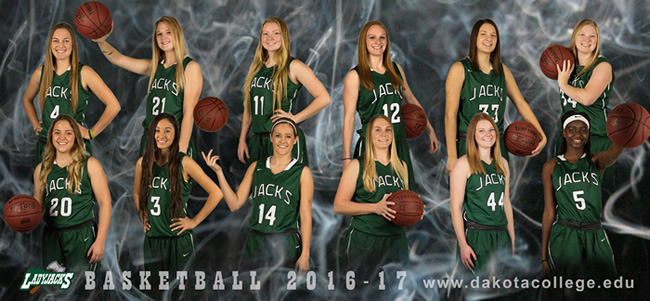 CONGRATULATIONS!
The Ladyjacks basketball team won the Region XIII Championship and defeated the North Platte Community College Knights 70-63 in Region IX, District F championship to advance them to the NJCAA DII Women's Basketball National tournament. The National Tournament will be held in Harrison, Arkansas, March 21-25, 2017. 
The Ladyjacks have a six-time title of Region XII Champions; 2000, 2007, 2011, 2013, 2014 and 2015 with a National Tournament appearance in 2014.  The Ladyjacks are coached by Wayne Johnson and Assistant Coach Taylor Jones.  Members of the team include:  From North Dakota: Darian Gladue-Dunseith, Stephanie Brenden and Kelsey Bowers-Bottineau, Darby Deckert-Rugby, Kennedy Sondrol-Turtle Lake, Alison Scheetz-Kildeer, Madison Erickson-Berthold, Chelsie Deibert- Surrey, Lauren Mach-Westhope, Morgan Kersten-Newburg, and Victoria Obergfell from Plentywood, MT who is also recognized to the MON-DAK Second Team All Conference, and Dior Dioum from Amsterdam Netherlands.
If you would like to financially support the team, please contact Coach Johnson or the Business office at DCB 228-5430.