DCB Foundation Opportunities
April 17, 2017
As some of you may know, the DCB Foundation office wears a few different hats depending on the event or time of year. For those of you that don't, I want to lay it out so that you can better understand which fundraisers are done for each association and what each association does with the money raised.
The DCB Foundation'spriority is to raise money to award scholarships to new students each year based upon academic achievement. There are a couple different ways that this goal is reached. First, we have about 50 endowment funds where the principal stays intact and the interest generated is used for scholarships. We also host Evergreen, Wine Walk, Oktoberfest and Annual Drive to help us reach our target of $35,000. The Foundation also has the Berge Scholarship Fund that awards about $80,000 each academic year to Bottineau County residents. Other direct scholarships available through the Foundation include; three different nursing scholarships, an Environmental Technology Program scholarship, and one for a second year student in the Wildlife Program.
The Alumni Associationis one of the other organizations ran through DCB's Foundation office. The group works hard each year to raise funds for returning students based upon academic achievement. Through Alumni Dues, Phonathon, working the gates at the Bottineau County Fair, Knight for a Princess – Father Daughter Dance, and selling coupon books we are able to award around $10,000 to second-year students each academic year.
The Logrollers Associationis the third group organized through the DCB Foundation office.  Their primary purpose is to raise money to award around $60,000 in athletic scholarships each year. Men's and Women's Basketball, Volleyball and Baseball are the eligible sports on campus that can accept scholarships. The Logrollers organize the Calendar Raffle, Trip Raffle Event, Metigoshe Turtle Trot, Wayne Gorder Memorial Golf Tournament, and Membership Drive to reach the goal of helping keep the sporting teams play at a competitive level.
If you are interested in donating or have any questions, please feel free to give Foundation Director, Courtney Vandal a call at 701-228-5613.
---
Taylor to Receive DCB Conservation Award
April 11, 2017
The annual Dakota College at Bottineau "DCB Conservation Award" and tree planting will be held on Thursday, April 20 at noon, gathering in the Alumni Center - Thatcher Hall.  This award is being given during the school's annual Earth Day Celebration.
Dakota College at Bottineau has developed a Nature, Technology, and Beyond focus which grew from its founding mission in 1906 of providing educational programming for those choosing a career that promotes care and concern for the environment.  This focus and mission is uniquely expressed in the college's original mission statements that prescribe practical and efficient training in forestry, horticulture, agriculture, and nursery and greenhouse practice; and, advocates for a trained eye to observe and a skilled hand to execute. Dakota College at Bottineau is rooted in the past and grows towards the future emphasizing a knowledge and appreciation of Nature, implementing rapidly changing Technology, and preparing students to go Beyond and improve the quality of life.
The DCB Conservation Award is presented by Dakota College to an individual who has demonstrated leadership and has made notable contributions to the conservation, preservation, and enhancement of our precious natural resources.  This person will have contributed in an exceptional way that has had a significant impact for the common good.
Criteria used for selecting the DCB Conservation Award recipient are as follows:
Wide recognition for expertise, vision, and problem solving;
Demonstration of enduring commitment;
Development of partnerships;
Generation and stimulation of community support;
Promotion to new audiences through educational efforts;
Catalyst for positive change.
The 2017 recipient of the DCB Conservation award is Mr. Ryan Taylor.
Ryan Taylor is the immediate past state director for USDA Rural Development, a three term state senator for his rural district, and now continues his lifelong vocation as a fourth generation cattle rancher, writer and speaker. In his time at Rural Development he worked with his team of 44 employees to deliver $590 million of loans, grants and loan guarantees to rural North Dakota to fulfill the mission of improving the quality of life and increasing economic opportunities in rural America. Taylor was appointed to that position by President Obama in August, 2015, and he served through the end of that administration on January 20, 2017.  At Rural Development, he spearheaded the first ever 'Green Economics: Agreeing on Efficiency' conference, convening diverse statewide interests from energy to environment, utilities to consumers, on the topic of saving energy and money. He began caring about rural places on the day he was born in the local Rugby hospital in 1970, and was wrapped up and returned to his family ranch southeast of Towner where he now raises his own family." 
Taylor graduated with honors in agricultural economics and mass communications from North Dakota State University in 1992. He was elected to the state senate for his rural district in 2002, reelected twice, and ended his service in 2012 as the senate minority leader. Three of his sessions were spent on the agriculture committee, and four sessions were on the education committee. As a state senator and a Bush Foundation fellow, he has also completed executive programs at the University of Wisconsin LaFollette School, the University of Virginia Darden School, and the Kennedy School of Government at Harvard University.
In the arena of conservation, he has been a steadfast steward and defender of the land as a family rancher; as a state senator and statewide candidate for office; and as a speaker and a columnist publishing 'Cowboy Logic' for more than 200,000 readers in agricultural newspapers across the western U.S. and Canada. His public policy perspective hearkens back to the careful multi use, with reclamation and respect for the land, which was summarized in former Governor Art Link's speech, "When the landscape is quiet again." Ryan has used his platform as an elected leader and a widely published columnist and author to keep land and the generations to come who will depend on how we treat it in our collective conversation on the prairie. As a Bush Foundation leadership fellow, Taylor travelled to Norway and studied that oil producing nation's respected public policy and management to glean best practices and examples for North Dakota's 'one time harvest' of oil and gas.
On the ranch, Taylor has cared for the land with numerous innovative grazing and management practices in cooperation with the Natural Resource Conservation Service. Several miles of fresh water pipeline, additional water wells and tanks, and many miles of cross fencing for rotational grazing have been added with assistance from the Environmental Quality Incentives Program (EQIP). A green grass calving season, beneficial herd rotations, nutrient management, and other enhancements to promote wildlife and conserve energy have been recognized by the Conservation Stewardship Program (CSP). The Taylor Ranch is welcoming to scientists and researchers studying the benefits of working pastures and hay lands for plants and animals, and provides access to hunters through the Private Land Open to Sportsmen (PLOTS) program.
Ryan and his wife, Nikki, will be back to raising their three young children on the family ranch south of Towner after nearly two years living in Bismarck during Ryan's tenure at USDA.
---
DCB Earch Day Activities to Include Agriculture Topics
April 1, 2017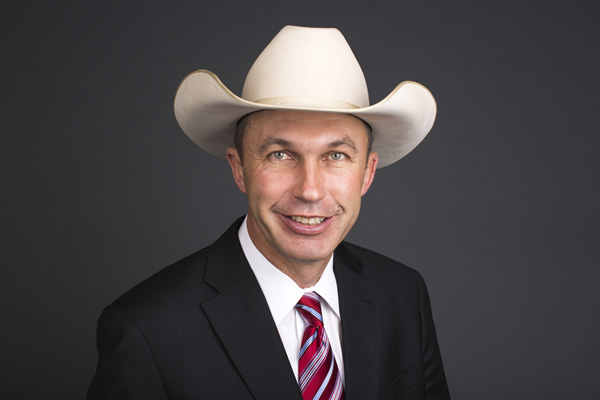 Dakota College at Bottineau will celebrate Earth Day with activities throughout the week including an exciting day of agriculture based presentations on April 19 and a Water Festival on April 20.

At noon and 7:00 pm in Thatcher Hall, Dakota College at Bottineau will host a panel discussion entitled Farming: Conventional and Unconventional. This topic expands upon the yearlong reading and discussions of the book Deeply Rooted: Unconventional Farmers in the Age of Agribusiness by Lisa Hamilton. Everyone is welcome to attend whether or not you have read the book. Panel members will be farmers from the region, conventional and unconventional, and will discuss the differences, similarities, challenges, and opportunities for both in our current agricultural climate.

At 3:00 pm, DCB will host a presentation by CommonGround North Dakota focusing on starting a conversation between women who grow food and the women who buy it. It is a conversation based on personal experience as farmers along with their experiences with science and research. North Dakota farm women have volunteered to be part of this grassroots program to share their personal stories and demonstrate the commonalities between the values and experiences of real farm families and consumers who benefit from all that farmers grow – to show there is, in fact, Common Ground.

The Water Festival, Conservation Award and tree planting will be held on Thursday, April 20th. The Water Festival invites over 250 area 5th and 6th grade students onto the DCB Campus. The annual Dakota Collage at Bottineau "DCB Conservation Award" and tree planting will be held on Thursday, April 20 at noon, gathering in the Alumni Center - Thatcher Hall. Ryan Taylor, a fourth generation rancher in Towner, North Dakota has been named the recipient of the 2017 DCB Conservation Award. Taylor's conservation practices on his ranch as well as his service as State Director for the U.S. Department of Agriculture Rural Development were key considerations in his selection for this award. Taylor graduated from North Dakota State University with bachelor's degrees in agricultural economics and mass communications. He previously served as a state senator, where he served on the Agriculture Committee, and also as Senate Minority Leader. Mr Taylor will also provide comments at the opening and closing ceremonies of the Water Festival. Tree planting, award presentation.
The events are open to the public.