ECH Assists as Growers Diversify
September 26, 2016
It's July 21st and a new farmers market has just opened in Watford City to a record number of growers selling their goods and customers buying them.  On August 29ththirty or forty people gathered to see North Dakota's first mechanical hops harvester. Each week all summer, growers and producers have given updates on the Red River Farm Network to keep consumers and the agriculture industry in touch with this new breed of business.  New products are continually hitting the market, from cut flowers to Aronia, Haskaps and heritage wheat breads.  Over 40 new farmers market vendors have received assistance and begun selling at farmers markets this year.  Each step along the way, the Dakota College at Bottineau's Entrepreneurial Center for Horticulture (ECH) has been there to assist the growers and producers.
The ECH works diligently to assist small to mid-size producers of vegetables and specialty crops with production, businesses planning, marketing, and the ultimate success of their ventures.  The ECH team provides much of their assistance directly at the farmer's location with additional information provided via email, online, workshops, and educational sessions.  In each step of the way, the ECH team is available to assist person to person, individually with the producers they work with.  "Mentoring and being there to guide them at all stages is critically important to a startup company, and never more important than when you are dealing with the unpredictable nature of growing crops for sale", says Holly Rose Mawby the ECH's Director.  "Small farms and small farming is growing in North Dakota and their business ventures are becoming more diverse.  This isn't your Grandma's garden anymore.  Consumers are demanding more interaction with the people who grow their food and are more concerned with the ways in which it was grown, meaning great opportunity for small farms."
At the same time the ECH team works to ensure the success of the growers, they continue to work on strengthening the small agriculture industry by providing training to the professionals who provide services to them.  Dakota College ECH will begin this fall providing training to the USDA's Natural Resources and Conservation staff to provide insights in the special situations and needs of small growers.  The center's director will attend a Food Safety Modernization Act train the trainer workshop in October to become a certified trainer for this new federal regulation.  Through workshops and educational sessions, the ECH can assist in the implementation of the FSMA as it becomes fully implemented in the US.  Additionally, the ECH team continues work with Dickinson State University to include more case studies and scenarios of small farms, specialty crops, and vegetable production into their courses, thereby preparing future professionals in the field to better serve the new crop of farmers in North Dakota.
If you or anyone you know is considering growing or raising vegetables or specialty crops as a business and they would like assistance, please have them contact the ECH Director at Dakota College at Bottineau, 701-681-0252.
---
DCB Announces Fall Enrollment
September 20, 2016
As noted in previous information regarding enrollment, our preliminary data showed that there would be an increase in student numbers this fall when compared to last year. Yesterday was the census day for the North Dakota University System, which is the day that official enrollment numbers are taken at all the colleges and universities.

The official 2016 fall enrollment for Dakota College at Bottineau is 811 students. For comparison purposes, DCB's highest official enrollment was 863 students in 2010 followed by 812 students in 2011. At 811 students, our headcount enrollment this fall is the third highest recorded by the college. Additionally, the college serves students at Minot State University and Valley City State University in collaborative developmental education courses, leading to a total of 1020 students enrolled in DCB courses this fall.

The overall total of 1020 students compares to 902 students enrolled a year ago, which is an increase of about 13%. This fall's official enrollment of 811 is 119 students more than the fall of 2015, when 692 students were recorded on the census date (20th day of enrollment). This is an increase of about 17%.

We are pleased to see the increase in student enrollment, most of which is attributable to growth in online courses and programs and also in our high school dual credit courses.

The percent of DCB students from North Dakota is comparable to last year. About 73% (595) of DCB students enrolled this fall are North Dakota residents compared to 72% last year. The college continues to attract students from across the country as well as internationally. Currently, 189 students have come to DCB from other states, 15 from Canada and 12 from other countries.

The largest programs at the college are Liberal Arts, Nursing and Business Administration.
While our fall enrollment is up, we still have opportunities to increase enrollment in a number of areas. These include online courses and programs as well as continued targeted recruiting for programs in which we have capacity. These efforts are currently underway and we are very focused on attracting more students to Dakota College at Bottineau.
---
Photography at Dakota College
September 20, 2016
The DCB outdoor photography class traveled to Theodore Roosevelt National Park and the Little Missouri National Grassland in addition to visiting with working photography professionals. Wayne Thomas, the head of the photography program at DCB, indicated, "exposing students to new areas and people stimulates the creativity and creates an appreciation for the splendor and opportunities available in North Dakota."
Thomas said, "This year was cold, but the hot air balloon festival in Medora along with visiting the photography studios of Jack Glasser and Shane Balkowitsch in Bismarck and a great park ranger hike in TRNP really made for an exceptional weekend experience."
Traveling has always been a passion of mine and my photography goes with it hand in hand. The beauty that surrounds us in North Dakota is unique and treasured. Plus we have so many great opportunities in the state including meeting and learning from working photographers. We treat our trip in some ways as a professional photographer would on a magazine assignment with predetermined visual ideas and a quick deadline."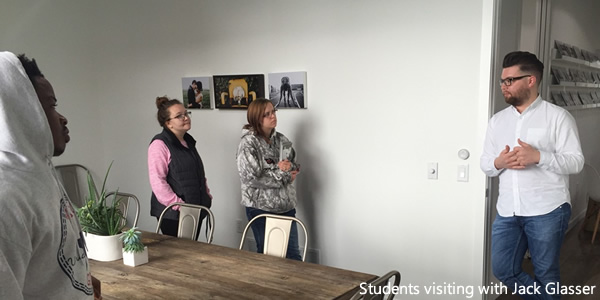 The photography trip included a visit with Glasser Images, a photography studio in Bismarck, ND where students toured the facility and learned the business side of a photo studio. Jack Glasser, the owner of Glasser Images generously spent time guiding students around the studio, explaining business practices and offering advice.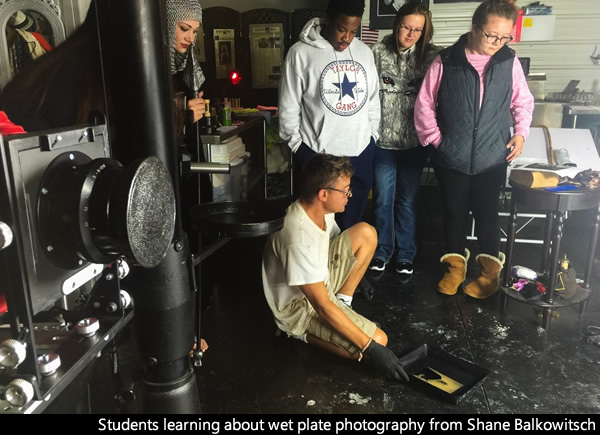 Students also met with Shane Balkowitsch, a wet plate photography artist from Bismarck, ND. Shane has been making headlines with his unique style of photography and creativity. Recently he has taken on a project documenting Native Americans in the Bismarck region as well as other ongoing personal projects. Shane was kind enough to allow the group to watch and collaborate on a portrait he was creating on wet plate.
Finally, Park Ranger Katelyn Fredericks of the National Park Service guided students on a hike to the old east entrance of the park. Students saw prairie dogs, bison and wild horses along with petrified wood, cacti along with the breathtaking views.

To see more images from the trip and other college events and photography classes, please look up DCB Photography on Facebook or go to www.Facebook.com/DCBPhotoand on Instagram @D.C.B.Photo.
Dakota College at Bottineau is home to the premier commercial photography program in the state of North Dakota. Offering a 1-year certificate or a 2-year degree, DCB takes students from beginner level through classes that prepare them for a career in portrait, wedding or advertising photography. Classes are offered in person at the Bottineau campus or online.
---
DCB Announces First Speakers for Book Read
September 13, 2016
Dakota College at Bottineau announces the first panel of speakers for the Annual Book Read. The Book Read is a DCB sponsored series of presentations and discussions linked to this year's bookDeeply Rootedby Lisa Hamilton.  The events in this series are open to the public, and all are invited to attend whether they have read the book or not.  Brown bags (box lunch) are available at noon for $6.00.  A repeat session is held at 7:00 pm and both are held in the Alumni Center located on second floor of Thatcher Hall.
The September 21 session is a book introduction along with a panel of local producers sharing the challenges and opportunities of starting out.  At noon the brown bag will be a "Farm to Table" lunch serving locally grown products.  Meet the local producers and take this time to ask questions about their story.
Roger and Roberta Hunt, Prairie Seed Garlic, McClusky, ND, producers of garlic and vegetables sold at farmer's markets and to grocery stores
Roger and Alyce Lune, Lakeside Garden, Rolette, ND, producers of a wide variety of vegetables sold at farmer's markets
Raylene Frankenhauser Nickel, grass fed beef producer and author/writer from Drake, ND
Meghan Estvold, ECH Farm Manager at DCB
Holly Mawby, ECH Director at DCB and co-owner of culinary herb farm - Gardendwellers Farm, Esmond, ND
In addition, there will be two more presentations in the fall semester and three during the spring semester. The upcoming fall presentations will include a topic on Federal Farm Policy. In addition, we are honored to have Theresa Podoll, one of the farmers discussed in the book as a guest speaker. Dates to mark on your calendar this fall include October 19 and November 16.   
The presentations in the spring semester will discuss the history of the Spanish Land Grants followed later that semester by discussion of the environmental impact of pesticide and herbicide use. The last presentation will be an event during Earth Day activities where participants will hear large and small producers discuss food production issues from their perspectives. These presentations are offered once a month at noon and 7:00 pm, often on a Wednesday. The schedule with all the specifics can be found on the DCB website's calendar of events.
---
Paramedic Technology Program Accredited
September 8, 2016
Dakota College at Bottineau is proud to announce accreditation of the Paramedic Technology program. The Paramedic Technology program prepares students for a rewarding opportunity in the growing field of emergency medical services. It is for anyone who has a genuine desire to care for people in an out-of-hospital setting. Students must be able to think critically and work on their own to provide patients the best possible care. Graduates in this program may be employed with fire departments, public and private ambulance services, rescue squads, emergency medical services, and hospitals.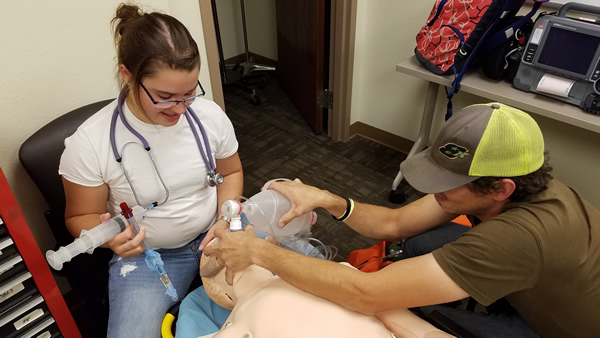 DCB has been providing this program since the fall of 2009. The Paramedic Technology Program is a 4 semester program that runs from the end of May through July of the following year - summer semester to summer semester. It is delivered through a combination of Interactive Video Network (IVN) and on-site methods. Students may receive didactic academic components of the program via Interactive Video Network (IVN), while the hands-on lab and clinical components are taught on-site by certified instructors or trained preceptors. This combination of delivery methods provides a quality education that is flexible and accessible. Current approved distance delivery sites include Minot, Mohall, Harvey, Rugby, Watford City, Carrington, Williston ND. Additional sites may be available depending on demand.
Students must have successfully completed the EMT-Basic Certification prior to being admitted into the program. Upon completion of the program, students will be required to complete the National Registry of Emergency Medical Technicians (NREMT) computer-based testing and practical examination to become certified as a paramedic.
In 2013, the National Registry of Emergency Medical Technicians no longer allowed graduates of paramedic programs to write the national certification test unless the program was accredited. The process of becoming an accredited program starts with the Commission on Accreditation of Allied Health Education Programs (CAAHEP) through the Committee on Accreditation of Educational Programs for the Emergency Medical Services Professions (CoAEMSP). In 2010, DCB began the process of becoming an accredited program. The first step began with a written application and self-study, followed by a site visit of two peer reviewers who evaluated whether the program was following all the required standards and guidelines. Upon a successful review, DCB was granted program accreditation status in July 2016. DCB offers a one-year certificate program and two-year Associate of Applied Science degree in Paramedic Technology.
Mary Jund, DCB Paramedic Program Director shares, "The word accreditation can cause some program directors to be fearful for their programs. This is mainly due to change being difficult. We need to make the shift from ambulance driver to a highly regarded profession and the accreditation process allows us to do just that." DCB looks at the entire process as a positive step for their program. It was a challenging and enlightening process which only improves the program. The accreditation process never stops; it's a process that continues as information is gathered about what is done well and what can be improved upon.
When Jund is asked why accreditation is important to students, she comments, "They are then assured the ability to sit for the National Registry certification test, and students will have the same education as any other program in the nation." Students can be confident in knowing that DCB's Paramedic Technology program is following all the national standards set forth by CAAHEP. DCB students can also know they are entering a quality program with staff that have over 25 years of experience in EMS.
---
DCB Announces the Annual Book Read
September 6, 2016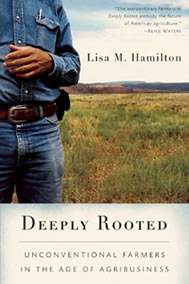 Dakota College at Bottineau announces its annual book read. This year the title chosen is Deeply Rooted: Unconventional Farmers in the Age of Agribusiness by Lisa Hamilton.
As has been the practice with previous book reads, students enrolled in first-year composition courses discuss the book and work writing assignments linked to the reading assignments.
In addition to classroom discussion ofDeeply Rooted, DCB offers six presentations, open to the public, linked to topics in the book: three presentations in the fall semester and three during the spring semester. The first fall presentation is September 21 with a Farm to Table menu provided from local growers. The presentations during the fall semester will introduce the book and give participants a chance to meet local food producers, will discuss the Federal farm policy program, and will give participants a chance to hear from Theresa Podoll, one of the farmers discussed in the book.
The presentations in the spring semester will discuss the history of the Spanish Land Grants followed later that semester by discussion of the environmental impact of pesticide and herbicide use. The last presentation will be an event during Earth Day activities where participants will hear large and small producers discuss food production issues from their perspectives. These presentations are offered once a month at noon and 7:00 pm, often on a Wednesday. The schedule with all the specifics can be found on the DCB website'scalendar of events.
DCB also hosts a book read group that typically meets monthly. Faculty, staff, and members of the community meet to discuss books that explore perspectives on the book chosen for the annual read. For instance,Bringing it to the Table by Wendell Berry will be discussed during the fall semester and Small Wonder: Essays by Barbara Kingsolver will be discussed in the spring semester. The book read group also discusses titles that might be used for future campus book reads. For instance, a book on the "Cult of Thinness" will be discussed in October and a book of "True Stories of Becoming a Nurse" is scheduled for the spring semester. Everyone is welcome to participate and no admission is charged. The group meets in the DCB library the third Tuesday of most months. The first one is scheduled for September 27; Far and Away: Reporting from the Brink of Change by Andrew Solomon.
Everyone is invited to come and discuss the title of the month, drink coffee, and sample the excellent cookies provided by DCB Food Services. The schedule with all the specifics about book read meetings can be found on the DCB website's calendar of events.