Enjoy eBooks & Audiobooks Anytime, Anywhere
October 20, 2016
Dakota College at Bottineau Library is proud to offer you best-selling and classic eBooks and digital audio available 24/7 from the DCB Digital Library. Library card holders can borrow popular digital media anytime, anywhere by using a student ID number or library barcode number as a username and last name as a password.  Simply visit the DCB library homepage at https://www.dakotacollege.edu/library/and click DCB Digital Library to peruse the collection.
You can browse the collection, borrow with your library card, and enjoy on your computer, tablet, smartphone or eReader. Many borrowed eBooks, audiobooks and more can be enjoyed immediately in your web browser or can be downloaded to the free OverDrive app for mobile devices. Digital titles can also be enjoyed on tablets and eReader devices such as the iPad®, NOOK®, and Kindle®. No matter how you plan to enjoy, titles will automatically expire at the end of the lending period. There are no late fees.
With hundreds of popular titles to choose from, this digital collection is guaranteed to have something for everyone. Patrons also have access to the digital collections of many other libraries in North Dakota, which makes for a very large selection from which to choose. You can enjoy best-sellers and classic literature, stories for kids and teens, and much more anytime, anywhere.
This digital service, powered by OverDrive, is free with your library card. To get started enjoying eBooks, audiobooks and more, visit Dakota College Library in Thatcher Hall on the DCB campus.  
---
Discussion Panel Announced for October Book Read
October 18, 2016
Dakota College at Bottineau is excited to announce the next Community Book Read discussion panel, which will be held on October 19that noon with a repeat session at 7:00 pm.  Both panel sessions will be held at the Alumni Center in Thatcher Hall on the DCB campus. 
This year the book chosen is Deeply Rooted: Unconventional Farmers in the Age of Agribusiness by Lisa Hamilton. In Deeply Rooted, Hamilton examines three unconventional farms with different approaches to food production; a dairy farmer from Texas, a rancher from New Mexico and a North Dakota family engaged in crop production.  One of the author's premises is that corporate agribusiness and national farm policy have made it difficult for unconventional farmers to compete successfully in today's food production economy.  With this in mind, the next DCB Community Book Read session will focus on the role of federal farm policy and its impact on area farming operations, both large and small.
Rodney Armstrong, Al Graner and Keith Knudson, DCB Farm Business Management instructors will share their experiences regarding the impact of the federal farm programs on area producers. Along with the DCB Farm Business Management instructors, Stephanie Blumhagen, DCB Grant Writer and owner of a small farm-related business, will provide insights into new programs within the federal farm bill that assist small agricultural producers.
The event is open to the public, and all are invited to attend whether they have read the book or not. 
---
Little Free Libraries Open for Business
October 17, 2016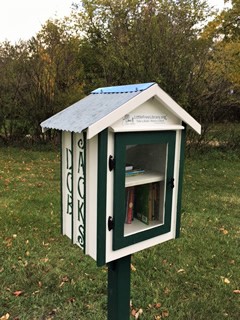 This past week two Little Free Libraries, sponsored by Dakota College at Bottineau, were installed at Tommy Turtle Park and Forestry Park in Bottineau. The Libraries are registered with the Little Free Library organization, and their locations are noted on the Little Free Library world map. This organization promotes literacy and the love of reading by building free book exchanges worldwide. There are nearly 40,000 Libraries around the world. Each Library houses a variety of books as well as a guest book for patrons' signatures and comments. Little Free Libraries are filled with constantly changing collections of books donated and shared by people of all ages and backgrounds. People are encouraged to "take a book--return a book." Books do not have to be returned. If you have books you wish to donate to these Libraries, you may drop them off at the DCB Bookstore.

Proceeds from the 2016 DCB rummage sale were allocated to fund the construction and upkeep of the libraries. Darrell Waters built and installed the Libraries, and Janeen Pollman painted them. Waters (701-228-5441) and Pollman (701-228-5458) will be serving as the Library stewards, but welcome community involvement with caring for them. Stop and visit the Libraries, browse the selection and feel free to take a book or leave a book. Read on!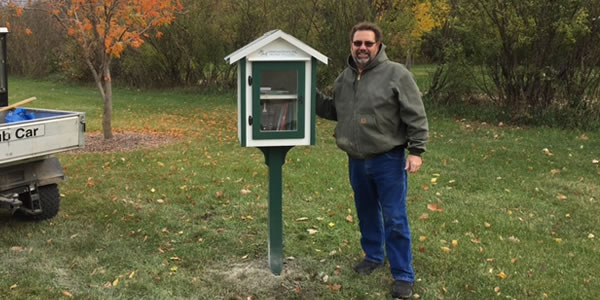 ---
Dakota College at Bottineau Horticulture coming to the International Peace Gardens in 2017
October 10, 2016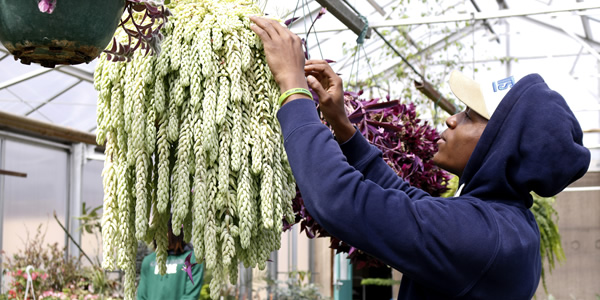 DCB's Horticulture has taken a huge step forward in post-secondary education.   In 2014, DCB suspended the Horticulture Program to take a very serious look at low student count and what should be done to increase students interest in the program.
In January of 2017 DCB's Horticulture program will change in a way that will allow students to select courses in horticulture that are tailored to their career needs.  It allows students to shorten their college time lowering their educational costs.  It also allows horticulture employers the ability to send their staff to workshops improving their personal and business skills.
The Horticulture Program will offer classes in the form modules or workshops.   Each class will be equal to one or two college credits and normally last one to two weeks.   The week long classes are aggressively focused on course content and real life activities.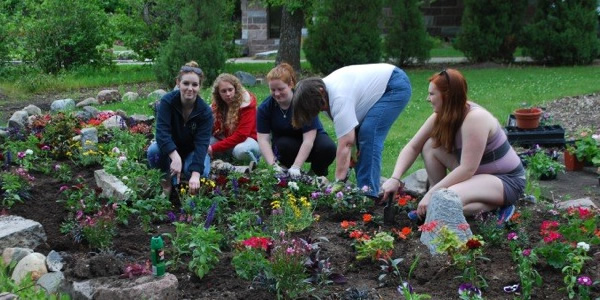 DCB is partnering with the International Peace Gardens to give its students practical experience through hands-on learning in floral and landscape design, greenhouse operations, forestry and horticulture crop science.   Students will have the opportunity to experience real life situations during their horticulture studies and throughout the summer.
The Program includes Soft Skills learning that characterizes interpersonal relationships with other people. Skills include leadership, communications, social graces, language, personal habits, and managing individuals or teams.
DCB recently received three USDA Rural Business Development Grants totaling $200,000 to update the greenhouse facilities and instruction.  
Funding is being used to update the facilities and incorporate new greenhouse equipment that will make DCB the leader in greenhouse technology.  The technologies include addition of the aquaponics program, greenhouse environment monitoring and controls, and equipment that make more efficient use of the greenhouse space.
---
DCB Expands IVN Opportunities & Updates IVN Equipment
October 4, 2016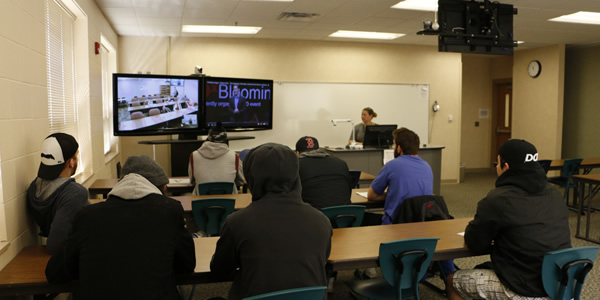 Dakota College at Bottineau (DCB) has expanded our Interactive Video Networking (IVN) opportunities by adding a new DCB IVN site for the Dakota Nursing Program (DNP) and upgrading the technology in several of our current IVN classrooms this past year.  The expansion and upgrades were made possible, in great part, due to DCB's collaboration with the North Dakota University System (NDUS) Core Technology Services (CTS) office on a RUS grant received from the USDA.
Part of DCB's mission is to provide students with increased access to quality education and career opportunities through methods of distance delivery. One of DCB's primary methods of distance delivery is utilizing IVN and the technologies linked to IVN.
The USDA RUS grant allowed for DCB and NDUS CTS to replace IVN equipment in 5 of the IVN classrooms, located on the DCB campus, with new equipment. The new equipment allows DCB to more effectively, and reliably, deliver courses and programs to several other campuses within the NDUS and to several rural high schools throughout the state.
The new equipment is not only more reliable, but also allows for the expansion of new technologies to be utilized within the IVN classrooms. One example of a technology we are now able to utilize is AirMedia, which allows for participants in a class to wirelessly present from their personal laptop, tablet or mobile device, with ease, during a live IVN connection to all the sites/students participating in the class. This ability to have students easily display their work with one another, in an IVN environment, can be utilized as an additional aid for our instructors in the effort to create a since of all the sites/students belonging to "one class".
DCB has been a leader in the NDUS when it comes to offering courses/programs via IVN. DCB offers approximately 40 courses to distant sites, via IVN, each Fall and Spring semester. In addition, we utilize related technologies which allow students, in instances when there is not an IVN classroom available for the student to join a course being offered via IVN, to join courses via their personal computer.
DCB Grand Opening
October 4, 2016

Dakota College at Bottineau held a ribbon cutting ceremony to celebrate their new Minot location on the south side of the Trinity Health building on 5th.  Dakota College has offered a nursing program since 2003 in Bottineau and other locations; Minot, Valley City, and Rugby.
This new location allows classes to be set up in a hospital setting such as medical surgery rooms, pediatric rooms, trauma bay, an emergency room and OB suite, making it more realistic for the students. 
Quotes are from the KMOT News story:
"When we looked at this it really bought the reality of what it's like to be out on the floor. It used to be utilized as a facial surgery, so when we were looking at it, it had all the amenities that we wanted," says Dawn Romfo, Dakota College at Bottineau Nursing Program Director.
"It has been awesome. We actually have a place to call home. Our lab is here along with our classes. Our student nurse organization, we do a lot of fund raising and food drives and everything, so we actually have a place to have our stuff. We have our lockers, we get to keep our books here, so it's really, really nice having a place to call home," says Candy Wormsbecker, Dakota Nursing Program ADN Student.