DCB LumberActs Announces Theatre Production
November 18, 2016
Dakota College at Bottineau's LumberActs presents a theatre production of "Car Pool" at the Centennial Alumni Center on Thursday, December 1 at 8:00 p.m.
"Car Pool" is a drama by Laura Hembree. She won the Paul Green Award for this play, a national award that distinguishes outstanding new artists in the American theatre. "Car Pool" examines the lives of five middle-management male employees who work for a government contractor. These men commute together daily, and over the course of six months, experience down-sizing in their professional and personnel lives. Hembree shows the fragile nature of the American dream through these five men, with sympathy, criticism, and humor.
The cast includes Sydney Miller of Thornleigh, Australia, Quincy Jones of Valdosta, Georgia, Tyler Sheffer of Victor, Montana, Mikel Bennett of Omaha, Nebraska, and Tyrus Shuler of Rose Valley, Pennsylvania. The crew includes Art Nelson of Perry, Florida, Keishawn Hayden of Louisville, Kentucky, George Matthey of Detroit, Michigan, Jaquel Felder of Temple Hills, Maryland, Ravae Brice of Cincinnai, Ohio and Antoine Burgess of Oak Park, Michigan.
General admission tickets are $7 each and are available at the door. Due to adult language, this play is not recommended for students younger than junior high age.
---
Funding to Continue for Eligible Dual Credit Students
November 15, 2016
High school students have the opportunity to earn college credit while in high school. Students who meet the requirements can take a variety of courses for both high school and college credit through Dakota College at Bottineau. The Bank of North Dakota has secured funding to continue the Dual Credit Assistance Program for low income students. In order to be eligible, students are required to attend a North Dakota high school, qualify for the free or reduced lunch plan and receive approval from their high school administrator. Eligible students will receive funding to cover the application fee, tuition for two classes per school year and the cost of books.
There are a few delivery options for dual credit classes. Students can take classes online or over the Interactive Video Network (IVN or ITV). Some schools also have the option for students to take dual credit classes from one of their teachers at the high school.
Some benefits accessible to dual credit students include a cost savings as tuition is $122.84 per credit hour, this is covered for students that qualify for the Bank of ND Assistance program. Students also save time as they will complete college courses before attending college. The ease of transfer is another benefit for students as their dual credit general education classes can transfer to any college or university in the North Dakota University System.
Two students from the Drake Anamoose High School speak out on the benefits they've received from DCB's dual credit classes.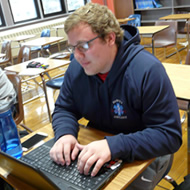 Tyler Fahy, shares, "The dual credit program is extraordinary. I expect to graduate from college with a bachelor's degree in three years instead of four years because of this program. I feel I will be much more prepared for college than if I would not have taken these classes. I personally recommend this program to anyone interested in college and wanting to get a jump start on college."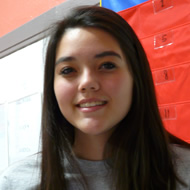 Elizabeth Rotherham expands on the financial advantages. "Dual credit classes have given me many opportunities to further my education while still in high school. Taking advantage of all these opportunities has allowed me to cut a whole year off of college! College is expensive, so being able to take these classes for a reduced price is another benefit of this program."
Information on courses offered via dual credit may be found on the DCB web site atwww.dakotacollege.edu/academics/dual-creditor by contacting them at 701-228-5479.
---
DCB Book Read Highlights North Dakota Farmer
November 11, 2016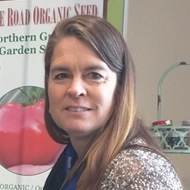 November 16thDakota College at Bottineau will host a very special guest as a presenter in their Book Read discussion series. Theresa Podoll, who farms with her extended family as part of Prairie Road Organic Farm near Fullerton, ND will speak at noon and 7:00 pm in Thatcher Hall.
The Podolls were honored with the 2014 MOSES Organic Farmers of the Year award and are featured in DCB's chosen book for 2016;Deeply Rooted by Lisa Hamilton. Certified organic since 1977, the Podolls raise a variety of small grains, including buckwheat, oats, triticale, and grey proso millet.  They began producing certified organic vegetable seed in 1997, now marketed under their own label, Prairie Road Organic Seed. Many of the varieties they offer were actually bred on their farm for delicious flavor, appearance, and agronomic performance under organic management and in northern climates with shorter growing seasons.  In addition, they produce seed of their favorite heirloom varieties, always selecting and improving the varieties through selection and saving seed from the very best performing plants.
Ms. Podoll will speak on the topics of GMO's, GE seed, raising, saving and selling seed, the concept of farm versus garden, and the changes that have taken place on the Podoll farm since the publishing of the bookDeeply Rootedin 2010.  Anyone interested in farming, gardening, or food production will enjoy this lively discussion. 
The Book Read is a DCB sponsored series of presentations and discussions linked to the chosen bookDeeply Rooted: Unconventional Farmers in the Age of Agribusiness by Lisa Hamilton. The events in this series are open to the public, and all are invited to attend whether they have read the book or not. Brown bags (box lunch) are available at noon for $6.00. A repeat session is held at 7:00 pm and both are held in the Alumni Center located on second floor of Thatcher Hall.
---
Math Track Meet
November 7th, 2016
Dakota College at Bottineau held their Annual Math Track competition last week.  There were ten participating schools from the area; Velva, St. John,   Rolette, Drake-Anamoose, Rugby, Kenmare, Bottineau, Mohall/Lansford/Sherwood, Burke and Rolla. There were seventeen teams from these ten schools with four students on each team for a total of sixty-eight participants. 
Individual Events
Algebra I (9th/10th grades)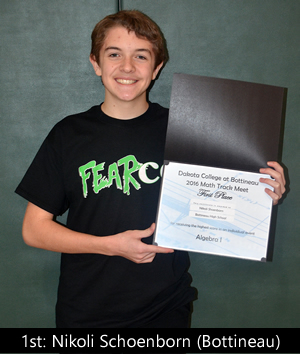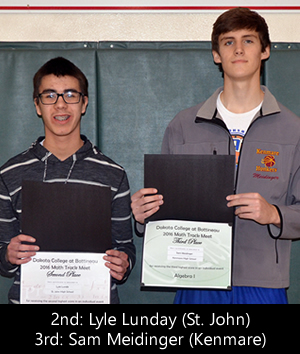 Geometry (9th/10th grades)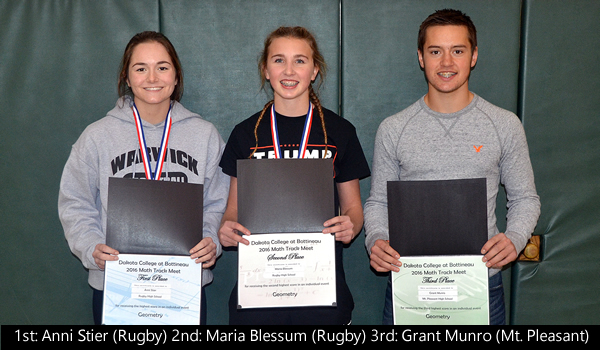 Algebra II (11th/12th grades)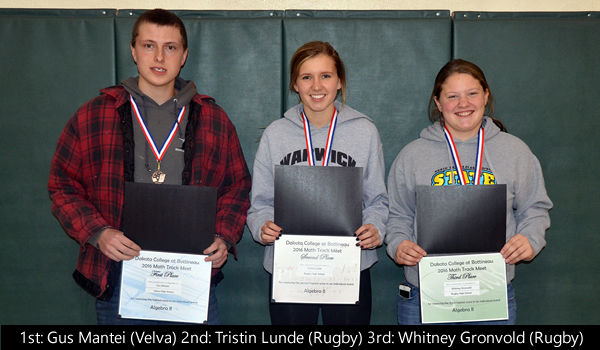 Advanced Math (11th/12th grades)



Team Event