Dakota College Recognizes Excellence
May 4, 2016
Dakota College at Bottineau held their annual faculty and staff recognition luncheon the end of April.  Excellence awards were presented to faculty, staff and advisors selected by their peers.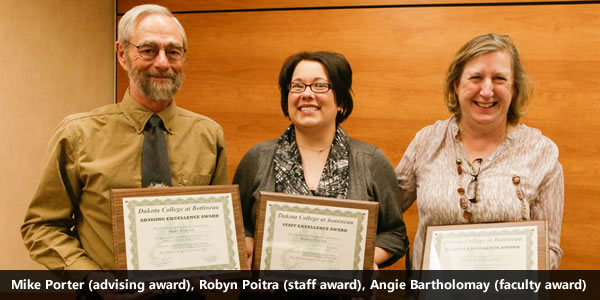 The Faculty, Staff and Advising Excellence awards are intended to recognize and reward efforts where job performance adds value to the college experience for students, colleagues, and the campus community.  Recipients demonstrate qualities that make it clear their contributions are exemplary and go beyond what is required for the routine discharge of their duties. Robyn Poitra, Student Services Department is the 2016 recipient of the Staff Award for Excellence.  Angie Bartholomay, Assistant Professor of Science, is the recipient of the Faculty Award for Excellence.  Mike Porter, Arts and Communication Associate Professor, is the recipient of the Advising Award for Excellence.
Robyn Poitra has been at the college since 2014.  She is the Student Services/Admissions Administrative Assistant where she has daily contact with students. Robyn is also the secretary of Staff Senate. One nominator's comment stated that Robyn makes a sincere effort in getting to know all the students.  She makes the faculty, staff and students feel like they are a valuable part of the DCB community. 
Angie Bartholomay has been at the college since 2010.  She teaches a variety of science classes including chemistry, physics, and geology.  Mrs. Bartholomay is genuinely supportive of her students' success. She is active on the DCB Campus, spearheading events such as the Water Festival, Science Olympiad, and is an active member of the Earth Day Committee and the LeaderJacks program.  The nominations were very clear that she is always putting students first.  She is professional both in the classroom as well as in interpersonal situations with staff, faculty and students. 
Finally, the Excellence in Advising Award honors student advising efforts on campus. The recipients exemplify qualities that make it clear their contributions go beyond what is required.  They have an impact on advising students on their career, academic, and personal goals.  This award recognizes the positive effect advising has on student retention and persistence to graduation.  DCB's 2016 recipient Mike Porter, has taught at the college since 1999, teaching a variety of arts and humanities classes including composition, professional writing, and speech.  A colleague who submitted Mr. Porter's name for this award commented that Mike demonstrates a concern for all students, not just those he advises.  He is an example of an instructor who provides a quality education in a caring environment.